Application for the Community Of The Month Support Program || STEEMIT PAKISTAN.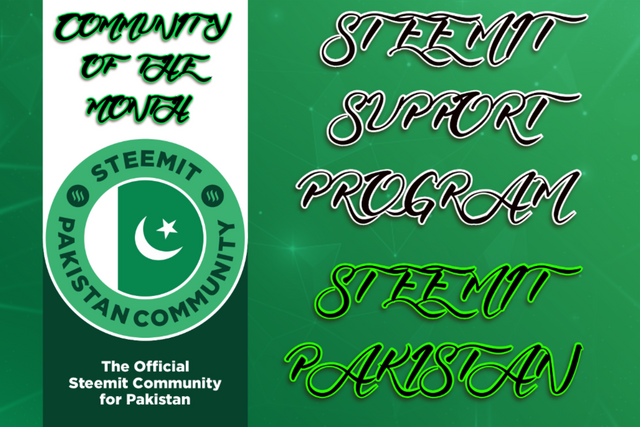 Greetings to the Steemit Team,
This is @Steemit-pak, The Country Curation Account dedicated to all Pakistanis on the Steemit Platform willing to take steem to the moon. This post is supposed to be our application for The Communities of the Month Support Program offered by @steemitblog.

Purpose of Community



On the first day of the creation of this Community, it was clearly described that STEEMIT PAKISTAN COMMUNITY is the Official Community for All Pakistanis on the Steemit Platform. Our goals and direction were and are clear. The purpose of the community was to gather all the Pakistanis at one place and get some support for them working under their Country Representatives. This was meant to be done in order to stop spammers, register and verify new coming users in the Newcomer's Community. To stop fake accounts, to restrict plagiarism as much as possible. Anyways, we have always been open to all international users and we have gained a lot of good friends internationally. It is because of Steemit that we can proudly say "We have recognition around the world, we have got friends around the globe :)".
For All active Pakistani members. We love and appreciate quality content that is original. You'll have our full support.
This community is being designed to support all the active Pakistani steemians and then for the entire steemit family. We would love and appreciate all type of content creators to come and join us and post within our community.
The formal description from Day # 1

Uniqueness of the Community:
Yes, Our Community, STEEMIT PAKISTAN COMMUNITY is a unique community as it is the Only Country Community for All Pakistanis to share their content and leading Pakistanis all over the platform.

Other Similar Communities?


As far as i know, we have no such other Communities willing to be the Official Country Community of Pakistan. We have all the Country Representatives of Pakistan (@haidermehdi, @hassanabid, @yousafharoonkhan, @vvarishayy and @rashid001 agreed over this point) and all our users are agreed over this point. So currently, there is no other community similar to the STEEMIT PAKISTAN COMMUNITY.

Why shall people join our community?
STEEMIT PAKISTAN COMMUNITY has been among the very few country communities who continuously run contests and distribute steem as a reward. We also have members who organize contests and are always willing to distribute rewards to Steemians. We have senior members who guide the newcomers with patience and provide them tips to learn this platform and grow on this. We have made ourselves a family who is supportive and equal to all whether domestic user or International. We got unbiased selections of posts and winners of the contest. We have got Country representatives and Moderators who always help the members announced or hidden. We are there on multiple social media expanding the reach of Steem and Steemit Pakistan throughout the World and there are so many other reasons for why shall someone join us on the road to Glory very soon In shaa Allah.

STEEMIT PAKISTAN TEAM:
The Team of STEEMIT PAKISTAN COMMUNITY has always been growing. We always considered Steemit Team to be among us and Then there are the Country Reps who showed interest in this Community and promised to keep working for the Betterment of the Community, Then the mods who promised their efforts to be used for the Betterment of This Community :) The Team is as under:


Details Of Mods and Admins:
So far in STEEMIT PAKISTAN COMMUNITY, all the Moderators and the Admins are from Pakistan But we can cover multiple languages. With the help of Google translations, language now has never been a big barrier between communications. And English being a standard language, almost all of us are very familiar to English thus it's easy for all of us to communicate. We have got great friends around the world and we have good relations with them. The Mods in STEEMIT PAKISTAN are from different cities and different areas in the City.

As far as the pay and rewards for moderators is concerned, our Moderators, Admins and Country Representatives have been very generous and all of them want @steemit-pak to grow as quick as possible. Thus we are fully focused on the ways to help improve the Steem power of the Country Curation Account as much as we can.

Apparently, there seems to be only one admin of the Community but the keys of the Community have been shared with @haidermehdi, @hassanabid, @vvarishayy and @event-horizon. Some of them are currently working via the @steemit-pak account while others are not working currently but we have made future plans in which we would be engaging everyone through @steemit-pak account. So if one person loses the keys, the other 4 have them and the community will stay in its shape In shaa Allah :)

Community Curation Account

The country-curations account is @steemit-pak

Steem Power (Own and Delegated Sp):
According to Steemworld.org/@steemit-pak , The Steem Power of @steemit-pak is as : [27,182.11 SP ( 12,634.29 + 15,557.20 - 1,009.38 )]
Own Steem Power: 12634.29
Incoming Delegation: 15557.20
Outgoing delegation to @endingplagiarism: 1009.38 (To be terminated soon)

What are your plans for growing the SP of the account?
Are all the post rewards powered up, or are they used for paying delegators or members of the community team?
As discussed above, the team doesn't take rewards from steemit-pak until it is very much required. Currently, we faced a huge loss as we had to share a lot of steem with @rashid001 for his health. May God give him enough strength and solve his problems. Now we have decided to delegate all our Sp to the @steemit-pak account, earn no delegation rewards, powerup all the steem that we earn and just left some steem in the wallet which would be there for the rewards distributions of weekly contests arranged by @steemit-pak.

Who has access to voting with the account?

Current CSI:


Plagiarism And Abuse:
The STEEMIT PAKISTAN COMMUNITY stands tall against Plagiarism. It is the basic rule of our community which is intolerable. Plagiarism comes in many forms! It is said by @haidermehdi that Plagiarism is a Liquid which can take the shape of its container! You just can not limit its forms. People do word spinning, pictures, stealing of content, stealing ideas, stealing the syntax, stealing the designs, stealing of approach and much much more! So this just can not be left alone in a community who is willing to reach to the Steemy Moon :)

What measures do you take to check for plagiarism and other forms of abuse (content farming, duplicate accounts, fake accounts)?
As stated, plagiarism is a curse which no one wants to adopt, but there are always some spammers who try to destroy the image of a platform or a community that is reaching for the stars! We check the posts on different plagiarism tools, we keep track of the new accounts through the help of our greeters(Haidermehdi, Vvarishayy and Hassanabid). We make sure that all our users complete atleast Achievement 3 From the Newcomers Community so that they know about Content Etiquettes!

When we catch a spammer, we straight forward put a label on them. We have got 3 warnings for the user. After first warning, the user gets the Label of Under Observation. The second warning gives them a 100% downvote from Country Curation account and all the CRs. And after the third warning which is the final one, the user gets muted from the Community!

Do you have designated people in your team for plagiarism checking?

Do you ensure all photos used in your community are copyright free?
Yes, there is a proper check on each and everything which is related to plagiarism. We make sure that the pictures used in the Community are copyright free. Our mods often make such posts related to these tips :)

Engagement & Commenting
Not every post gets commented by the team but almost all the posts gets visited and users get guidance where required. We think this is the only place where we are lacking a bit as a Team and we are trying to adjust our routines so that we could manage this with perfection!

The Post Links Only Group:
Here in this group, we urge members to drop the links of their posts but before that, they need to comment on two previously dropped links so that the community engagement stays on fire :)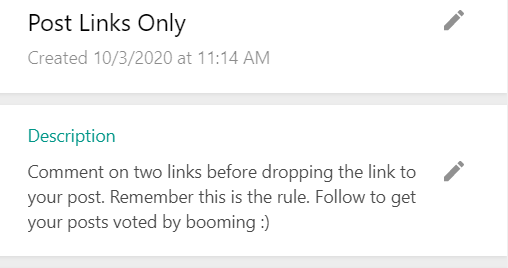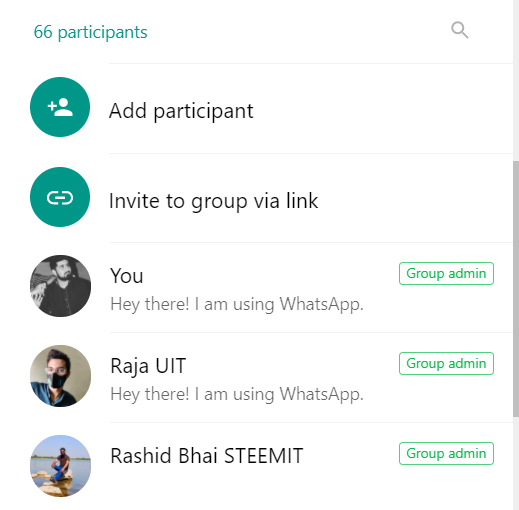 There have been multiple contests too, on commenting which were hosted by @haidermehdi and many people showed excellent entries with beautiful comments!

Plans & Updates
The Plans and updates for the STEEMIT PAKISTAN Community always get announced either through reports published by the CR or the Community account does its own announcements. Currently, we are satisfied on running 4-5 Contests per week and distributing 100+ Steem weekly which makes up to 450+ Steem per month. Currently there are many contests running which include photography, Weekly engagement Contest, Art Contest and more!

As far as the roadmap is concerned, we are focused over our current activities and scheduling of Posts. We always try to go par our thoughts and then get beaten by them, so for now we are focusing on the current activities and promotion of steem which will be discussed in the next Header!

Promotion
The STEEMIT PAKISTAN Community is doing its promotions on all of the 5 Major Social Platforms! And we can proudly say that we have gained some great users through social Recruitments!
This is how we roll on Social Media :

With these rolling, you can also check the latest updates presented by @haidermehdi in the progress of STEEMIT PAKISTAN Office and the Grand Meetup Hall!
Report By Haidermehdi!.
OUR PROMOTIONAL ASSETS: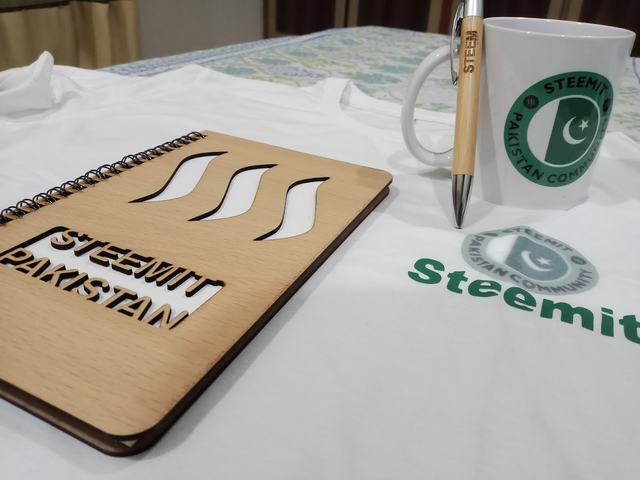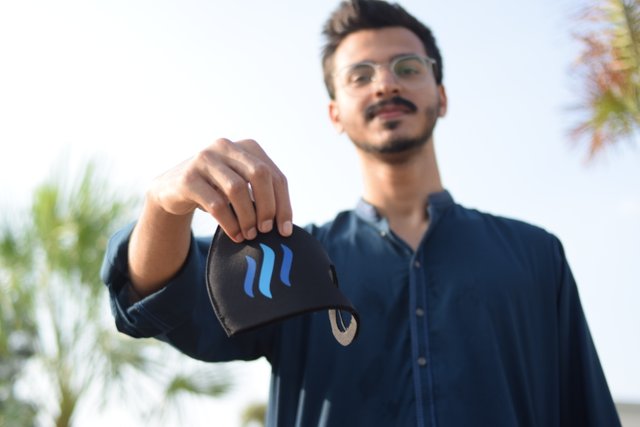 Some Other Features
Steemit Pakistan is the only official country community for all Pakistanis. We are working hard to promote and educate Steemit in Pakistan and as a result we are getting hundreds of new members every day. It's hard to keep new members stick around if they create quality content and still don't get any support. Old members also lose motivation after some time.

It is one of ours Major Moto to make #steemexclusive posts.
According to our observation, earlier this year, when sc01 was supporting our members, community grew exponentially. We had highest number of active users, top quality content and many competent members. But with the less frequent visits from steemcurator, members got demotivated.
We believe that encouragement and support yield better results. We have many talented members who have the potential, and they add value to steem ecosystem. What they need is just a little support to keep them motivated.
Steemit Pakistan has always played an active role for the growth of steem. We encourage our members to do powerups. Our members participate in the monthly SPUD. We also initiated a program called Power Up Quad Batch in which we feature four members who do the weekly powerup based on first come, first serve. We also give them the full upvote from official account and try to support them in every possible so that maximum users get encouraged and participate in this program.
Steemit Pakistan is one of the first community whose members are doing business on Steemit in return for Steem. Here were referring to Sell for Steem's many successful business deals. We have got honey sellers, book sellers, boutique owner, who are happily selling their goods for steem.

Our members are also creating online job opportunities in which steem will be given as salary.
In short, we are working hard and willing to do everything that could help boost the steem. Support from steemit team will be very much appreciated.

EID MUBARIK TO EVERYONE FROM OUR SIDE❤️

Subscribe STEEMIT PAKISTAN
Quick Delegation Links To earn delegation rewards