A New Contest In Town - Steem Promotions Via Sponsorship - Steemit Pakistan New Goals!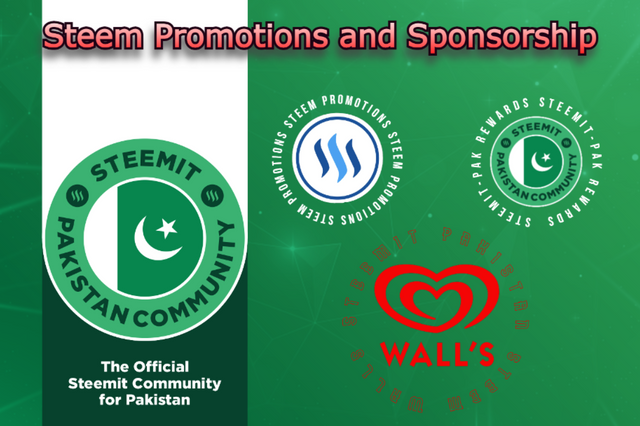 Since we have talked about a lot of topics in the Weekly Engagement contest, here is how we bring out something new that is better for all of us! With this new way, we can drag businesses to steemit asking them to sponsor us and we give them global exposure through our posts and activities here on steemit.
It's time to move a step further. For the growth of steem, we are trying to get a sponsorship for Steemit Pakistan which will not only benefit the community but also steem itself.
Brands and companies set aside huge marketing funds for the promotions of their products and services. As a community of more than 2700 people, we can offer promotional services to the brands which will get great exposure due to the good engagement levels of the community. In return, if we get the sponsorship we will top our community funds with it.

How can this be done?
We will try to pursue an ice-cream brand Wall's which is quite famous in Pakistan and we assume that you all are familiar with it. We'll send in an application asking them about the sponsorship through the official steemit-pak account and encourage them to hold a meeting with us where we shall be explaining them about our plans on this platform.
What you will have to do?
This is our first step where we will be expecting some great posts from all of you. All you have to do is to Prepare a post in which you will promote any Wall's product. You can do so by sharing a detailed review or creating a dessert recipe by using it. Photographers can take aesthetic pictures. YouTubers are invited to record creative videos.
You must share the contest participation post on Twitter/Instagram/Facebook and tag the official Wall's Pakistan page and official Steemit-pak account.

What will you get?
For the next week, we will daily choose 2 or 3 Wall's posts in the best picks to be further supported by booming votes. At the end of the contest, winners will also get booming upvotes along with Steemit Pakistan T-shirts, Caps or Masks.
This time, the weekly engagement prizes are different and also are going to be better than ever. We have our distributors all over the country and i am sure we would be able to get posts from every where.


We are waiting eagerly for your entries in the contest. Remember, sharing your posts on the social media accounts is now more important than ever. Bring your friends and help us in getting this done successfully. We wait for your participations!
Share the link to your post in the comment section of this post along with the link to your post shared on social media. Keep Steeming.

Rules to Follow:
Tag walls and steemit-pak on social media and share your post there too.
This contest is open for the Entire steemit Family.
You should write an article of 300 words to make sure that the quality of the post is worth winning the rewards :)
Upvote, Comment and resteem Contest Post
Make sure to post in STEEMIT PAKISTAN Community
Use #weekly-engagement tag and your country #pakistan Tag in the first five tags in your post.
Entries are only applicable until the payout of this post. 7 days from now.
Only allowed one post per one participant
Comment the link to your entry below in this post, once it is done.
The post should not be published in any other blockchain/platform rather than steemit so Use #steemexclusive tag as well.
As the purpose of This contest is Engagements, so Entries will be eligible if participants comment on other Entries (2 Entries minimum) Or Comment Relevant to Steemit-pak's any post !!

PRIZES:
1st Place - 8 steem
2nd Place -6 steem
3rd Place - 4 steem
4th Place - 3 steem
5th Place - 2 steem

TERMINATION TIME: Post Expiry!
Don't hesitate to comment if you have any queries.


Subscribe STEEMIT PAKISTAN
Quick Delegation Links To earn delegation rewards