Contest Alert ! Mention Invention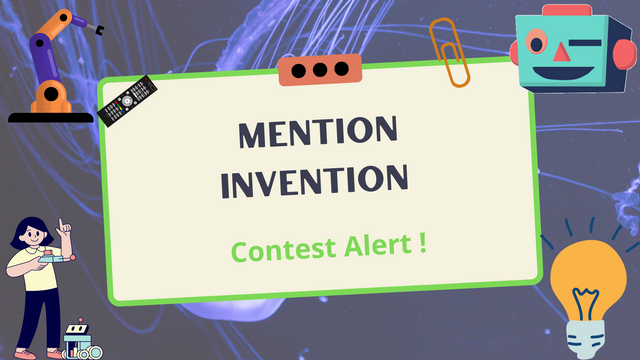 Designed on Canva
---
There are days when we feel so lazy and wish for a helping hand or even for some robot that could fetch us a glass of water or turn on/off the lights for us. You must be thinking how lazy I am... I admit it without shame. I can be a superwoman one hour and can transform into a sloth, the next hour.
Today's contest is related to those helping hands or you could say useful inventions.

Contest Topic
Pitch or Mention an Invention
Write about your favorite invention that you are highly dependent on. Don't tell us about mobile phones or the Internet. Tell us something unique. It doesn't have to be something latest, it could be as trivial as an electric food chopper or a power bank.

You can also pitch an idea for a new invention or something already invented but you don't have access to that or can't afford it. Like, I wish for a robot that could cook delicious meals for me.

Write in detail explaining all the reasons for your favorite invention and describe in detail the idea for a new invention.

Rules
No plagiarism.
Use copyright-free images and cite properly.
Write at least 300 words.
Post in Steemit Pakistan.
Post should be organized and well-structured.
Proofread before posting.
Use the tag #sp-invention and #creativewriting among the first four tags.
Drop the link to your post in the comments of this post.
Following clubs and using proper tags would get you votes from curators.

What will you win?
---
All good entries will receive 50-100% upvotes from @steemit-pak and 100% upvotes from me.

Top quality entries can be chosen for the booming upvote.

50% of the rewards of this post will also be shared among the top entries as Steem Power. The number of winners will depend on the quality of the posts.

Deadline
---
Until the payout of this post.

Contest Organizer,
event-horizon