Announcing Contest: Talk About Your Hobby | Steem Sri Lanka 3G Contest Series| Week 05 | 5% for SL Charity
Here we are Steemians.. At the End of March.. And it's time for Me to Announce you all my very first Contest in Steemit. Here is Steem Sri Lanka 3G Week 05!!.. Let's See what I have for You..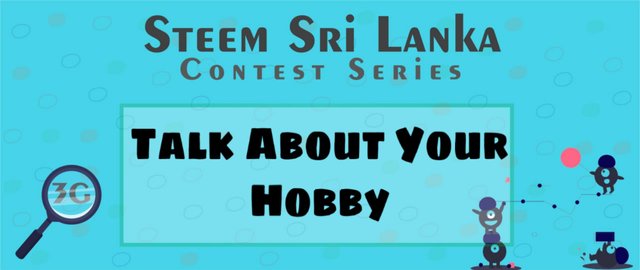 Introduction
A Hobby is something we do in our Leisure Time. We all do have hobbies. They help us by Absorbing Serious Mental Stress which we daily receive. That's why we tend to spend more time doing our hobbies.
We all have Pleasant memories with our hobbies. And it's you who know how much worth your hobby to you..
So Through this contest, I'd like give you the chance to show the world how much worth your hobby to you.. I'm so sure that you're thrilled to share your Thoughts with us.

What you have to Do
Write about your hobby! Nothing else!
You Can Include
What your hobby is. If you have Multiple hobbies, you have to choose the Best of them.
When did you start this hobby?
Why did you choose this hobby?
How much time do you spend with it daily?
Benefits/Learnings you get from this Hobby
Special achievements you Achieved with the help of it.
You can Include Relevant Photos you have.
Let's See What The Conditions Are..
The title of your post must be ; Talk About Your Hobby | Steem Sri Lanka 3G Contest Series| Week 05
Make sure to put your entry in Steem Sri Lanka Community and put your entry link in the comment section of this post.
This contest is open for anyone who interests in this.
Try to be more creative in your work.
Make your contest with at least 300 words.
Try to share your Original Images with us. And make sure to share a few.
Make sure to use these tags #yourhobby, #yourcountry ( #srilanka in my case) so we can easily find your entries.
Make sure you Comment the Link of your Entry under this Post.
Resteem this post, so more people find out about the contest.
Only one entry per person This contest begins on 27th of March and will be running till the 3rd of April at 8.00 PM (GMT + 5:30).

Winners will be announced within 3 days after the contest ends.

Prizes
1st place= 60% vote from booming01
2nd place=50% vote from booming 01
3rd place= 45% vote from booming 01
4th place = 40% vote from booming01
5th place = 8 steem
6th place=5 steem
7th place= 3 steem
Judging Criteria
Presentation
Relevance
Meaningfulness
Evidence
Cc:
@steemcurator01