Announcing Contest: It's My Home Garden| Steem Sri Lanka 3G Contest Series| Week 01| 5% to SL Charity
Hello dear steemians,
Again it's a contest!!
After a two months of silence after of last contest series, I am so excited to announce the starting of the new contest series, Steem Sri Lanka 3G contest series host by the third generation of Steem Sri Lanka community. Warmly invite all of you to join with this. Delightfully I am going to take the first step for the first week and Let's see what's on it.🤗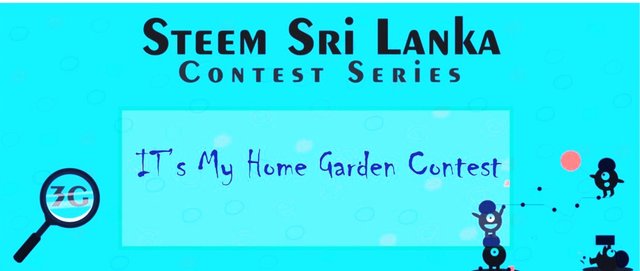 Introduction
I am pretty sure you have a beautiful home and a garden surround that home. May be it's your favorite place in this world. What you have to do is very simple. Take pictures of your home garden and write about those. You can write anything you love, related to your home garden and I will remind you a few points for your convenience.

You can include
• Where is your home garden (your country and the city)
• Size of your home garden approximately
• Things in your home garden (flowers, medicinal plants, trees etc.)
• Are you growing anything (fruits, vegetables etc)
• Animals you meet at your home garden (butterflies, birds, snakes etc)
• Anything you know about soil or rocks in your garden
• Landscape designs (if there any)
• Your favorite place/places in your home garden)
• Your dream home garden
Nice views of your garden will add more colours to your post.
Rules of the contest
• Resteem this post
• All entries must be your own. No plagiarism.
• Make sure to put your entry in
Steem Sri Lanka Community
and your entry link in the comment section of this post.
• Your post must be a minimum of 300 words.
• Add #myhomegarden, #steemexclusive and your country specific tags in the first five tags.
• The title of your post must be
Contest: It's My Home Garden| Steem Sri Lanka 3G Contest Series| Week 01
Post your entries before 8.00 pm on 6th March 2021
.
Prizes
1st place = 50% upvote from booming04
2nd place = 50% upvote from booming04
3rd place = 8 Steem
4th place = 5 Steem
5th place = 3 Steem
Quality and the creativity of your post, content and the relevance will be considered in judging criteria. Winners will be announced within 03 days after the contest
Let your home garden to come to the steemit and make us cherish!! I am eagerly waiting to see, read and enjoy your beautiful home gardens.😍
Thank you so much dear @randulakoralage for the friendly support always💕
Best regards!!
Cc: @steemcurator01