Steem Sri Lanka - Contest Series | Week 01 - TIME FOR HEALTH Writing Contest
Hello everyone!!
Hope you all are doing well. As you know
Steem Sri Lanka
Community is going to have a series of weekly contests hosted by Sri Lankan Steemians. The contests are open to everyone!! So Today I'm thrilled to announce a writing contest for you all as the first contest of the series. It's all about your health.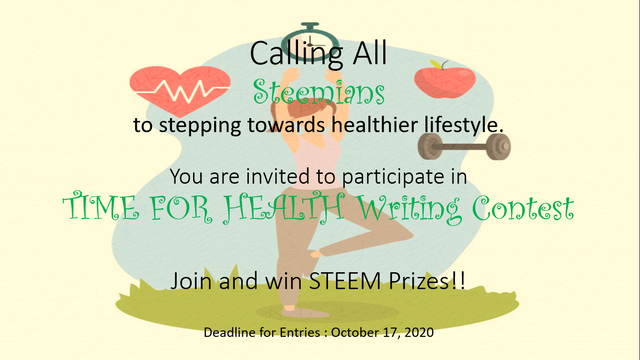 Well, staying healthy can be a challenge with our busy lifestyle. But, with a few simple resolutions, it is possible. So this is the time to think about your health and share your health habits and tips which are practicing on everyday living.
The guidelines are just simple as follows.
Guidelines

All entries must be your original work.
The post must be about your everyday living health habits and tips which are practicing to maintain a healthy life. (e.g.: Eating a healthy diet, doing exercises and etc)
It should be include how those health habits and tips are helped you to stepping towards a healthier lifestyle.
You must put a creative title for your entry as follows.
TIME FOR HEALTH Writing Contest Week 01 : Your own title
The post must include #timeforhealth tag as one of the first five tags - ideally the first one.
The post must also include a # tag to identify your country.
The post must be a minimum of 300 words.
The post include your own photographs as evidence.
Make sure you make put your entry in Steem Sri Lanka Community.
Make sure you make put a comment on this post and resteem the post.
Prizes
Prize pool updated : Check new prizes
There will be selected top 4 entries at the end of the contest and will receive prizes as follows.
1st prize - 15 STEEM
2nd prize -10 STEEM
3rd prize - 5 STEEM
4th prize - 3 STEEM
16 STEEM sponsored by @neerajkr03
Judging Criteria
Relevance
Presentation
Content
Winners Notification
Winners will be notified before October 24, 2020.
Please note : Open for entries until October 17, 2020.
I hope all the guidelines are clear and understand. Now open for entries and hope you will be joining in...
I am so happy to take part in "We Love Contest" concept of @steemcurator01 and @steemitblog.
Thank you.