Steemblog- 3 Geburtstag meines Sohnes // Steemblog- 3 birthday of my son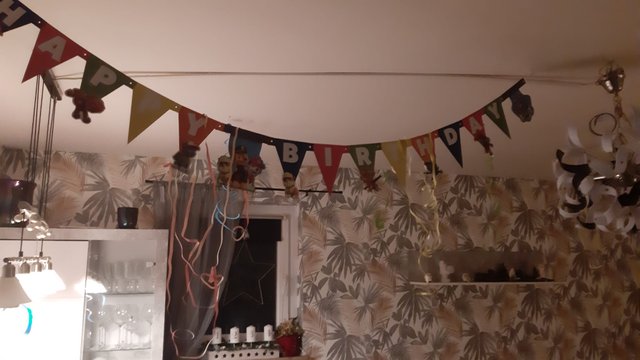 Hallo liebe Community,
Leider schaffe ich es nicht, all die Posts zu schreiben, die ich geplant habe, ich hatte zwischen den Feiertagen viel um die Ohren. Ab dem 3.1. fange ich wieder ein neuer Job an und mein Kleiner hat heute auch noch Geburtstag, für den viel vorbereitet werden musste.
Hello dear community,
Unfortunately I don't manage to write all the posts I planned, I had a lot on my mind between the holidays. From 3.1. I start again a new job and my little one has today also birthday, for which much had to be prepared.

Er wollte unbedingt eine Mottoparty haben, also müssten wir noch einiges besorgen. Da er im Moment sehr auf Paw Patrol und Cars steht, konnte er sich eines der beiden aussuchen.
Er hat sich dieses Jahr für Paw Patrol entschieden, also mussten wir einige Paw Patrol-Utensilien kaufen.
He really wanted to have a theme party, so we would have to get some things. Since he is very into Paw Patrol and Cars at the moment, he was able to pick one of the two.
He chose Paw Patrol this year, so we had to buy some Paw Patrol paraphernalia.

Meine Frau hat das sehr viele Sachen gefunden. Auch einige Heliumballons, wofür wir dann auch noch Helium kaufen mussten.
Gestern Abend haben wir dann alles dekoriert, verpackt und aufgebaut. Meine Frau hat extra einen Paw Patrol Geburtstagskuchen gebacken, damit es an nichts fehlt.
Then yesterday evening we decorated, packed and set up everything. My wife baked an extra Paw Patrol birthday cake so nothing was missing.
Then yesterday evening we decorated, packed and set up everything. My wife baked an extra Paw Patrol birthday cake so that nothing was missing.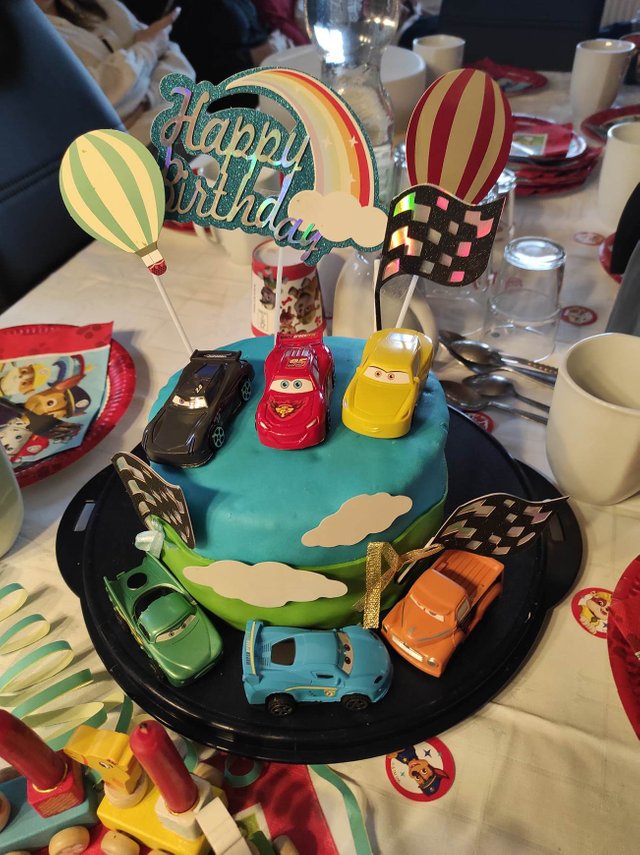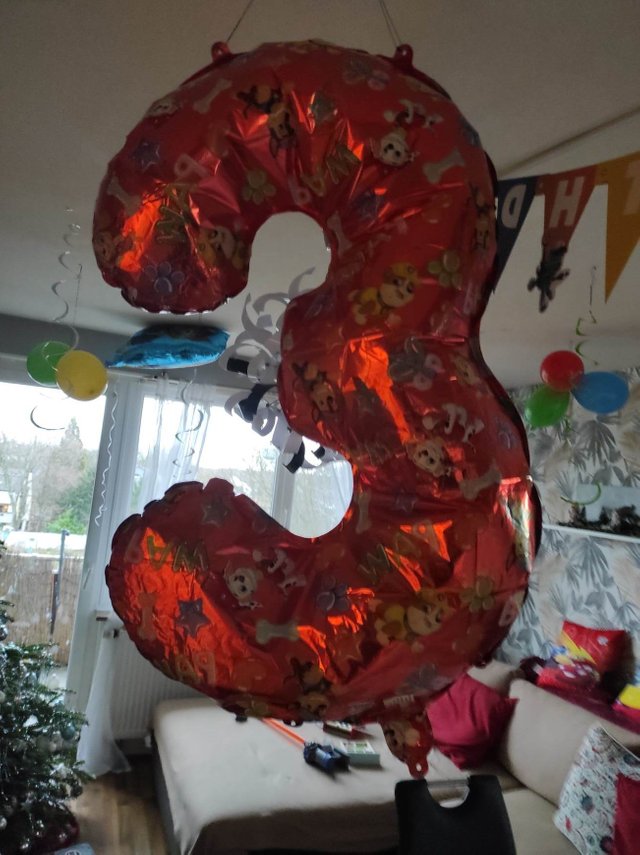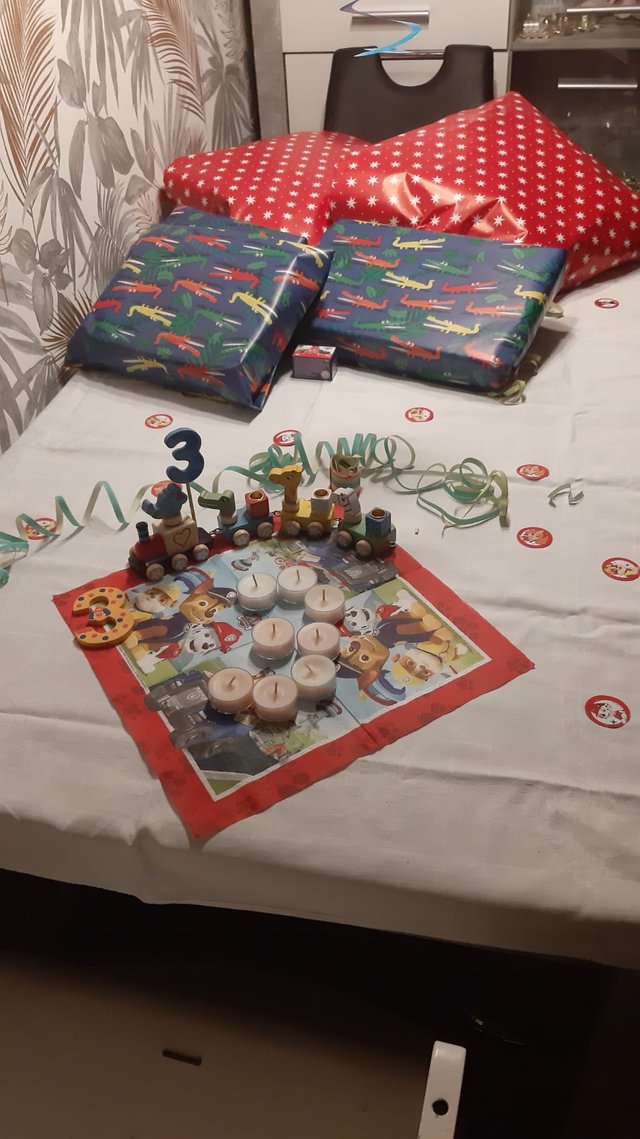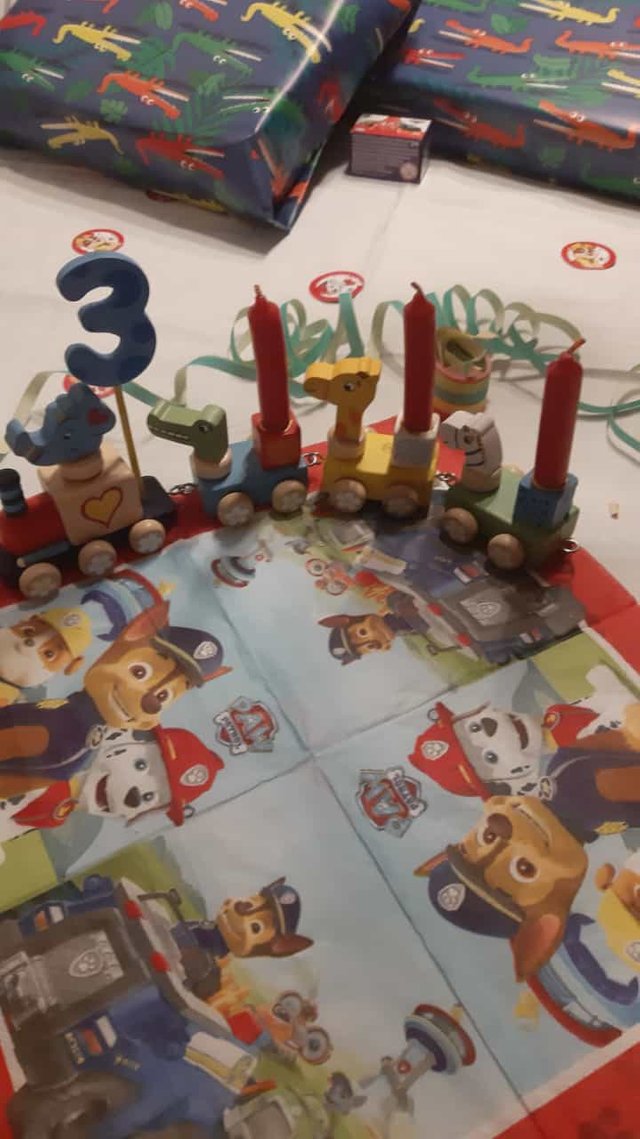 Heute Morgen hat er uns um 7 Uhr geweckt, weil die Wohnzimmertür zu war und er reinwollte. So hieß es für uns, los gehts mit der Kinderanimation.
😉😂
This morning he woke us up at 7am because the living room door was closed and he wanted to get in. So it was for us, let's go with the children's animation.
😉😂

Wir haben uns dann schnell angezogen und ihn dann ins Zimmer gelassen, er war echt erstaunt, wie viel Deko für ihn da war und seine Geschenke wollte er auch gleich öffnen. Zu den Geschenken ist noch folgendes zusagen, das größte fehlte noch, denn ich sollte warten, bis alle Gäste da waren, bevor ich es ihm gebe. Da mein Vater und mein Bruder bei der Übergabe dabei sein wollten.
Gegen 14 Uhr kamen dann alle rüber zu Kaffee und Kuchen und nachdem wir alle gemütlich zusammen gesessen hatten, gingen mein Bruder und ich das Geschenk holen. Da es nicht gerade klein war.
We then quickly dressed and then let him into the room,
he was really surprised how much decoration was there for him and his gifts he also wanted to open right away.
To the gifts is still the following zusagen, the largest was still missing, because I should wait until all guests were there before I give it to him.
Since my dad and brother wanted to be there for the handover.
Around 2pm everyone
came over for coffee and cake.
After we all sat comfortably together,
my brother and I went to get the gift. Since it wasn't exactly small.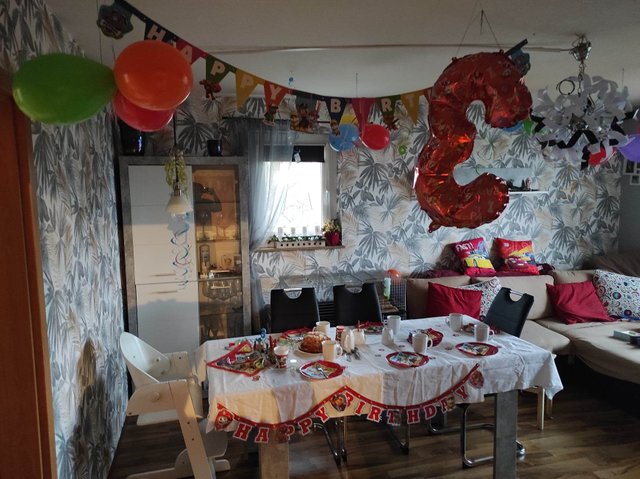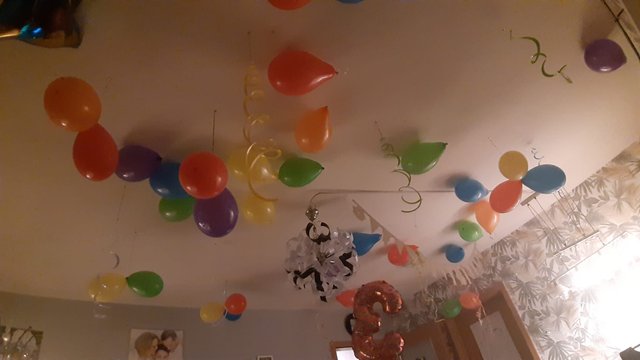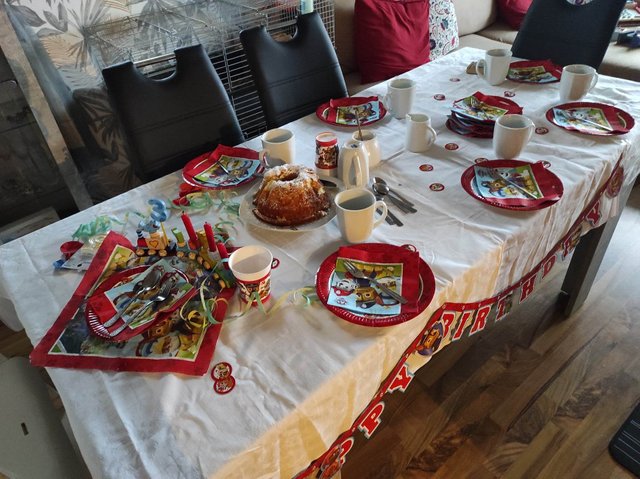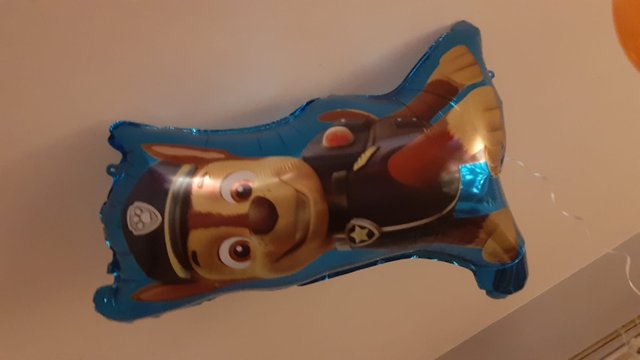 Er riss es schnell auf und war ganz aus dem Häuschen, als er sah, dass er Lightning MC Queen als selbstfahrendes Auto bekam. Wir mussten mit ihm 1-1 1/2 Stunden lang rausgehen, damit er es ausprobieren konnte.
He quickly tore it open
and was all excited to see
that he got
Lightning MC Queen as a self driving car.
We had to take him out for 1-1 1/2 hours so he could try it out.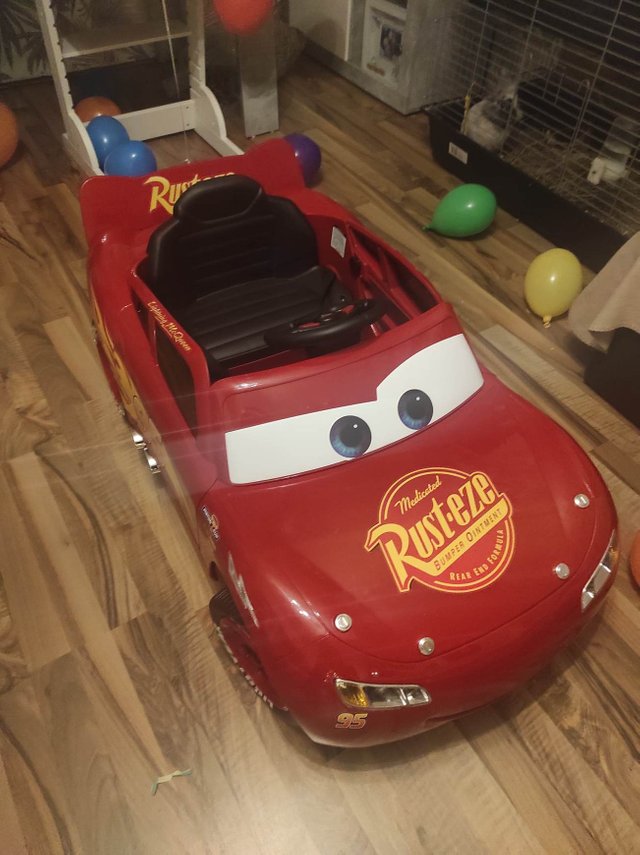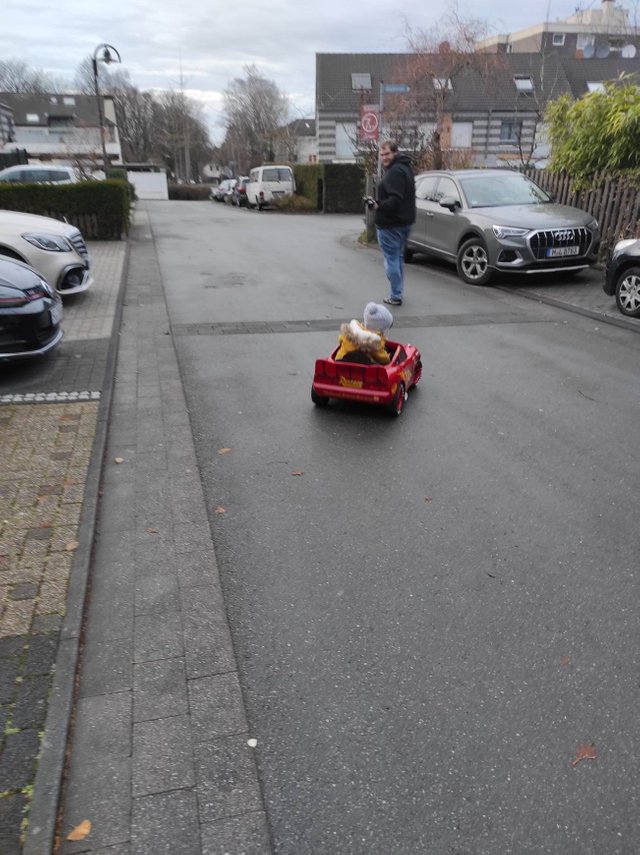 He had a blast and I'm glad to see he likes it.
He is already asking if there will be another party tomorrow. But you only have a birthday once a year
I hope you like the report, then follow me for more.
Also, check out my quiz and leave a tip.
Here is the link to it:
https://steemit.com/hive-129697/@gold.steemgerman/ratespiel-gold-steem-german-quiz-13-gewicht-raten-guessing-game-gold-steem-german-quiz-13-guess-weight-deu-eng
LG