SFS | Steemit Engagement Challenge - S8W6 || Review Your Favorite Online Shopping Apps
Hello everyone, we are here to share the contest for week 6 and may be the final week of engagement challenge season 8. Week 5 of the engagement challenge was fun and many users shared their views about the impacts of fashion trends on society. We appreciate all user's efforts and choose the best used as a winner in week 5.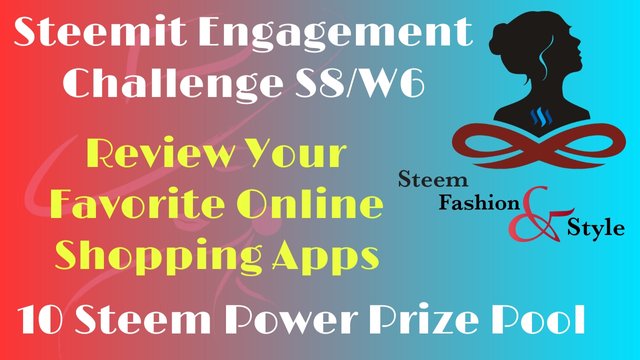 Contest Theme
---
Steem fashion & style is a community for those who love fashion & styling. We will focus on the basic needs of fashionist & stylists, their future on steemit, and around the world. Nowadays most of the people prefer to do their shopping through online shopping apps and some through offline stores.
We have seen a lot of sites, apps review on YouTube, Twitter, Instagram and Facebook etc. So, you have review the best shopping apps in your perspective. Please be original, good reviewer and share accurate information about respective apps.

⭐ What's your favorite online shopping app & why?
⭐ What would you prefer to buy through your favorite online shopping app?
⭐ Is it cheap or costly to buy through online apps? Share price in Steem and your country's currency
⭐ Would you prefer to buy items through online apps or offline? Which do you think is the best way of shopping?

---
Post must be written in the Steem fashion & style community. Subscribe to our community and follow our official community account @hive-126193.

All country members are allowed. You can write your post in any language.
- Plagiarism will not be supported. (Content must be steemexclusive).

The Title of the Post should be Steemit Engagement Challenge-S8W6 | Review Your Favorite Online Shopping Apps

The tags are, #steemfashionstyle-s8w6, #sfs-review, #engagementchallenge others tags are like your country as Pakistan, club status as club100, and #steemexclusive.

Post should be at least 300 words. Try to be unique and original. The images must be copyright free and should be sourced as well.

Invite your 3 friends to participate in our contest. Upvote and Redeem the contest post so that more users participate in this and upvote.

Share your participation link under the comment section of this post.

Contest will start at 00:00 (UTC) Monday 3rd April 2023, and end at 23:59 (UTC) Sunday 9 April 2023.

Reward
---
10 Steem power can be rewarded for top 3 winners each week. You can also get support from Sc01/Sc02 but votes are not guaranteed. Wish you all the best for engagement challenge season 8 week 6.

Regards
Steem Fashion & Style Team