Steemit Engagement Challenge S9W4 - "Say No to War"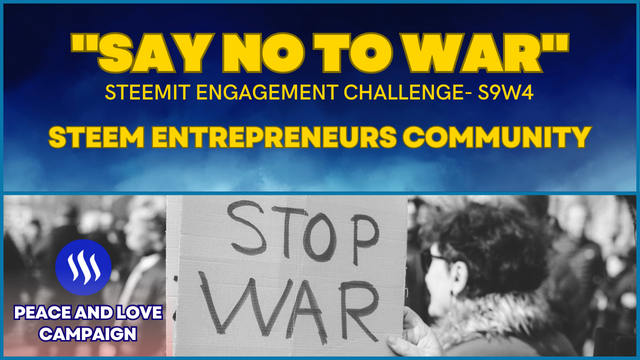 WAR always leaves deep sorrow, damages the socio-economic order, causes long-term trauma, malnutrition in children, disabilities, and other negative impacts on humanity.
"THE STEEM SAY NO TO WAR"
Through the Contest : Say No to War, let's convey a message of peace and love to the whole world because peace is beautiful and socially just for all civilized humanity.
---
How to participate in the contest :
Contestants write original and engaging articles that include the points from the statements below :
Are you for or against war? Explain your answer
What is the meaning of the phrase "Peace & Love"?
If you had to create a slogan for world peace, what would it be? Be creative.
Contestants don't have to write like answering a question but it would be better if these points could be summarized in a complete and interesting written form.
---
---
Entries must be 300 words or more.
Add photos preferably your own or you can use photos with a common license.
Be creative! Presenting free content that is plagiarized and created by AI or other cheats is automatically disqualified.
Use the title : Steemit Engagement Challenge S9W4 - The Steem Say No to War
Use the following as one of your primary tags #steementrepreneurs-s9w4 #creativewriting #steemexclusive and hashtag your country's name.
All entries must be #steemexclusive and posted only in Steem Entrepreneurs Community.
We recommend all contestants to support the #burnsteem25 initiative by setting 25% to @null.
Please comment on at least 5 contest entries. And respond responsibly to every comment on your entry
Mention at least 3 of your friends and share your contest entry link in the comments column of this post.
---
The participation time is between Monday, May 08th, 2023, 00.00 UTC to Sunday, May 14th, 2023, 23.59 UTC
---
| 1ST PLACE | 6 STEEM | POWER UP |
| --- | --- | --- |
| 2ND PLACE | 5 STEEM | POWER UP |
| 3ND PLACE | 4 STEEM | POWER UP |
Note : Prizes will be given in the form of power ups to the winner's account.
| Verified user | ? |
| --- | --- |
| Status club | - |
| Plagiarism-free | - |
| Bot-free | - |
| Tag #steemexclusive | - |
| Support #burnsteem25 | - |
| Voting CSI | - |
| Score | 0/10 |
| Time verification | - |
Determination of Club Status : https://steemworld.org/transfer-search
SC01 & SC02 would be checking on the entire 7 participating communities and upvoting outstanding content. Upvote is not guaranteed for all articles. Kindly take note.
---
Thank you to all parties who have helped carry out this contest and congratulations for all contestants to participate.
Cc : @steemcurator01


Open opportunities for useful contributions and collaborations with steem power delegates for community development.
Please select one from the link :
Thank you to all stemians who have supported and encouraged us to work hard to advance the Community and STEEM to reach wider people.
Kind regards,
Steem Entrepreneurs Team
---
---