Re - Introduction | Steem Entrepreneurs Community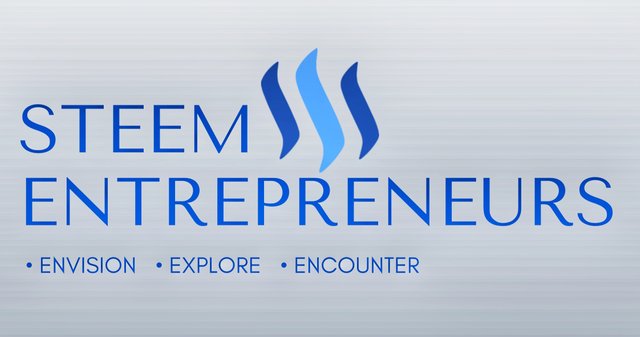 Previously, we apologize to all those who have supported the steem entrepreneur community and our official account @steem.enterprise.
Through this publication, we announce change of the official Steem Entrepreneurs community account from @steem.enterprise to @steempreneurship. Our considerations for changing the official community account :
The account name @steem.enterprise is too commercial and doesn't represent basic purpose of establishing of steem entrepreneurs community based on people economic business.
The account name @steempreneurship more represents the vision and mission of steem entrepreneurs community.
Community posts will be published by @steempreneurship account as the official account of steem entrepreneur community.
Once again we apologize for this inconvenience.
---
Previous post Steem Entrepreneurs Community Introduction

Steem Entrepreneurs Community Introduction
Background
Nowadays, more and more stemians have their own businesses. They are supported by advances in technology and ease of access to information. There have been many stemians who have managed to run their business well. The younger age of businessman, the greater opportunity for success in business he runs. Entrepreneurship is something that really needs to be done by the people of Indonesia or other countries today because it can be a solution to problems of unemployment and poverty which are still high.
Entrepreneurship is a strategic indicator in increasing the rate of economic growth in a country in general. The role of entrepreneurship in economic development includes more than just increasing output and per capita income, it also includes initiating and establishing changes in the structure of business and society. According to Mc. Clelland in Suryana and Bayu (2015) A country will develop if there are entrepreneurs as much as 2% of the total number of citizens.
Entrepreneurship is the process of creating something new with value using the necessary time and effort, assuming the accompanying financial and social risks, receiving the resulting monetary rewards, and personal satisfaction and freedom (Hisrich et al. 2008). Entrepreneurship is a creative and innovative ability that is used as the basis, tips and resources to find opportunities for success.
Community Founding Goal
STEEM ENTREPRENEURS was born as a forum to unite stemians who have a hobby or passion in their field of business. The community is designed as a fun place for entrepreneurs to share experiences, ideas, creativity, and new innovations in a business or product, so that can be an inspiration for other entrepreneurs.
Vision
To create new entrepreneurs.
Creating business products with Steem Logo as part of socialization about Steem to increase the confidence of potential investors.
Mission
To create new, young and talented entrepreneurs, especially among stemians.
Marketing products with Steem Logo which is managed independently by the Community.
Mutually beneficial cooperation with business people to include Steem Logo on marketed products.
Cooperating with all stakeholders in an effort to attract investors.
Empowering Small and Medium Enterprises (SMEs) through business assistance and providing business equipment or supplies (steem logo product packaging) for home industry businesses.
Steem Entrepreneurs page becomes Steem-Commerce for business people, especially stemians to promote business products for their business activities.
Facilitate payment for using SBD and STEEM between sellers and buyers.
Collaborate with other communities for the future of steemit.

Short Term Goals
Products with Steem Logo can reach people who cannot reach information about Steem from print media, online media or internet.
Can add new users on Steemit Platform and attract potential Steem Investors.
Long Term Goals
Steem Entrepreneurs are able to play an active role among the community in effort to improve family economy and provide easy facilities for business actors for business development through the establishment of the Steem Entrepreneur Cooperative.
The range of information about Steem is getting wider
Adding new potential users in steemit and investors.
Conclusion
STEEM ENTREPRENEURS is a fun place to meet the experiences, ideas, creativity, and innovation of business people so that they can inspire stemians to become entrepreneurs. This activity is expected to excite and motivate business people to continue to survive and develop businesses creatively during difficult times due to the pandemic.
STEEM ENTREPRENEURS are committed to all resources to spread information about STEEM and STEEMIT through the business sector and advertising.
Best Regards,
Steem Entrepreneurs