💰25 STEEM IN PRIZES!! New contest: 👽DO YOU BELIEVE IN ALIENS?👽 // 💰25 STEEM!! Nuevo concurso!! 👽¿CREES EN LOS EXTRATERRESTRES?👽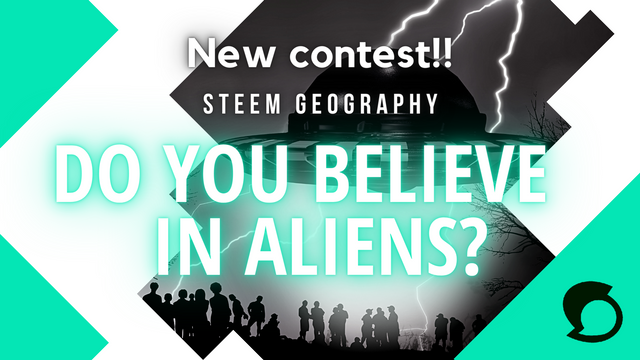 ENGLISH
---
Brand new contest!! 👽DO YOU BELIEVE IN ALIENS?👽
---
Hello, my dear community, I'm glad to present you with a new contest with a brand new idea for you to have some fun while writing!!
This contest is about answering that simple question... lol, maybe it's not that simple! Right? What do you think about aliens? Do you think that they exist? Where are they from? Where are they? Have you seen or hear some true stories about it?
I'm so curious!! Here in Argentina, we have some testimonies related to that!
---
So my dear friends... LET'S GO!!!
---
I'll be waiting for your entries until Agust 1st!!
---
---
Contest rules
---
⚠️ Maximum 250 words.
⚠️Plagiarism is not allowed, not from any Steemit users, nor from any website outside Steemit
The publications can be in any language.
Resteem this post, so more people find out about the contest.
Make sure to tag me @belenguerra, so I can see your post faster.
Use the tags #steemgeography and # yourcountry (#argentina in my case).
Share the link of your publication in a comment. I won't take into account entries that aren't shared as a comment in this post, or that are published in another community.
It would be great if you share your publication on Twitter, tagging @steemit, or on any social network you prefer.
Please cite the sources wherein you've got the pictures or data.
Please offer details of the camera used to take the pictures.
---
---
Awards - 25 STEEM 💰 in prizes
The prizes will be awarded as follows:
1st place = 9 STEEM
2nd place = 7 STEEM
3rd place = 5 STEEM
4th place = 3 STEEM
5th place = 1 STEEM
---
---
I'm very excited to read your entries!!
Thank you @stemcurator01 for your support
---
Have a very good day, and thanks a lot for participating!
---
Steem Geography
Belu
---
Cc.
@steemcurator01
@steemitblog
---

ESPAÑOL
---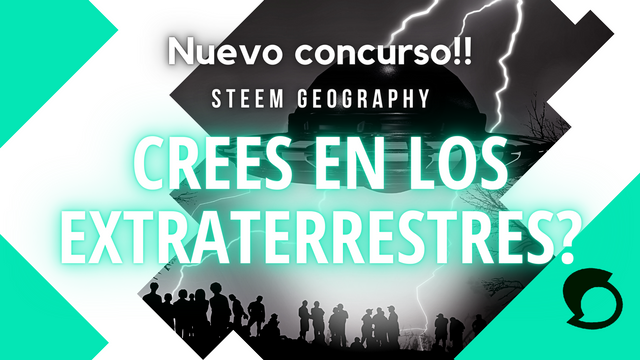 ---
¡¡Nuevo concurso!! 👽¿CREES EN LOS EXTRATERRESTRES?👽
---
Hola, mi querida comunidad, ¡me complace presentarte un nuevo concurso con una nueva idea para que te diviertas mientras escribes!
Este concurso se trata de responder esa simple pregunta... jajaja, ¡tal vez no sea tan simple! ¿Correcto? ¿Qué opinas de los extraterrestres? ¿Crees que existen? ¿De dónde son? ¿Dónde están? ¿Has visto o escuchado algunas historias reales al respecto?
¡¡Estoy muy curiosa!! ¡Aquí en Argentina, tenemos algunos testimonios relacionados con eso!
---
Entonces mis queridos amigos ... ¡¡¡VAMOS!!!
---
¡¡Estaré esperando sus entradas hasta el 1 de agosto!!
---
---
Reglas del concurso:
---
⚠️Máximo 250 palabras.
⚠️No se permite el plagio, ni de ningún usuario de Steemit, ni de ningún sitio web fuera de Steemit.
Las publicaciones pueden estar en cualquier idioma.
Resteemea esta publicación, así más personas se enteran del concurso.
Asegúrate de etiquetarme @belenguerra, así puedo ver tu entrada más rápido
Usá las etiquetas #steemgeography y # tupais ( #argentina en mi caso)
Comparte el link de tu publicación en un comentario. No tendré en cuenta las entradas que no se encuentren anunciadas en este posteo o que estén publicadas en otra comunidad.
Sería genial si compartieras tu publicación en Twitter, etiquetando a @steemit, o en cualquier red social que prefieras
Por favor, cita la fuente de las imágenes y de la información.
Por favor da detalles de la cámara utilizada para sacar las fotos.
---
---
Premios - 25 STEEM 💰 en recompensa:
---
1er lugar = 9 STEEM
2do lugar = 7 STEEM
3er lugar = 5 STEEM
4to lugar = 3 STEEM
5to lugar = 1 STEEM
---
Estoy muy ansiosa por leer sus entradas!!
---
Que tengas un muy buen día! Muchas gracias por participar
---
Steem Geography
Belu
---
Cc.
@steemcurator01
@steemitblog