SAVE UPTO 17% ON UNTAMED PACK PURCHASE ON MonsterMarket.io ( Only 4 Days left for PROMO)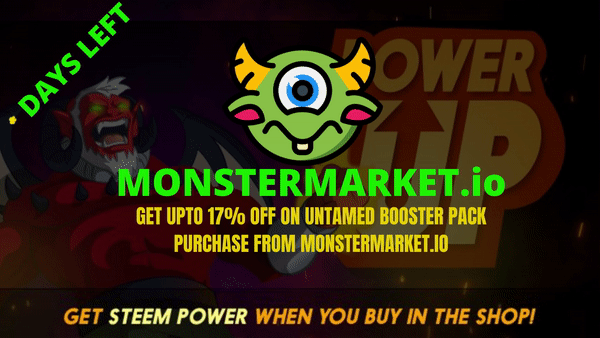 Greetings Splinterlands Warriors, we hope you guys are doing well. You guys already know that @splinterlands POWER UP promo going on for a week. Which means You guys will get 10% of the USD value of shop purchases back as Steem Power!
All purchases of Untamed Booster Packs, Starter Sets (soon to be called Summoner's Spellbooks), Potions, or Gift Cards through the in-game shop using USD or external cryptocurrencies are included, as well as Untamed Booster Pack purchases using Dark Energy Crystals (DEC)!
Please note that Potion purchases with DEC, purchases of Essence Orbs or Skins, purchases using a promo code, and market purchases are NOT eligible for this promotion.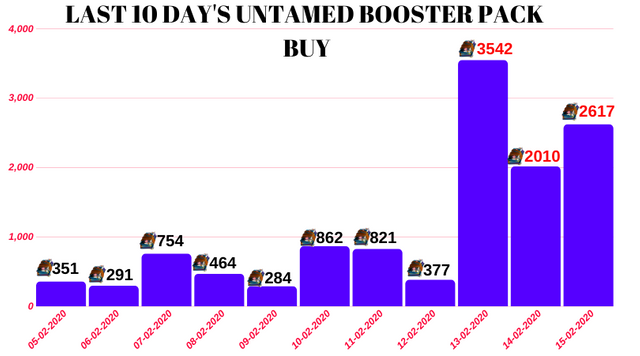 source
Already 3 days gone and 4 days left for the promo. Power Up campaign started from 13-02-2020, As you can see on last 10 days pack purchase chart the untamed pack purchase jump up right after the promo. Almost everyone trying to buy Untamed Packs right now because of this campaign.

Another reason is only 23984 Packs left to unlock next Airdrop and this time First UNTAMED Legendary Summoner MIMOSA NIGHTSHADE going to be airdropped. So this is amazing opportunity to grab some packs. There is many way to purchase packs, But the most saving + easy way is MonsterMarket.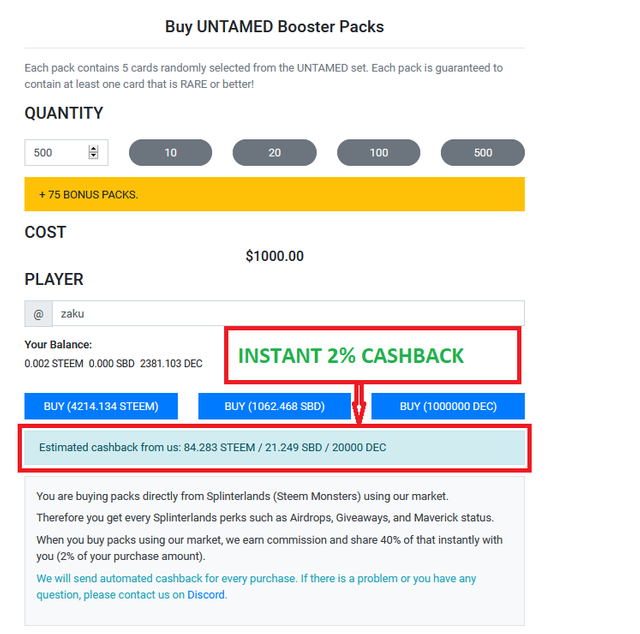 We are offering 2% instant cashback on pack purchase and the only market who offering instant DEC cashback. That's mean you can save upto *17%, if you purchase from us.
*17% = [ 10% Steem Power Up from @splinterlands + 5% Affiliate Commission + 2% Cashback from @monstermarket ]
The Power Up Promotion also works on MonsterMarket. You can get huge discount if you buy packs by DEC. Because current DEC price at Steem-engine is 0.002482 STEEM/DEC ($0.000513). But DEC are valued at 1000 DEC : $1 USD for Untamed pack purchase, So that's almost 49.7% save. Isn't that hugeeeeeeeeeeee ???
Also 10% Power up promo will be count according to Splinterlands shop DEC value ( 1000 DEC : $1 USD ) , Not according to Steem-engine Market Price .
More Details about the promotion on This Post
5% Affiliate Commission:
We all know that if your referred player buy booster packs from @splinterlands then you will get 5% affiliate commission. You will get same affiliate commission if you buy from MonsterMarket, Because you are buying packs directly from @splinterlands (SteemMonsters) using our market and you will get every Splinterlands perks such as Airdrops, Giveaways, and Maverick status. So before purchase pack make sure you logged into MonsterMarket by your own referred alt account. Though on MonsterMarket we also showed referred account name just after balances, so make sure that referred account is yours.

We are offering 3% cashback on Cards purchase and 2% cashback on Pack purchase instantly. Also we are the only market who offering that much cashback without any conditions. We send automated cashback for every purchase.

CASHBACK PROOFS:
So after Power Up promotion announcement @codebull[Referred by : @reazuliqbal(own)] Bought 100 packs by DEC from MonsterMarket.io. That's cost him 200000 DEC. Let's see what he got in returns :
He got 100(+10) Packs, 10% bonus for 100 - 499 packs purchase.



10% STEEM POWER UP by @steemmonsters. 10% Power up promo will be count according to Splinterlands shop DEC value ( 1000 DEC : $1 USD ), So for 200$ spend he got 20$ worth of STEEM AS POWER.


If you don't know how to purchase packs from MonsterMarket then this post will help you to understand more. Still if you need to know anything about our market you can Contact with us on Discord, Our Discord Channel : https://discord.gg/3NCwbCv .
MonsterMarket Community:
To know about our Market updates keep your eyes on our community page : https://beta.steemit.com/trending/hive-118875