Photo 52 - 2020 Photo Challenge - White Winter Wonderland Through a Crystal Ball - Wednesday Walk
With the extreme cold we having been having I haven't been going very far on my walks but I do try to get out in mid afternoon when the sun is shining to catch some "rays" and enjoy our cold but beautiful winter wonderland!
I was having some fun with my new crystal photo globe and caught some stunning photos right in our sheltered yard. Perfect for week three of Photo52 Challenge with a theme of White details here. This is open for anyone to join in and you can join in on all 52 sessions or any one session that catches your interest! I have accepted the challenge and I'm going to do my best to do all 52 sessions. My entry for week 1 on Selfies can be found here Week 2 on NEW here
Now on with week 3 where we have no shortage of white around us with all the fresh snow we have been having!
As I step out onto the deck I'm are surrounded by beautiful evergreens laden with fresh snow on their branches. That site in itself is a delight to see but it becomes magical when you view it through the crystal globe...
Large Snowy Spruce Tree Just off Our Deck Reflected in Crystal Ball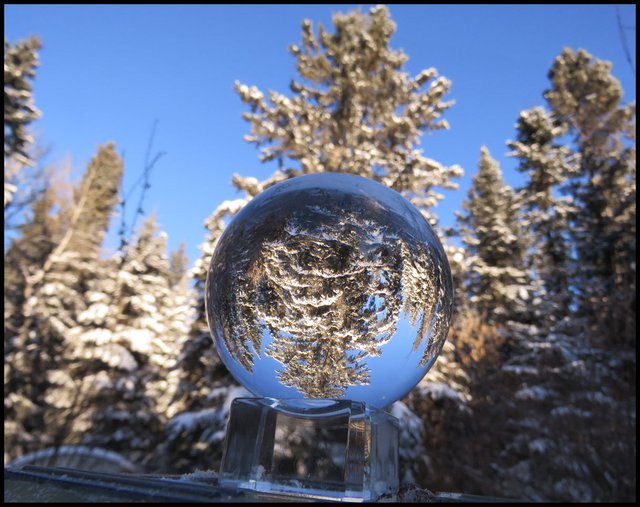 Let's have a closer look at this beautiful design from nature captured in the crystal ball...
Closeup of Crystal Ball Reflecting the Snowy Spruce Tree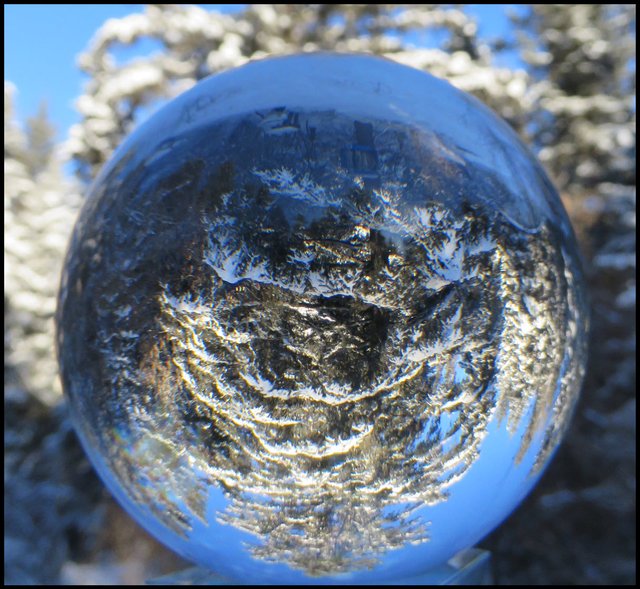 Here's some other views from around our deck...
Snowy Scene of Our Deck Reflected in the Crystal Ball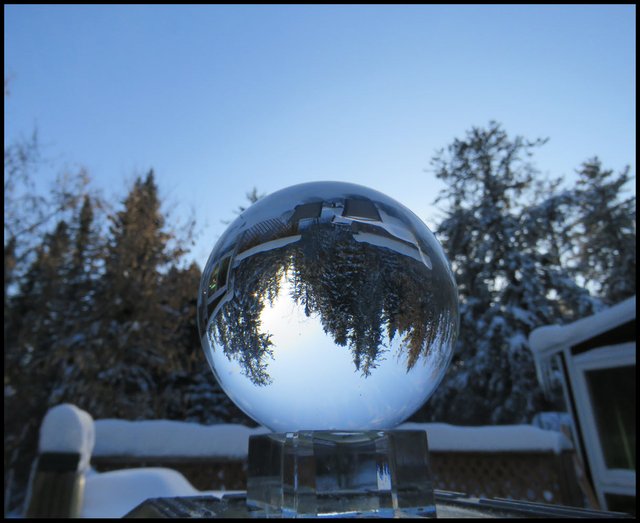 Bird Feeder and Hoop House with Background of Snowy Evergreens Reflected in the Crystal Ball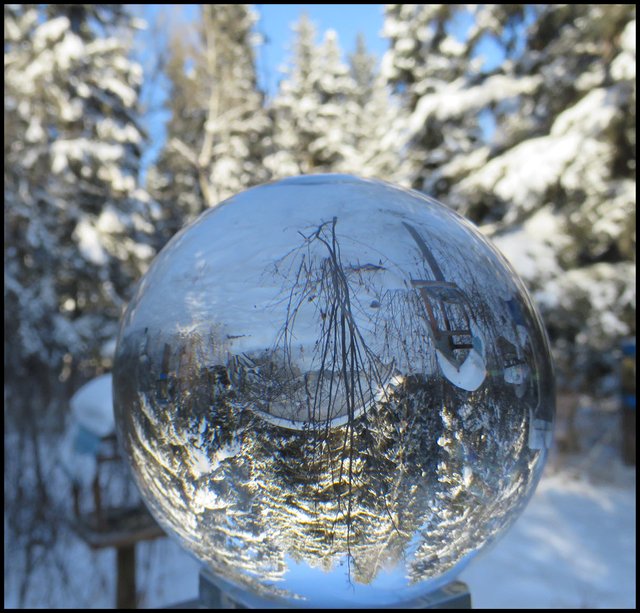 Closeup of that Scene with Snowy Spruce Bird Feeder and Hoop House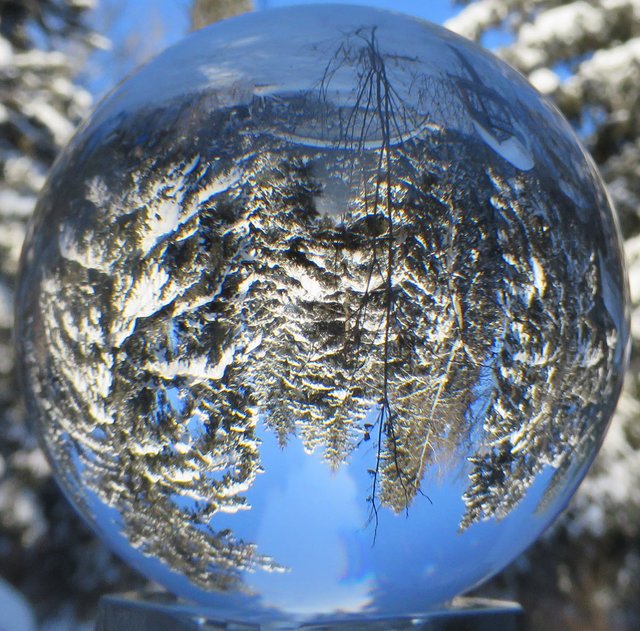 Beautiful Snow Covered Spruce Tree Reflected in Crystal Ball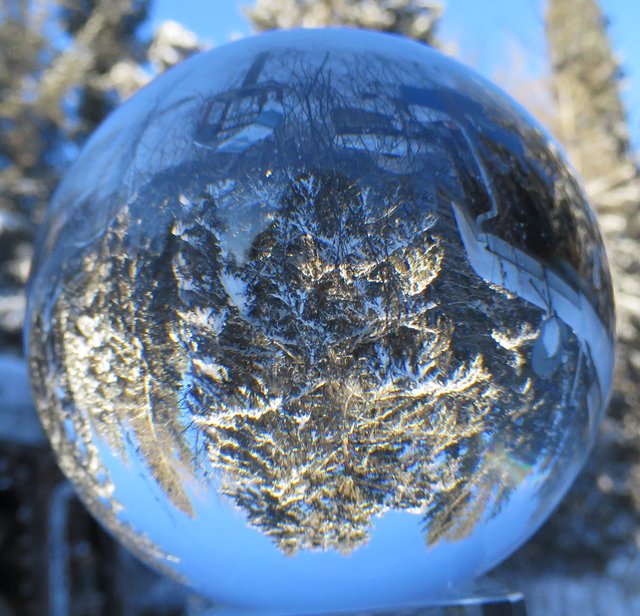 Another View of the Large Snowy Spruce by Deck Reflected in Crystal Ball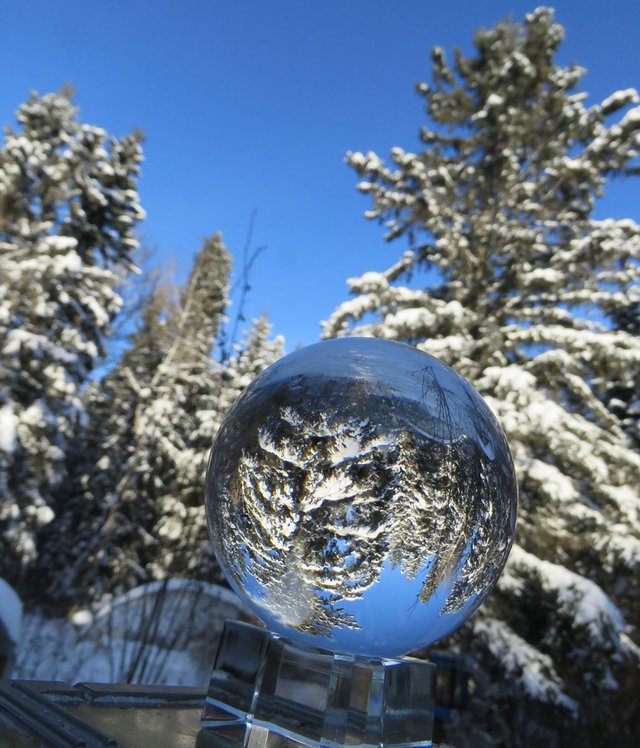 Reflection in Crystal Ball of Path to Neighbors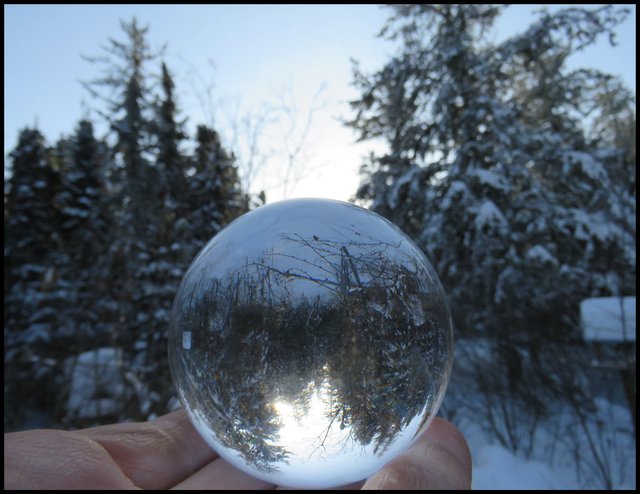 Capturing the Icicles in the Crystal Ball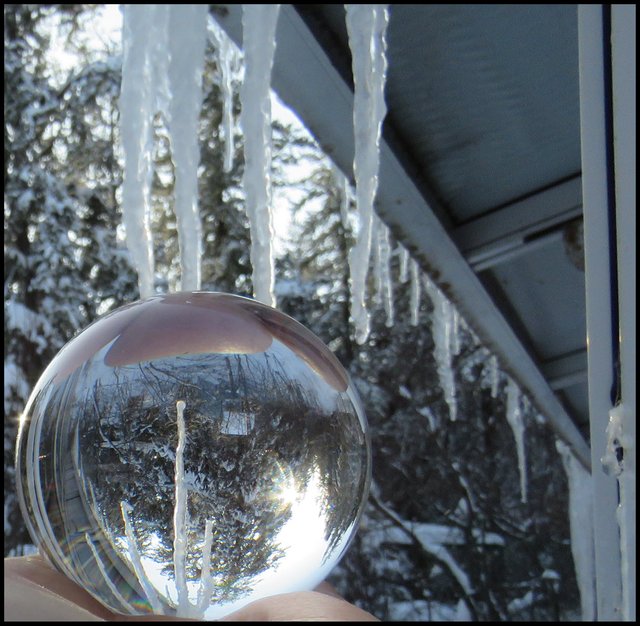 Enough of the scenes from our deck , let's venture down the lane for there is more wonders to be seen...
Bruno Raring to Go Play in the Snow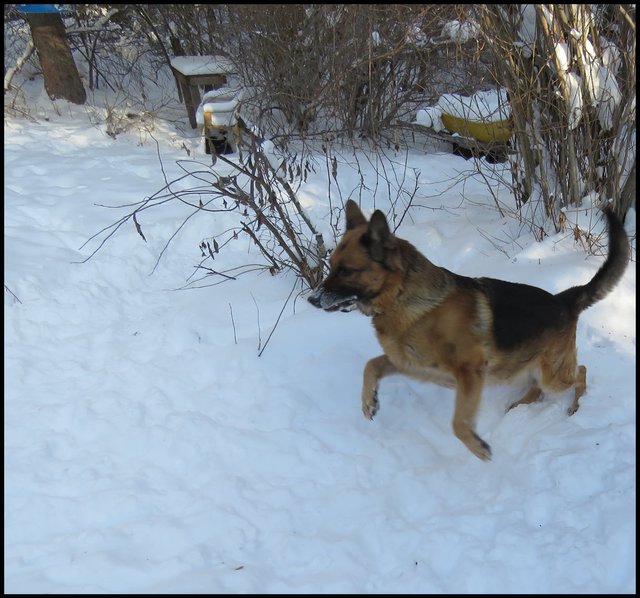 Bruno Waiting for Me at Head of the Willow Lane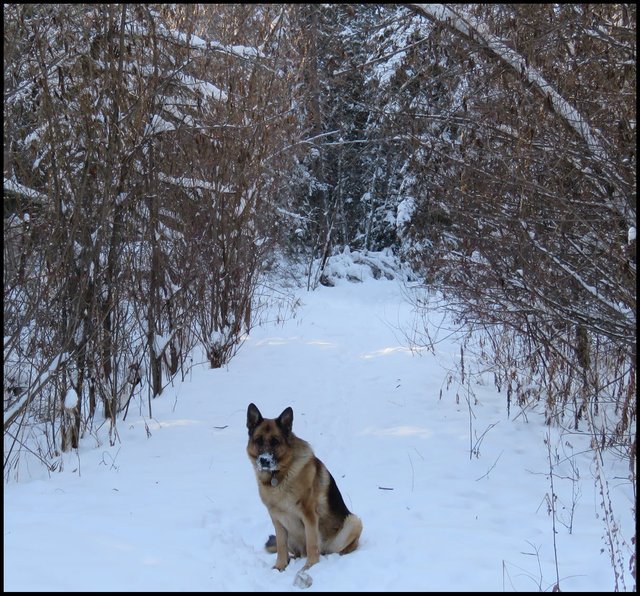 At the head of the lane there was a young spruce draped in snow that I admired each time I walked by. Now I wanted to see it through the magic of the crystal ball.
Young Spruce Draped in Snow Reflected in Crystal Ball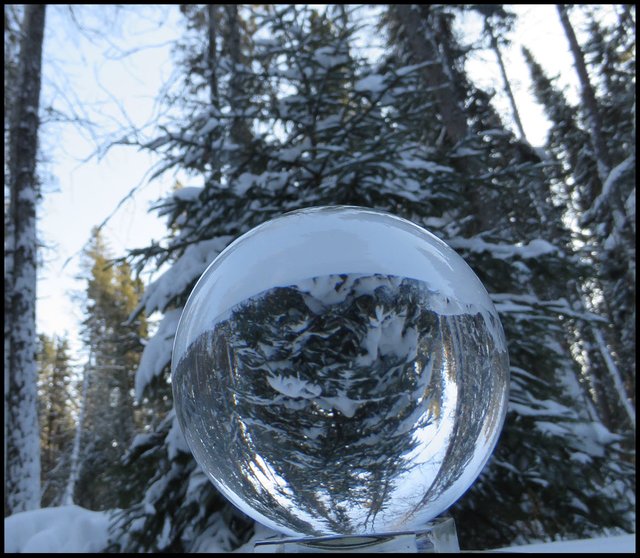 Closeup of Single Snow Draped Spruce Reflected in Crystal Ball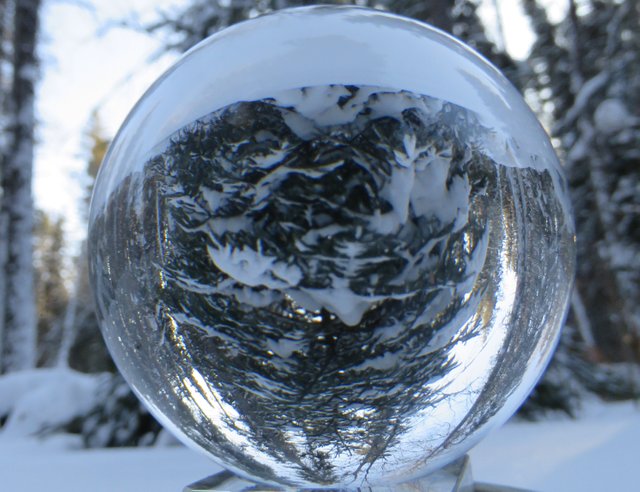 Further down the lane we have our well house which was behind a fallen spruce covered in snow. This made for a beautiful snowy display (Kind of looks like one of those snow globes!)
Gazing at Well House Behind Waves of Snow Covered Branches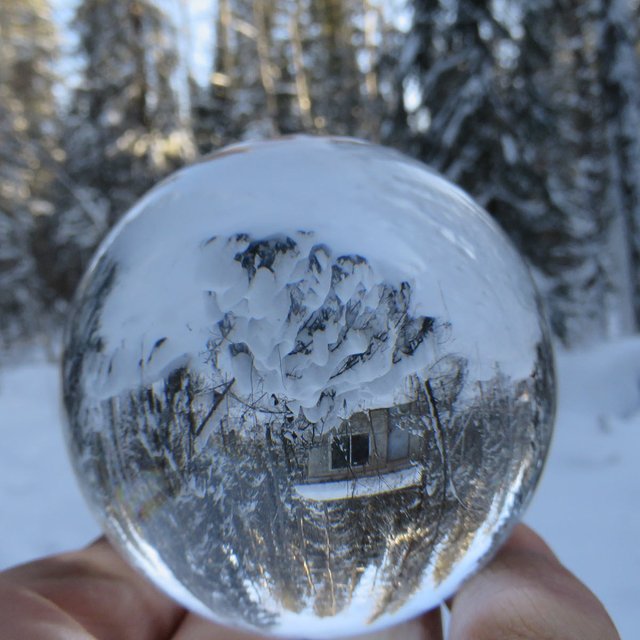 When we reached the opening by our garage my eye was drawn to the sun kissed spruce which reflected magnificently in the crystal globe.
Sun Kissed Snowy Spruce Reflected in the Crystal Ball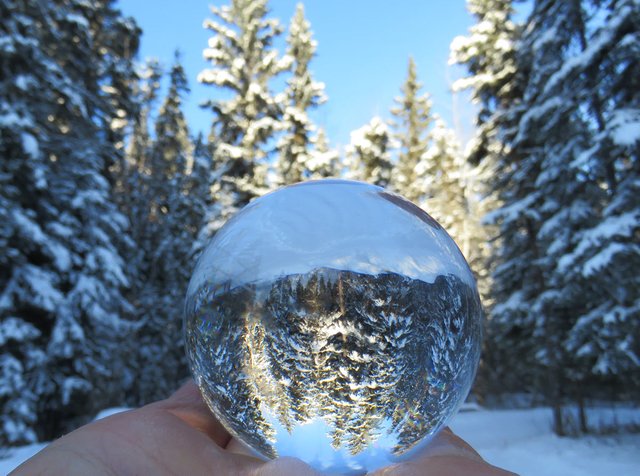 Closer View of the Sun Kissed Spruce Reflected in the Crystal Ball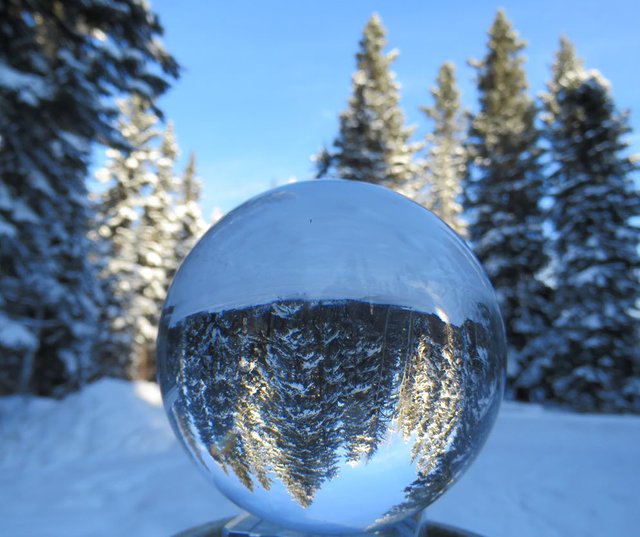 Needless to say, as much as I was memorized by the magical scenes before my eyes and captured in the crystal ball, I was getting pretty cold (you may have noticed I had bare hands holding the crystal globe in some shots plus I was kneeling in the snow to capture some of the pictures!) Time to head in and warm up by the wood heater with a nice hot chocolate!
As we arrived home we spotted the grey jay at the feeder. I always keep the feeder well stocked with this cold weather.
Grey Jay at Bird Feeder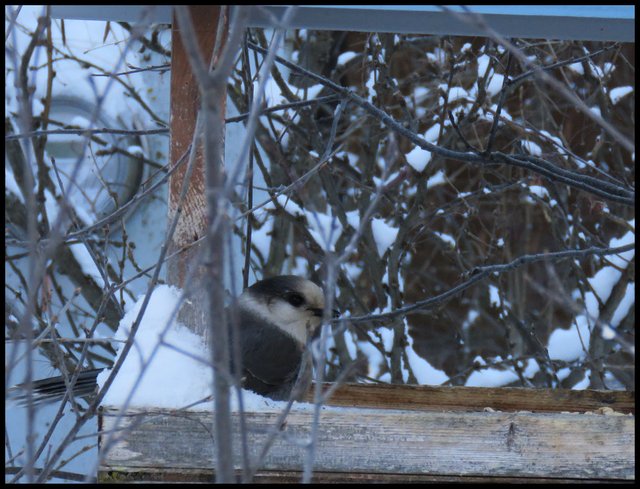 One more view of the handsome grey jay...
Front view of Grey Jay at Bird Feeder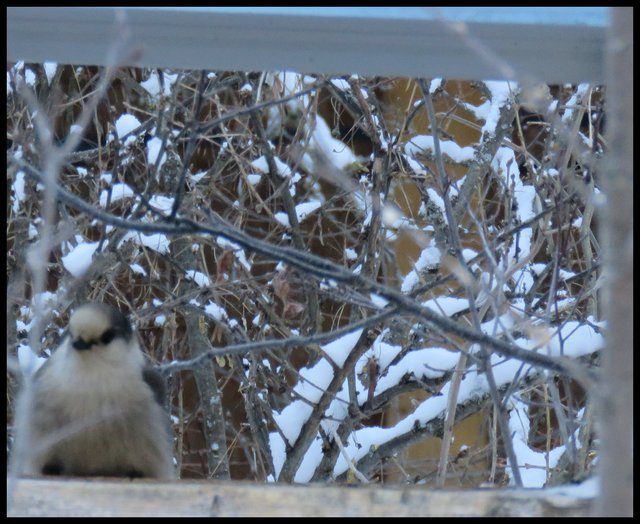 Another bird we saw at the feeder was the magpie which I have never seen at the feeder before. He must have been hungry to be coming to the feeder. The - 30 Celsius weather really takes a toll on the birds, that and the fact that there was fresh snow covering everything too! I didn't get a very good shot of him for once he noticed us he took off.
Magpie at the Bird Feeder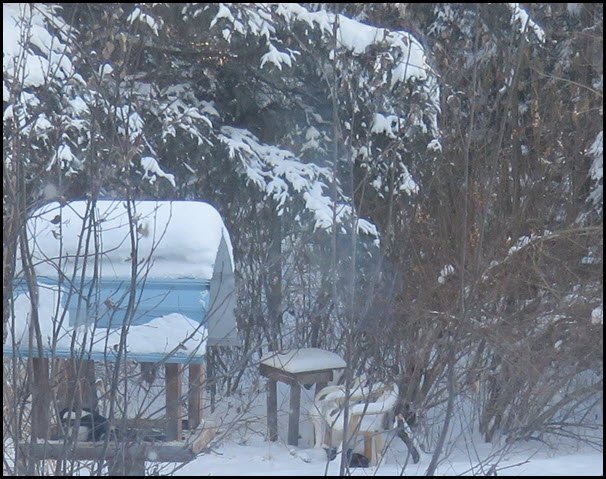 Bruno doesn't seem to care about the cold, he is always raring to go but as it was getting evening I think he was ready to come in. What do you think?
Bruno All Frosted Looking to Come Inside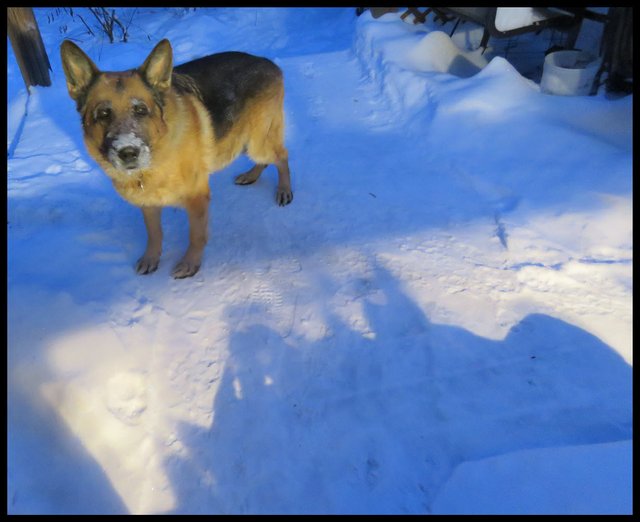 That's it for my magical mystery tour with crystal balls and white winter wonderlands - my entry for this week in the #Photo52 Challenge and my #Wednesdaywalk which is an initiative by @tattoodjay go check out his latest post here. He collaborates with @elizacheng and her #MakeMeSmile initiative, go see her latest post here.
Why not join in and give us a smile, show your part of the world plus share your shots in the #Photo52 challenge!
Also our winterwonderland with the snow draped evergreens is for my @treetuesday which is inspired by @old-guy-photos.
All images were taken with my Canon PowerShot SX 60 HS
Thanks for stopping by!

Proud member of @naturalmedicine, @homesteaderscoop, @tribesteemup, @ecotrain, @freedomtribe, @earthtribe & @steemitbloggers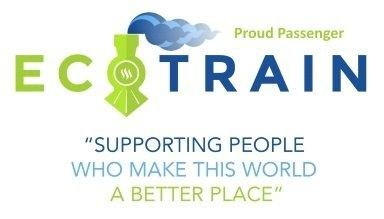 Discover previous ecoTrain magazines at @ecoTrain plus news on the Eco-Village at www.ecovillages.io


Discord
About


Visit my store - Porters Place at
https://homesteaderscoop.com/store/porters-place/

Grateful for the curation and support of
@tribesteemup