Creartekids-Workshop - 04 / Make a plasticine work of art with a friend and invite him to be part of Crearte-Kids / ¡¡ 30 STEEM in prizes !! [Español /English]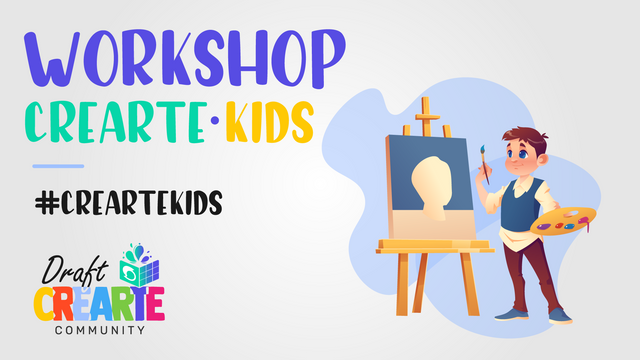 Hello friends of the DraftCrearte Community and welcome to Crearte-Kids. Continuing with our Project with its modality of weekly workshops, where you can participate by making your publications from these.
Hola amigos de la Comunidad DraftCrearte y bienvenidos a Crearte-Kids. Continuando con nuestro Proyecto con su modalidad de talleres semanales donde podrás participar realizando tus publicaciones a partir de estos.
In this 4th Workshop, you must make a plasticine work of art with one or more friends, invite them to be part of our Project, so that they know how wonderful it is to learn and share with Crearte-Kids. In the artwork you can represent people, animals, objects or landscapes.
En este 4to Taller, debes realizar una obra de arte de plastilina con uno o más amigos, invítalos a formar parte de nuestro Proyecto, para que conozcan lo maravilloso que es aprender y compartir con CrearteKids. En la obra de arte puedes representar personas, animales objetos o paisajes.
Let your imagination fly! / ¡Deja volar tu imaginación!
What is play dough?
Plasticine is one of the materials that amuses children the most and enhances the creativity of adults. It is colorful, malleable, does not stick, is not toxic on contact and does not dry in the air. Its formula is simple: it is made of waxes, oils, calcium salts, vegetable flour and pigments.

Fuente
Source
¿Qué es la plastilina?
La plastilina es uno de los materiales que más divierte a los niños y más exalta la creatividad de los adultos. Es colorida, maleable, no se pega, no es tóxica por contacto y no se seca al aire. Su fórmula es sencilla: está hecha de ceras, aceites, sales de calcio, harina vegetal y pigmentos.

Fuente

Activity:
Invite one or more friends to make the playdough artwork together.
Help your friend to register in Steemit and learn about our project.
Enter your friend's username.
Write in your own words what you liked about sharing this workshop with a friend.
What other technique would you like to learn at Crearte-Kids?
Actividad:
Invita a uno o varios amigos para que juntos realicen la obra de arte con plastilina.
Ayuda a tu amigo a registrarse en Steemit y que conozca nuestro proyecto.
Ingrese el nombre de usuario de su amigo.
Escribe con sus propias palabras lo que te gusto de compartir este taller con un amigo.
¿Qué otra técnica te gustaría aprender en Crearte-Kids.

The representative's participation in the children's activities is merely a guide, he should not carry out the activities because more than receiving a reward, the most important thing is to learn.
Post structure
| MAIN IMAGE | FOTOS | ACTIVITY | SELFIE |
| --- | --- | --- | --- |
| The main image of your publication should be the photo of the final result of your work. | At least 5 photos of the process with its explanation, in the photos you must go out with your friend. | Response to activity. | You must make the Selfie with your friend the works and your poster "Create-Kids", place it at the end of your publication. |
Estructura del Post
| IMAGEN PRINCIPAL | FOTOS | ACTIVIDAD | SELFIE |
| --- | --- | --- | --- |
| La imagen principal de su publicación debe ser la foto del resultado final de tu trabajo. | Al menos 5 fotos del proceso con su explicación, en las fotos debes salir con tu amigo. | Respuesta a la actividad. | Hazte un Selfie con tu amigo los trabajos y tu póster "Create-Kids", colócalo al final de tu publicación. |
Rules:
Ask your representative to help you comply with all the rules.
To participate in this Workshop, your account must be verified in the Project Crearte-Kids.
The title of the publication must be: Creartekids-Workshop - 04 / [creative title] By: @usuario.
Includes tags: #creartekids-workshop4 #draftcrearte #creartekids #contest #steemexclusive, in the same order.
Be sure to post your entry in the DraftCrearte community.
Copy the link of your entry in the comments of this contest.
Only one entry per user.
It is important to comment on the other children's publications.
Please "Resteemed" this post and invite 3 non-community friends to participate.
If you use a reference image, please leave the source link.
If any type of plagiarism is discovered, the user will be disqualified.
If you do not comply with any of the rules, you will not enter the list of participants.
Articles in Spanish or English.
Reglas:
Pídele a tu representante que lo ayude a cumplir con todas las reglas.
Para participar en este Taller, su cuenta debe estar verificada en el Proyecto Crearte-Kids.
El título de la publicación debe ser: Creartekids-Workshop - 03 / [título creativo] Por: @usuario.
Coloca el usuario de tu amigo o amigos.
Incluye etiquetas: #creartekids-workshop4 #draftcrearte #creartekids #contest #steemexclusive, en el mismo orden.
Asegúrese de publicar su entrada en la comunidad DraftCrearte.
Copia el enlace de tu entrada en los comentarios de este concurso.
Solo una entrada por usuario.
Es importante comentar sobre las otras publicaciones de los otros participantes en el taller.
"Resteemed" esta publicación e invita a participar a 3 amigos que no pertenecen a la comunidad.
Si usa una imagen de referencia, deje el enlace de la fuente.
Si se descubre algún tipo de plagio, el usuario será descalificado.
Si no cumple con alguna de las reglas, no entrará en la lista de participantes.
Artículos en español o inglés.

30 STEEM will be distributed among the best publications.
🏆
30 STEEM se distribuirá entre las mejores publicaciones.
🏆

Entries will be received until Wednesday, September 8 at 11:59 am (Venezuelan time) and the winners will be announced the following day.
Las participaciones se recibirán hasta el miércoles 8 de septiembre a las 11:59 am (hora de Venezuela) y los ganadores se darán a conocer al día siguiente.
---
---
Links to support our DraftCrearte community via SP.
Social Media:


Thanks @steemcurator01 for the support