Crearte-Kids: 1er Concurso de Fotografía // ¡¡30 STEEM in prizes !! [Español / English] #CLUB5050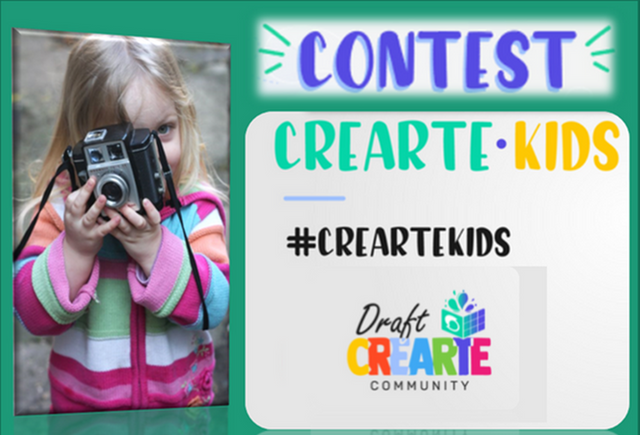 Crearte-Kids invites you to the 1st Photography Contest.
This contest seeks to make children aware of the relationship between their daily lives and nature.
The contest will be divided by themes, which must be held in three consecutive weeks.
What is this contest about?
You must take wildlife photos and then post them according to each week's theme and follow the contest rules.
Contest themes.
● Animal life:
For this category, wild animals in their natural habitat such as amphibians, reptiles, insects, mammals, arachnids will be taken into account. Photos of pets such as dogs and cats are not allowed.
● Plant life:
Plant species, including fungi, may be photographed even if they are not plant species.
● Landscapes-selfie:
The author of the photograph must be included with a natural background landscape.
Accompany your photographs with a brief review, tell us something about your experience when taking the photographs.
Specifications.
The photographs must have been taken by the children, although they may have the assistance of an adult.
Maximum four photographs.
The contest rewards the originality and creativity of the photographs.

The photographs should not have frames, or borders, or add any type of letters or emoji.
Rules:
Ask your representative to help you comply with all the rules.
To participate in this Workshop, your account must be verified in the Project Crearte-Kids.
The title of the publication must be: Crearte-Kids 1st Photography Contest / [creative title] By: @usuario.
Includes tags: #Photography1-creartekids #draftcrearte #creartekids #contest #steemexclusive, in the same order.
Be sure to post your entry in the DraftCrearte community.
Copy the link of your entry in the comments of this contest.
Only one entry per user.
It is important to comment on the other children's publications.
Please "Resteemed" this post.
In the comments of this publication, invite 3 friends, who do not belong to the Community and who are between 8 and 14 years old, to participate in the contest.

New rule:

Share your posts on social media (If you don't have one, you can do it from your representative's account).
If any type of plagiarism is discovered, the user will be disqualified.
If you do not comply with any of the rules, you will not enter the list of participants.
Articles in Spanish or English.
The dates of participation in the contest are as follows:
Animal Category: 1st week will be received until Saturday, January 29.
Vegetable Category: 2nd week will be received until Saturday February 5th.
Landscapes-selfie Category: 3rd week will be received until Saturday, January 12.
All entries must be received until 23:59 (Venezuela time) and the winners will be announced the day after the contest.

30 STEEM in prizes.
---

Crearte-Kids te invita al 1er Concurso de Fotografía.
Este concurso busca sensibilizar a niños sobre la relación de su vida cotidiana con la naturaleza.
El concurso estará dividido por temáticas, las cuales se deben realizar en tres semanas consecutivas.
¿De qué se trata este concurso?
Debes tomar fotografías de la vida natural y luego publicar según la temática de cada semana y seguir las reglas del concurso.
Temáticas del concurso.
● Vida animal:
Para esta categoría se tendrá en cuenta animales silvestres en su hábitat natural como anfibios, reptiles, insectos, mamíferos, arácnidos. No se admiten fotografías de mascotas como perros y gatos.
● Vida vegetal:
Se podrá fotografiar especies vegetales, incluyendo hongos, aunque no sean especies vegetables.
● Paisajes-selfie:
El autor de la fotografía debe incluirse con un paisaje natural de fondo.
Acompaña tus fotografías con una breve reseña, cuentanos algo de tu experiencia al tomar las fotografias.
Especificaciones.
Las fotografías deberán haber sido tomadas por los niños, aunque pueden contar con la asistencia de un adulto.
Máximo cuatro fotografías.
El concurso premia la originalidad y creatividad de las fotografías.

Las fotografías no deberán tener marcos, ni bordes, ni agregar ningún tipo de letras o emoji.
Reglas:
Pídele a tu representante que lo ayude a cumplir con todas las reglas.
Para participar en este Concurso, su cuenta debe estar verificada en el Proyecto Crearte-Kids.
El título de la publicación debe ser: Crearte-Kids 1er Concurso de Fotografía / [título creativo] Por: @usuario.
Incluye etiquetas: #Photography1-creartekids #draftcrearte #creartekids #contest #steemexclusive.
Asegúrese de publicar su entrada en la Comunidad DraftCrearte.
Copia el enlace de tu entrada en los comentarios de este concurso.
Solo una entrada por usuario.
Es importante comentar sobre las publicaciones de los otros participantes en el concurso y responder los comentarios.
"Resteemed" esta publicación.
En los comentarios de esta publicación invita a 3 amigos a participar en el concurso, que no pertenezcan a la Comunidad y que tengan una edad entre los 8 y 14 años.

Nueva regla:

Comparte tus publicaciones en las redes sociales (Si no tiene uno, puede hacerlo desde la cuenta de su representante).
Si se descubre algún tipo de plagio, el usuario será descalificado.
Si no cumple con alguna de las reglas, no entrará en la lista de participantes.
Artículos en español o inglés.

30 STEEM in premios.
---

Las fechas de participación en el concurso son las siguientes:
Categoría Animal: 1ra semana se recibirán hasta el sábado 29 de enero.
Categoría Vegetales: 2da semana se recibirán hasta el sábado 5 de febrero.
Categoría Paisajes-selfie: 3ra semana se recibirán hasta el sábado 12 de febrero.
Todas las entradas se se recibirán hasta las 23:59 (hora de Venezuela) y los ganadores se darán a conocer al día siguiente del concurso..
---
---
Links to support our DraftCrearte community via SP.
Social Media:


Thanks @steemcurator01 for the support.
...