[Intermediate Course] Steemit Crypto Academy Season 5 Week 5 | Status - P2P Messaging
ENGLISH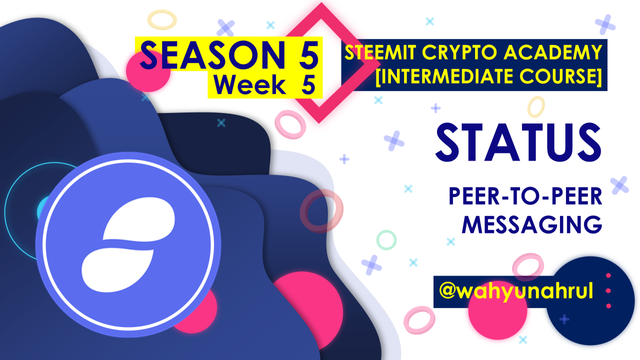 Hey Guys...!!!
Meet again with me Wahyu Nahrul in the Steemit Crypto Academy community.
This week I will be giving a topic that has something to do with sending messages and their relationship to Blockchain technology. On this occasion, I will discuss a platform that offers messaging with a high level of privacy and uses Blockchain technology as the basis for the platform to run.
Alright, let's get straight into the discussion. Happy reading!!

Background
If we go back a few years, we must remember how to communicate with people close to us. Starting from sending letters from the post office, then sending text messages via handphones, until now we have been able to send text messages, photos, and even videos using only a smartphone. From the evolution of messaging, we can see how something as simple as sending a message has begun to experience very sharp developments along with the times.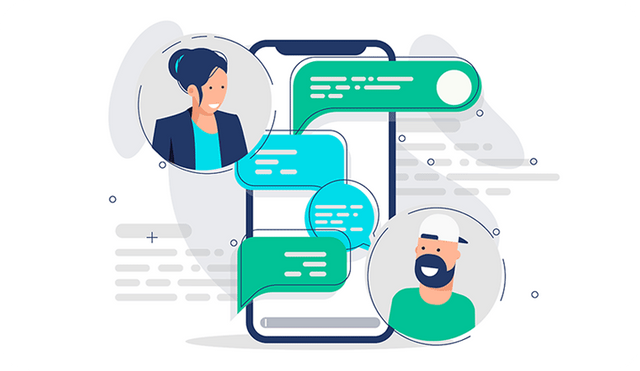 SOURCE
But there is one thing that is often a big problem when someone wants to send a message through a messaging application, namely privacy. This was the first time there was a scene among the public when one of the messaging applications, Whatsapp implemented a policy where they required users to provide their personal information to the Facebook company, which if the users refused the policy, they would not be able to use their WhatsApp account.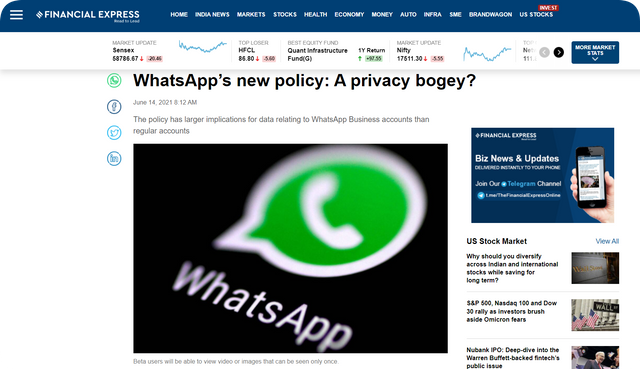 SOURCE
This suddenly became a hot conversation on social media and made many people begin to doubt the level of privacy security they get from social media. The result of this policy made many people start switching to other messaging applications such as Telegram or Signal. Both of these applications get a lot of new users in a very short time even they are overwhelmed in verifying new accounts created in large numbers at the same time.
From this we can see how important privacy and data security is for messaging application users, no one wants their data to be widely exposed or even used by an agency just for the benefit of the agency in taking advantage.
So that many people have started looking for messaging applications that can offer a good level of privacy and do not require users to share their confidential data with the application developers.
By seeing this problem, a messaging platform emerged that uses Blockchain technology and offers a high level of privacy to its users, the name of this platform is "Status".

Status Introduction
Status is a decentralized messaging application that uses Blockchain technology to run its programs. This app was first created by Carl Bennetts and Jarrad Hope in 2017 who both ran a software distribution company before they joined forces and built the Status app.
Unlike other messaging applications that use a centralized server system, Status uses Blockchain technology to send messages. In conventional messaging applications, usually, our messages that we type in the form of text will be sent directly from our account to the destination account by a third party, so that the contents of the message in the form of text will be visible to third parties who assist in the process of sending the message.
However, this is different from the messaging system in Status, in this application, all messages in the form of text will be immediately encrypted into a unique code that cannot be read by anyone, even the Status application developer itself cannot read it. Because to open the encrypted message requires a Private Key which is only held by the sender and recipient of the message. They call this messaging system "Peer-to-Peer Messaging".
And the difference is that the delivery system used by Status is that messages sent by someone are not sent to only one account, but the message will be spread throughout the Blockchain network. However, as I discussed earlier, the only person who can read the contents of the message is the sender and recipient who have the Private Key to access the contents of the message.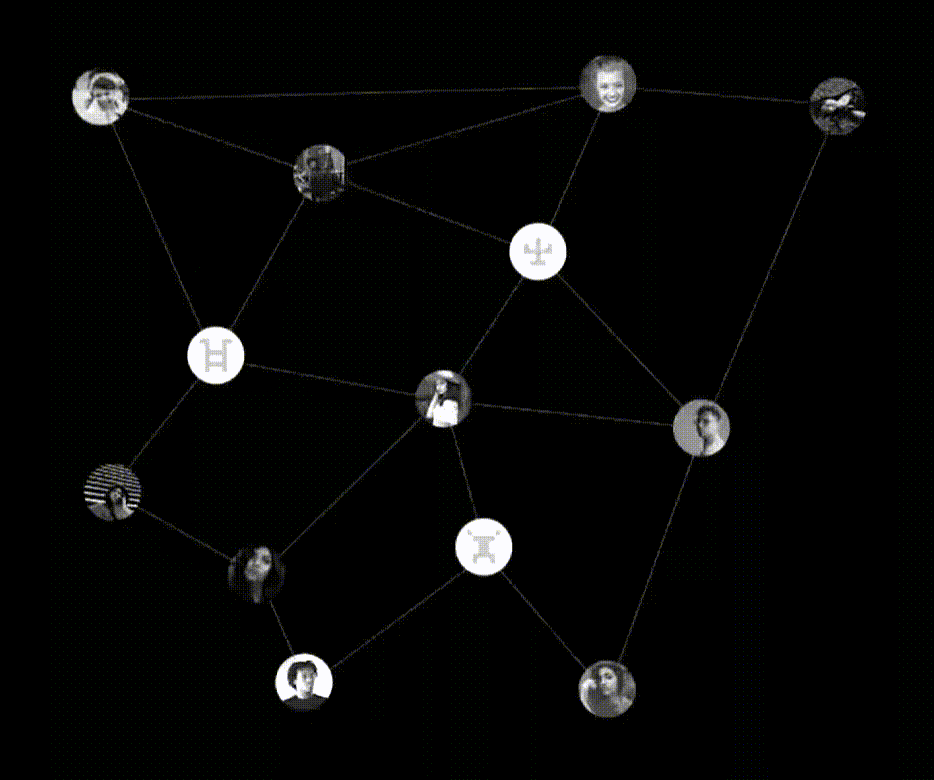 SOURCE
The process of spreading messages on the Blockchain is done so that the message can be immutable and cannot be manipulated by anyone so that when a message has been sent, it will be automatically recorded in the Blockchain and validated by the nodes responsible for it. This is what is called a decentralized system that does not require a third party in the process of sending messages and at the same time has a good level of privacy where messages can only be read by the holder of the Private Key.

Status Features
In addition to the Peer-to-Peer Messaging feature, Status also has a variety of other features offered to its users. All of these features are made so that users can get a better experience in using the Status application and can also improve the performance of this application in serving its users. The features in question are as follows:
1. Crypto Wallet
The first feature in Status is Crypto Wallet, this feature is a place where Status users can store their cryptocurrency assets directly in their Status account. Since Status is a decentralized application platform built on the Ethereum Blockchain, the types of tokens that are compatible to be stored on the Crypto Wallet in Status are ERC-20 and ERC-721 tokens.
By using this feature, Status users can easily send, receive and store their cryptocurrency assets. Even users can send crypto assets to other users just from chat rooms.
This is a very recent innovation where we know that until now we cannot send money from chat rooms from any application, by using decentralized Blockchain technology, this kind of thing can also be realized by the Status application.
In addition, we can also link our Status account with several different Crypto Wallet accounts, this way Status users can set which wallet they will use as a sending wallet, or their money storage wallet and which wallet they will connect to various DApps on Status.

2. Web3 Browser
This feature is a feature that allows Status users to explore various types of DeFi, exchanges, games, etc. and users can directly connect them to their status accounts to make transactions with these various DApps.
For example, if someone wants to swap ERC-20 tokens on the Uniswap website using one of their Crypto Wallet accounts in Status, then he can do that by searching for the Uniswap official website on the Web3 Browser menu in the Status application, then he just connects. the wallet with the Uniswap website and swap token transactions can already be done. In this way, Status users will find it easier to transact with various websites and DApps that run on the Ethereum Blockchain.

3. Account Generation
The next feature is the Account Generation feature, this feature is a feature that I think is the most important for beginners who have studied Status.
Unlike other messaging applications, when we create an account, we don't need to register a cellphone number, email, or bank account, all we need is a smartphone and the internet, simple right!
Honestly, I just recently got a social media application platform that doesn't require a cellphone number or email in the process of creating an account, even when we register for the Steemit account we are asked to enter a cellphone number and email so that our account can be created.
Therefore, it can be said that the account created on this Status application is completely free of the user's personal data so that the privacy level of this application is very good when compared to other messaging applications.

4. Key Card
The last feature is the Key Card, this feature is a hardware card in the form of a bank card where this card functions as a storage place for the Private Key of our Status account so that our Private Key can be stored completely offline.
If you already know hard wallets such as Ledger and Trezor then you will understand this Key Card, because both of these things are useful for storing Private Keys from our accounts.
What distinguishes the Key Card from other Hardwallets is that it uses NFC technology to connect the card to the smartphone so that when we are going to make any transaction through our Status account, we just stick it behind the smartphone and the system will automatically validate the Private Key on the Key Card.
This is also a pretty interesting thing where Status users can store their Private Key offline and at the same time, they can access the Private Key by simply sticking a card on the back of their smartphone.

Creating an Account On The Status App
Now I will show you how to create an account in the Status app. We have two choices of account creation options, namely via a desktop or smartphone, what I will show this time is creating a Status account through an application that we can download from Google Play or the App Store.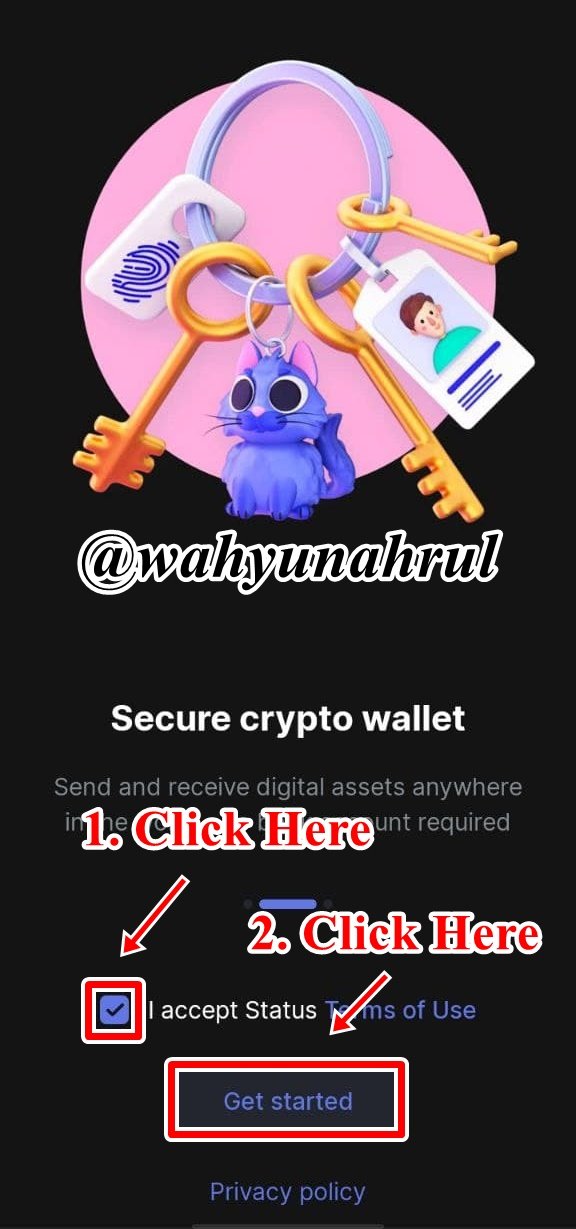 Step 1

The first step we take is to download and install the Status application on our smartphone first. After the Status application is successfully installed, then we open the application and we will be shown the initial screen that looks like the picture on the right.

On the start page of the Status application, we have been directed to immediately create a new account, to start we check the policy approval box from Status, and then we just click "Get Started".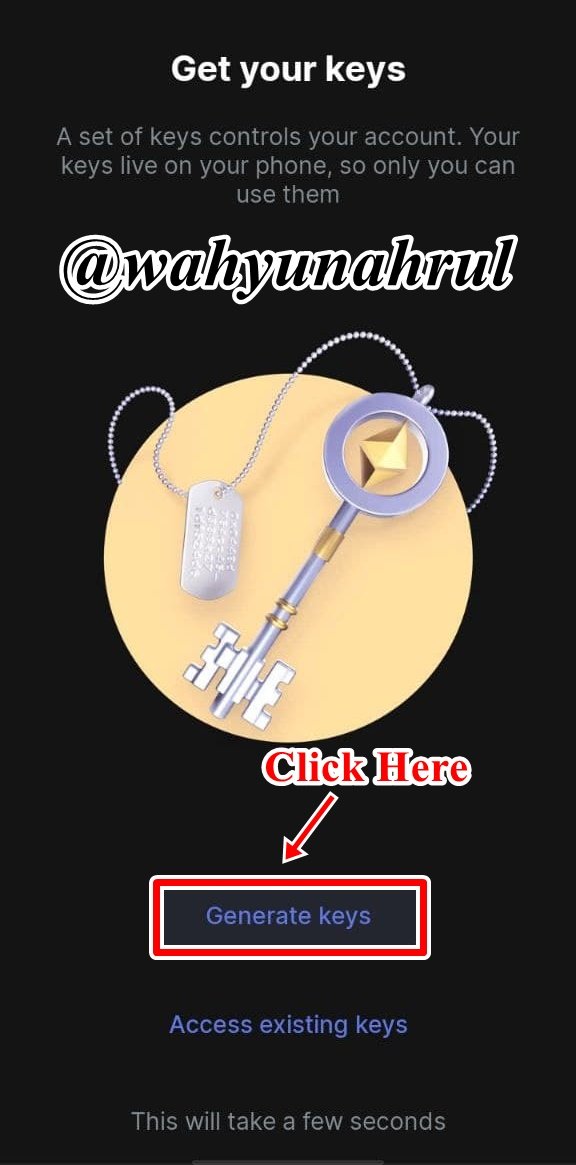 Step 2

After that we will be taken to another page, on that page we just need to click the "Generate keys" button. which means we will generate a key for the new account.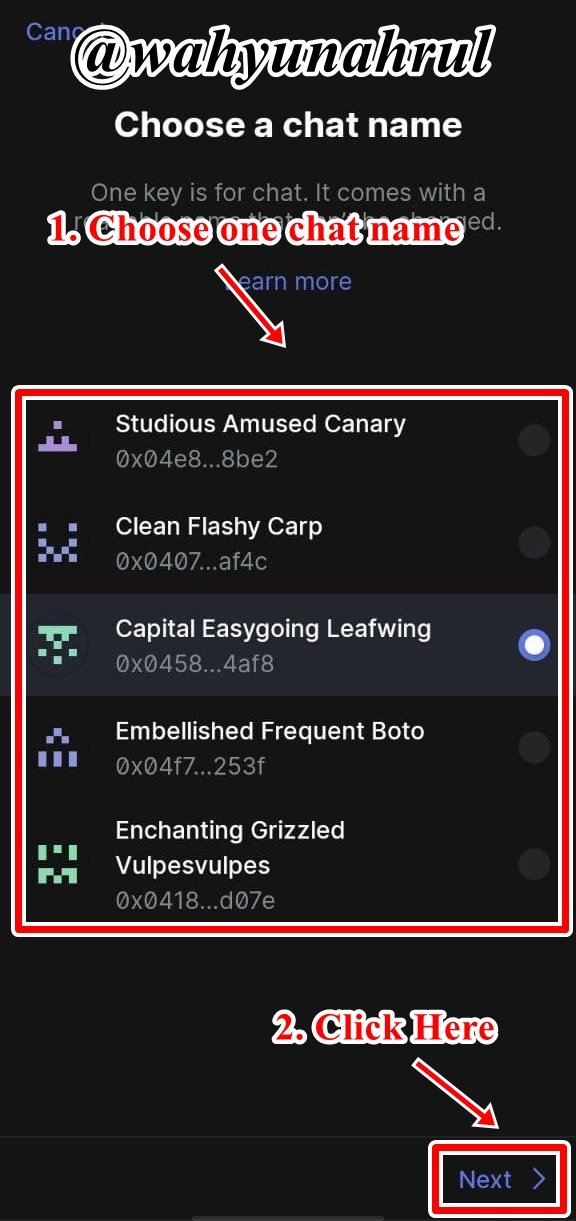 Step 3

We will be given 5 choices of account names and wallet addresses, we can choose which one we want among the five choices. When finished selecting it, we click on the "Next" button at the bottom of the screen.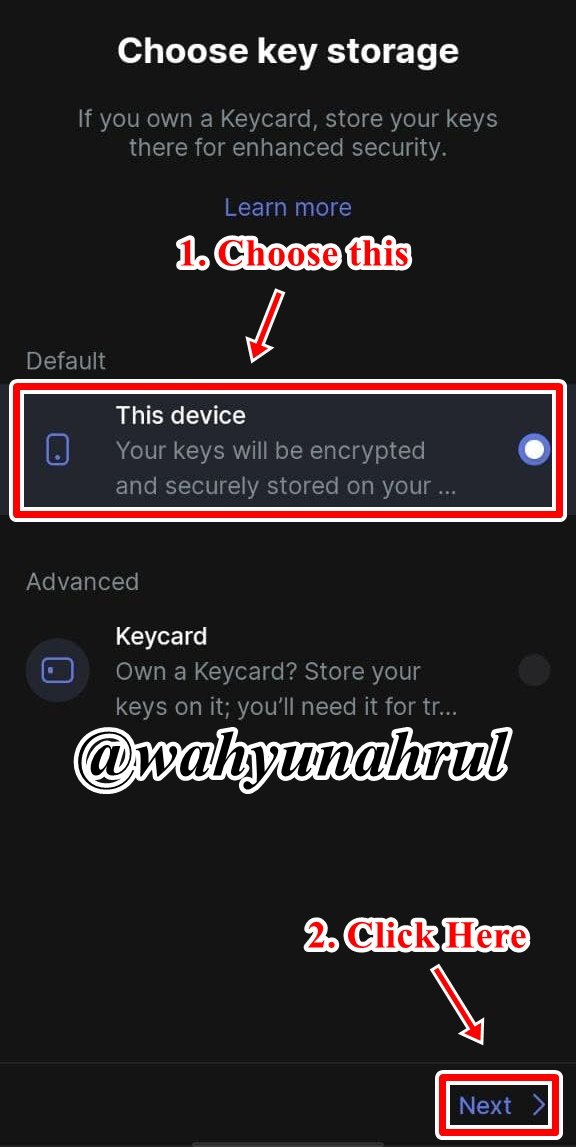 Step 4

Then we will be asked where we will store the Private Key of our Status account. Because we haven't bought a Keycard, we will choose the option to save it on our smartphone, after that click the "Next" button again.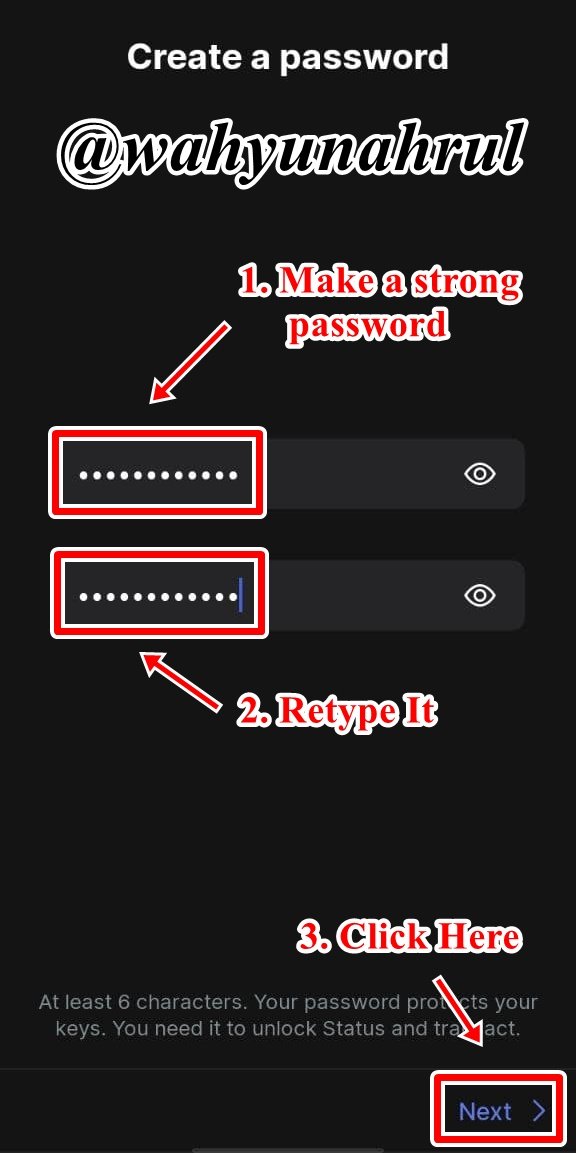 Step 5

Next, we will create a password for our account, this password will be used when we open the application and to confirm every transaction that we will do on the Status application.

Make a strong password consisting of several variations of words and numbers, then retype the password in the second column and after confirming the password, click the "Next" button to continue the account creation process.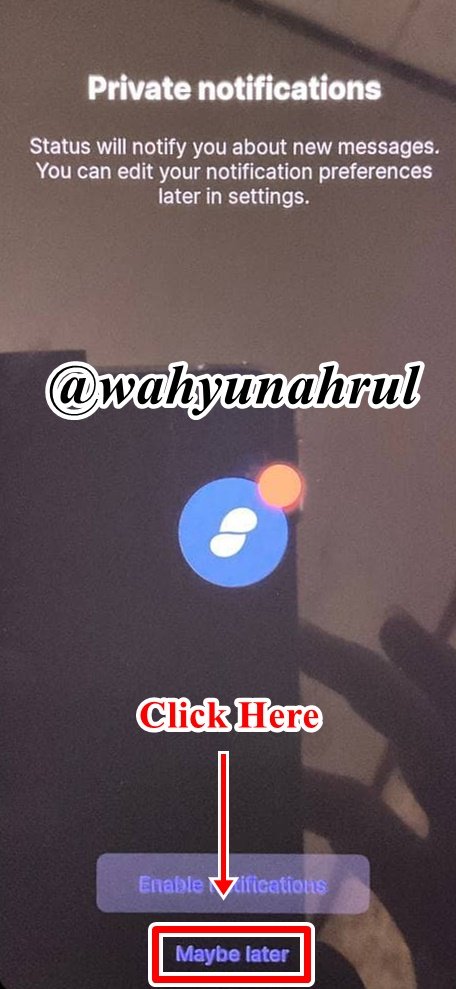 Step 6

Next, a notification will appear, we just select the "Maybe later" button to go to the next page.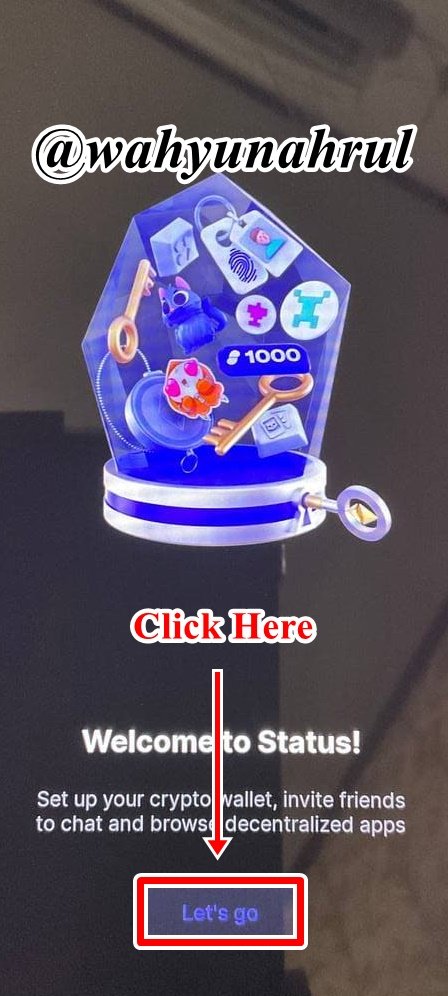 Step 7

On the next page, we are notified that our account creation process is ready to use, we just click the "Let's go" button to go directly to the account start page.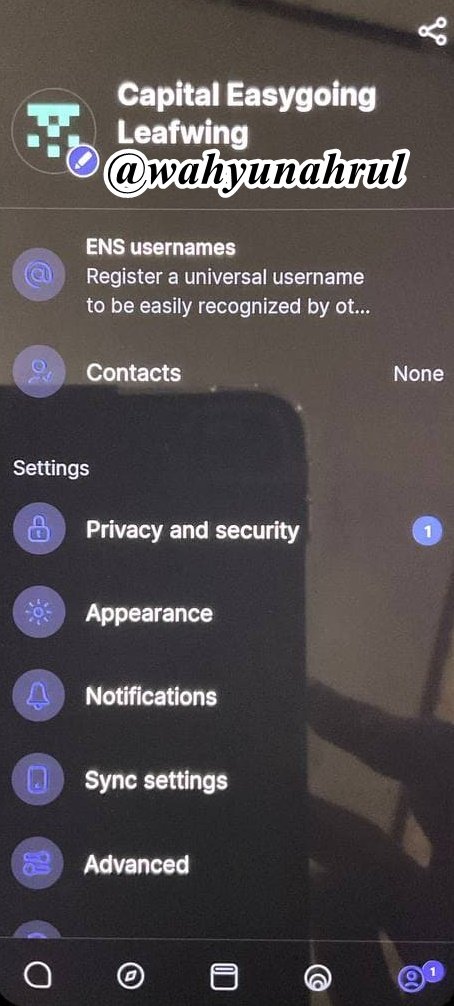 Step 8

And done!!
We can see that my Status account has been created and can be used directly to chat or send cryptocurrency.

Conclusion
Messaging has started to improve as time goes by, we can see that there will be no end if we talk about technology. At first, people could only send messages through a piece of paper and it could be seen by anyone, now we can send messages with a high level of security and privacy in the blink of an eye and without the need for any party as an intermediary in sending the message.
Status which is the next level of how to send messages is an answer to the desire of many people who want privacy in sending messages. Status is also one of the applications that I think is quite unique because it can create a unique application and is really needed by many people at this time.
That's all from me, thank you for reading my article to the end. If there are errors in writing, please tell me in the comments column. 😁

Note:
All unsourced images are the property of the author and are screenshots from the Status app.


Homework Tasks
1). Give your opinion on the existence of Status on the current messaging app?
2). What is the message delivery mechanism used in Status? Give a complete explanation along with illustrations with pictures
3). What distinguishes the Key Cards offered by Status with Hardwallet in general? What's unique about it?
4). Show the steps to create an account on Status in full. (Screenshot required).
5). Show the steps for backing up recovery phrases for a complete Status account. (Screenshot required).
6). Explore all the features in the Status application. (Screenshot required).
7). Show how to connect the Crypto Wallet in your Status account with a DApp using Web3 Browser. (Screenshot required).
8). Create a new Crypto Wallet account in the Status app. (Screenshot required).
9). Show how to connect a separate Crypto Wallet to the Status app. (Screenshot required).
10). Conclusion

Homework Rules and Guidelines
Please pay attention to all the rules and guidelines provided. Failure to follow the rules and guidelines will result in reduced grades or no grades at all.
Homework assignments must be posted in the community Steemit Crypto Academy.

PLAGIARISM, SPINNING, AND SPAMMING WILL NOT BE TOLERATED AT STEEMIT CRYPTO ACADEMY.

According to the latest rules, only people who are actively participating in the #club5050 are eligible to take part in Crypto Academy homework assignments.

Post title must be written in the format Status - P2P Messaging | Crypto Academy / S5W5 | Homework Post for @wahyunahrul.

Minimum reputation to take this class is 60.

Minimum Steem Power that must be owned is 600 SP. (Not including delegated)

Accounts that are powering down are not allowed to take this class.

The minimum number of words in the post 500 words.

Use images that are Copyright-free and list the source of these images.

All screenshots taken must be given a watermark that includes your username.

For steemians from Indonesia, Homework posts can be written in Bahasa Indonesia.

Put the tag #wahyunahrul-s5week5, and #cryptoacademy in the first 5 tags of the post.

You can add other tags relevant to this discussion, such as #p2p, #messaging, #blockchain, #decentralized, etc.

Put the task link in the comments column if it has not been rated for 2 days or more.

Homework assignments deadline is until December 18th 2021 at 23:59 UTC.
CC:
@steemitblog
@steemcurator01
@steemcurator02

BAHASA INDONESIA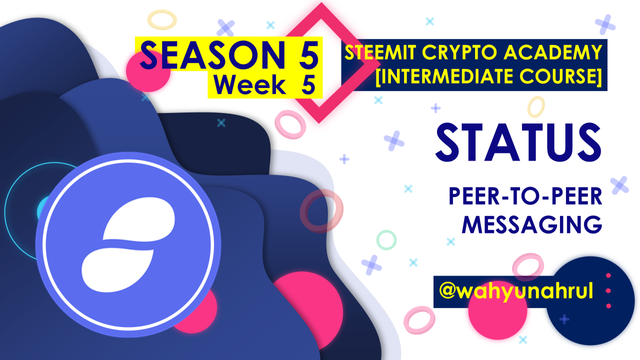 Hey Guys...!!!
Jumpa lagi dengan saya Wahyu Nahrul pada komunitas Steemit Crypto Academy.
Pada minggu ini saya akan memberikan sebuah topik yang berkaitan dengan sesuatu mengenai mengirim pesan dan hubungannya dengan teknologi Blockchain. Pada kesempatan ini saya akan membahas sebuah platform yang menawarkan sebuah pengiriman pesan dengan tingkat privasi yang tinggi dan menggunakan teknologi Blockchain sebagai landasan platform tersebut berjalan.
Baiklah, mari langsung kita masuk ke pembahasannya. Selamat Membaca!!

Kata Pengantar
Jika kita kembali ke beberapa tahun silam, kita pasti mengingat bagaimana cara melakukan komunikasi dengan orang-orang dekat kita. Mulai dari mengirim surat dari kantor pos, lalu mengirim pesan teks melalui handphone, sampai sekarang kita sudah bisa mengirim pesan teks, foto, dan bahkan video dengan hanya menggunakan smartphone. Dari evolusi pengiriman pesan tersebut kita bisa melihat bagaimana hal yang simpel seperti mengirim pesan sudah mulai mengalami perkembangan yang sangat tajam seiring dengan berkembangnya zaman.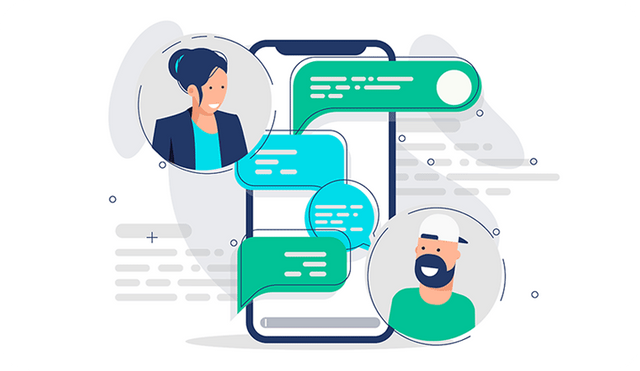 SUMBER
Tetapi ada satu hal yang sering menjadi masalah besar saat seseorang ingin mengirim pesan melalui aplikasi perpesanan, yaitu privasi. Hal ini pertama kali heboh dikalangan masyarakat saat salah satu aplikasi perpesanan yaitu Whatsapp melakukan sebuah kebijakan dimana mereka mengharuskan penggunanya untuk memberikan informasi pribadinya kepada perusahaan Facebook yang mana jika penggunanya menolak kebijakan tersebut maka mereka tidak akan bisa memakai akun whatsapp mereka.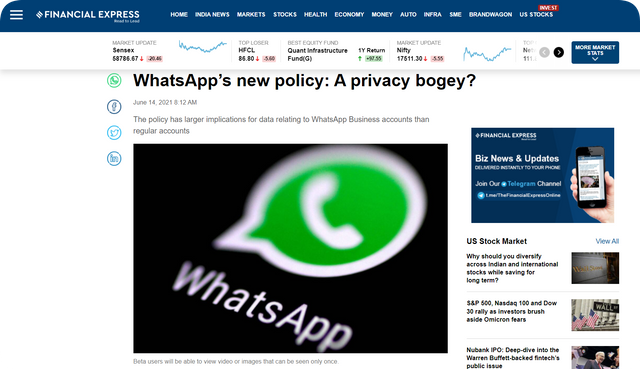 SUMBER
Hal ini sontak menjadi perbincangan hangat di sosial media dan membuat banyak orang yang mulai meragukan tingkat keamanan privasi yang mereka dapatkan dari bersosial media. Hasil dari kebijakan itu membuat banyak orang yang mulai beralih kepada aplikasi perpesan lainnya seperti Telegram ataupun Signal. Kedua aplikasi ini mendapatkan banyak pengguna baru dalam waktu yang sangat singkat bahkan mereka sampai kewalahan dalam melakukan verifikasi akun baru yang dibuat dalam jumlah yang banyak di waktu yang bersamaan.
Dari hal tersebut kita bisa melihat bagaimana pentingnya privasi dan keamanan data bagi para pengguna aplikasi perpesanan, tidak ada orang yang menginginkan data mereka terkespos secara luas atau bahkan digunakan oleh sebuah instansi hanya untuk kepentingan instansi tersebut dalam mengambil keuntungan.
Sehingga sudah banyak orang yang mulai mencari aplikasi perpesanan yang bisa menawarkan tingkat privasi yang baik dan tidak mengharuskan penggunanya untuk membagikan data-data rahasia mereka kepada pihak pengembang aplikasi tersebut.
Dengan melihat permasalahan ini, muncullah sebuah platform perpesanan yang menggunakan teknologi Blockchain dan menawarkan tingkat privasi yang tinggi kepada penggunanya, nama platform ini adalah "Status".

Pengenalan Status
Status merupakan sebuah aplikasi perpesanan terdesentralisasi yang menggunkan teknologi Blockchain dalam menjalankan programnya. Aplikasi ini dibuat pertama kali oleh Carl Bennetts dan Jarrad Hope pada tahun 2017 yang mana keduanya merupakan sama-sama menjalankan perusahaan pendistribusian perangkat lunak sebelum mereka bergabung dan membangun aplikasi Status.
Berbeda dengan aplikasi pengiriman pesan pada umumnya yang menggunakan sistem server terpusat, Status mengunakan teknologi Blockchain dalam melakukan pengiriman sebuah pesan. Pada aplikasi pengiriman pesan konvensional, biasanya pesan kita yang kita ketik yang berupa teks akan langsung dikirm dari akun kita ke akun tujuan oleh pihak ketiga, sehingga isi pesan yang berupa teks tersebut akan bisa dilihat oleh pihak ketiga yang membantu proses pengiriman pesan tersebut.
Akan tetapi, hal tersebut berbeda pada sistem pengiriman pesan di Status, pada aplikasi ini seluruh pesan yang berupa teks akan langsung dienkripsikan menjadi sebuah kode unik yang tidak bisa dibaca oleh siapapun bahkan pihak pengembang aplikasi Status sendiri pun tidak bisa membacanya. Karena untuk membuka pesan enskripsi tersebut memerlukan Private Key yang hanya dipegang oleh si pengirim dan penerima pesan tersebut. Sistem perpesanan ini mereka sebut dengan "Peer-to-Peer Messaging".
Dan bedanya lagi sistem pengiriman yang dipakai oleh Status adalah pesan yang dikirmkan oleh seseorang tidaklah di kirim hanya ke satu akun, melainkan pesan tersebut akan disebar ke seluruh jaringan Blockchain. Akan tetapi, seperti yang sudah saya bahas sebelumnya, orang yang bisa membaca isi dari pesan tersebut hanyalah sang pengirim dan penerima yang memiliki Private Key untuk mengakses isi pesan tersebut.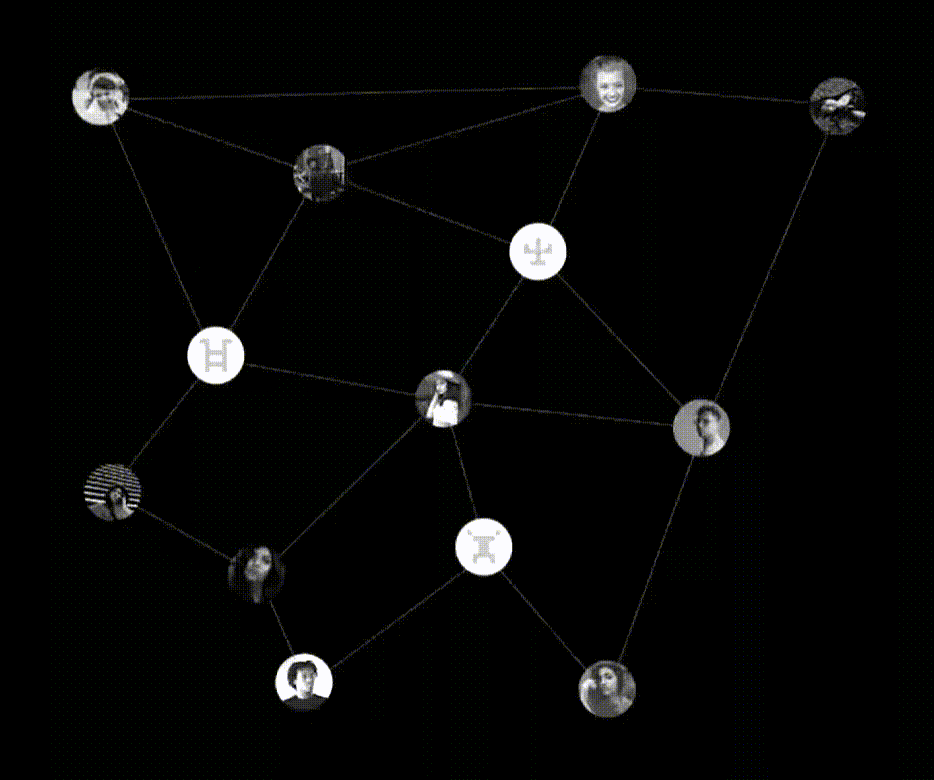 SUMBER
Proses penyebaran pesan dalam Blockchain ini dilakukan agar pesan tersebut bisa kekal dan tidak bisa dimanipulasi oleh siapapun, sehingga saat sebuah pesan sudah dikirm maka ia akan otomatis terekam dalam Blockchain dan divalidasi oleh node-node yang bertanggung jawab atas hal tersebut. Inilah yang dinamakan sistem terdesentralisasi yang tidak membutuhkan pihak ketiga dalam proses pengiriman pesan dan sekaligus memiliki tingkat privasi yang baik dimana pesan hanya bisa dibaca oleh pemegang Private Key.

Fitur-Fitur Status
Selain fitur Peer-to-Peer Messaging, Status juga memiliki berbagai macam fitur-fitur lainnya yang ditawarkan kepada penggunanya. Seluruh fitur ini dibuat agar para penggunanya bisa mendapatkan pengalaman yang lebih baik dalam memakai aplikasi Status dan juga bisa meningkatkan performa aplikasi ini dalam melayani penggunanya. Fitur-fitur yang dimaksud adalah sebagai berikut:
1. Crypto Wallet
Fitur pertama yang ada pada Status adalah Crypto Wallet, fitur ini merupakan sebuah wadah dimana pengguna Status bisa menyimpan aset cryptocurrency mereka secara langsung pada akun Status mereka. Karena Status merupakan sebuah platofrm aplikasi desentralisasi yang dibangun pada Blockchain Ethereum, maka jenis token yang kompetibel untuk disimpan pada Crypto Wallet di Status adalah token ERC-20 dan ERC-721.
Dengan menggunakan fitur ini, para pengguna Status bisa dengan mudah mengirim, menerima dan menyimpan aset cryptocurrency yang mereka miliki dengan mudah. Bahkan para penggunanya bisa melakukan pengiriman aset crypto kepada pengguna lainnya hanya dengan dari room chat.
Hal ini merupakan sebuah inovasi yang sangat terbaru dimana kita tahu bahwa samapai saat ini kita tidak bisa melakukan pengirim uang dari chat room dari aplikasi manapun, dengan menggunakan teknologi Blockchain yang terdesentralisasi maka hal seperti ini pun mampu diwujudkan oleh aplikasi Status.
Selain itu, kita juga bisa menghubungkan akun Status kita dengan beberapa akun Crypto Wallet yang berbeda, dengan begini para pengguna Status bisa mengatur dompet mana yang akan mereka jadikan sebagai dompet pengiriman, ataupun dompet penyimpanan uang mereka dan dompet yang akan mereka hubungkan dengan berbagai macam DApp yang ada pada Status.

2. Web3 Browser
Fitur ini merupakan fitur yang memungkinkan para pengguna Status bisa mengekplor berbagai macam DeFi, exchange, game, dll dan para penggunanya bisa langsung menghubungkannya dengan akun status mereka untuk melakukan transaksi dengan berbagai DApp tersebut.
Misalnya jika ada seseorang yang ingin melakukan swap token ERC-20 pada website Uniswap dengan menggunakan salah satu akun Crypto Walletnya yang ada pada Status, maka ia bisa melakukannya dengan mencari website resmi Uniswap pada menu Web3 Browser yang ada pada aplikasi Status, lalu ia tinggal menghubungkan walletnya tersebut dengan website Uniswap dan transaksi swap token pun sudah bisa dilakukan. Dengan begini para pengguna Status akan lebih dimudahkan dalam hal bertransaksi dengan berbagai macam website dan DApp yang berjalan pada Blockchain Ethereum.

3. Account Generation
Fitur selanjutnya adalah fitur Pembuatan Akun, fitur ini merupakan fitur yang menurut saya paling penting untuk diketahui oleh para pemula yang pernah mempelajari tentang Status.
Berbeda dengan aplikasi perpesanan yang lainnya, pada saat pembuatan akun kita tidak perlu mendaftarkan nomor handphone, email, ataupun akun bank, yang kita butuhkan hanylah smartphone dan internet, simpel kan!
Jujur saya baru kali ini mendapatkan sebuah platform aplikasi sosial media yang tidak membutuhkan nomor handphone atuapun email dalam proses pembuata akun, bahkan saat kita mendaftar akun Steemit kita kita diminta untuk memasukkan nomor handphone dan email agar akun kita bisa dibuat.
Oleh karena itu, bisa dikatakan bahwa akun yang dibuat pada aplikasi Status ini benar-benar bebas dari data pribadi penggunanya sehingga tingkat privasi dari aplikasi ini sudah sangat baik jika dibandingkan dengan aplikasi perpesanan lainnya.

4. Key Card
Fitur terakhir adalah Key Card, fitur ini merupakan sebuah hardware yang berbentuk kartu seperti kartu bank dimana kartu ini berfungsi sebagai tempat penyimpanan Private Key dari akun Status kita sehingga Private Key kita bisa disimpan offline secara penuh.
Jika kalian sudah tau hardwallet seperti Ledger dan Trezor maka kalian akan paham dengan Key Card ini, karena kedua hal tersebut kegunaannya sama-sama untuk menyimpan Private Key dari akun kita.
Yang membedakan Key Card dengan Hardwallet lainnya adalah ia menggunakan teknologi NFC untuk menghubungkan kartu tersebut dengan smartphone sehingga saat kita akan melakukan transaksi apapun melalui akun Status kita maka kita tinggal menempelkannya dibelakang smartphone dan sistem akan otomatis memvalidasi Private Key yang ada pada Key Card tersebut.
Ini juga merupakan sebuah hal ynag cukup menarik dimana para pengguna Status bisa menyimpan Private Key mereka secara offline dan sekaligus mereka bisa mengkases Private Key tersebut dengan hanya menempelkan sebuah kartu pada bagian belakang smartphone mereka.

Membuat Akun Pada Aplikasi Status
Sekarang saya akan memperlihatkan bagaimana cara membuat sebuah akun pada aplikasi Status. Kita memiliki dua pilihan opsi pembuatan akun yaitu melalui desktop ataupun smartphone, yang saya contohkan kali ini adalah pembuatan akun Status melalui aplikasi yang bisa kita download dari Google Play ataupun App Store.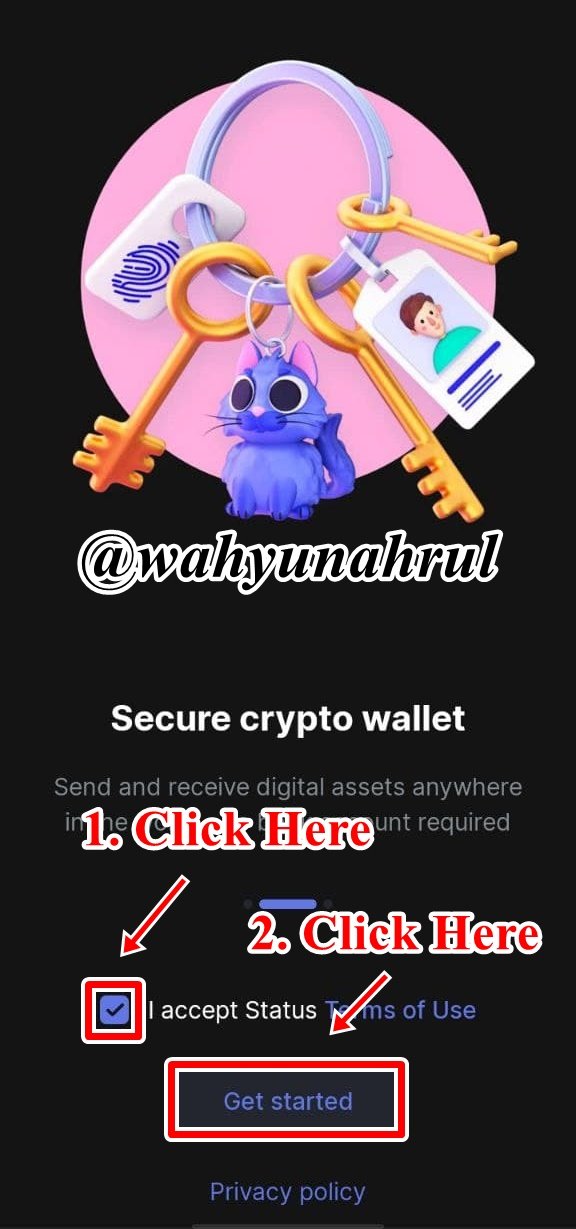 Langkah 1

Langkah pertama yang kita lakukan adalah mendownload dan menginstal terlebih dahulu aplikasi Status pada smartphone kita. Setelah aplikasi Status berhasil diinstal, maka kita buka palikasinya dan kita akan diperlihatkan tampilan awal yang tampak seperti pada gambar disamping kanan ini.

Pada halaman awal aplikasi Status kita sudah diarahkan untuk langsung membuat akun baru, unutk memulainya kita centang kotak persetujuan kebijakan dari Status lalu kita tinggal klik "Get Started".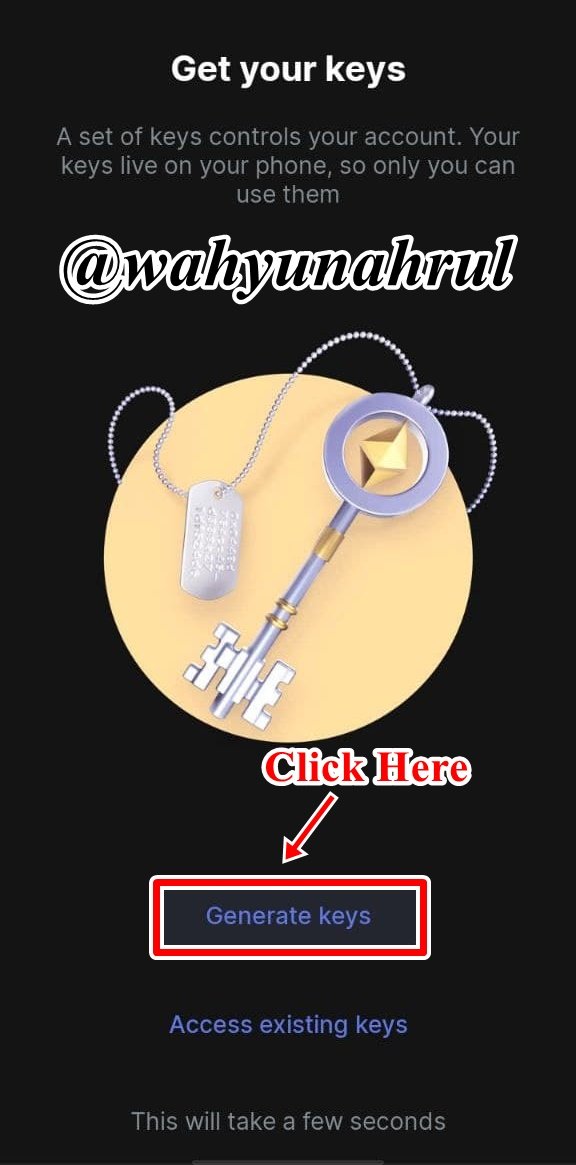 Langkah 2

Setelah itu kita akan dibawah ke halaman yang lainnya, pada halaman tersebut kita cuma perlu mengklik tombol "Generate keys". yang berarti kita akan membuat key untuk akun yang baru.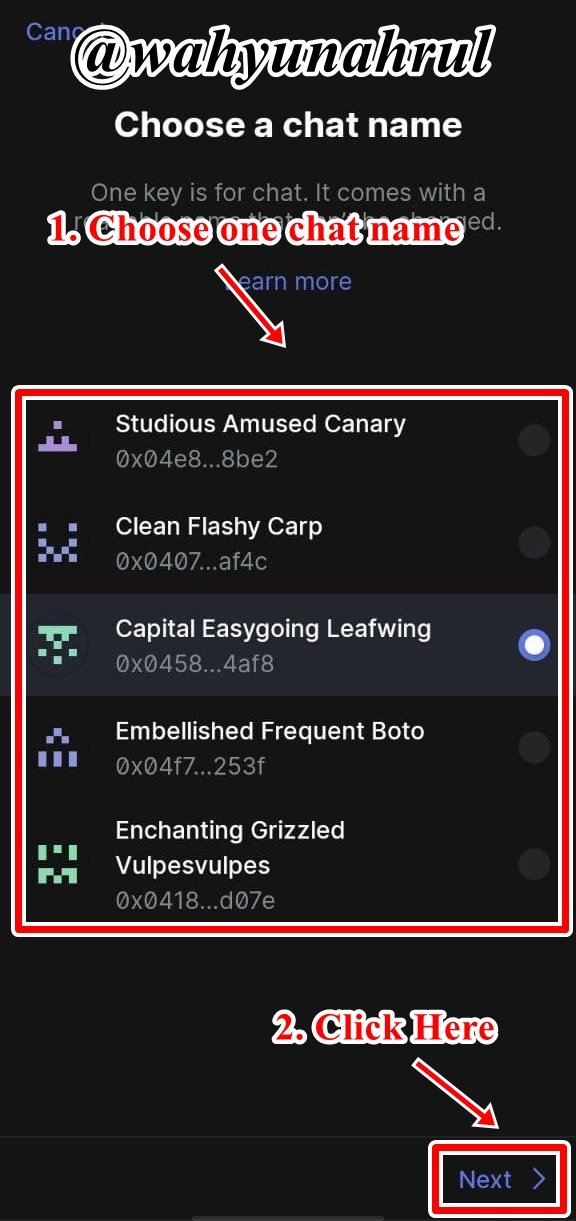 Langkah 3

Kita akan diberikan 5 pilihan nama akun beserta alamat walletnya, kita bisa memilih yang mana kita mau diantara kelima pilihan tersebut. Setelah selesai memilihnya, kita klik pada tombol "Next" yang ada dibawah layar.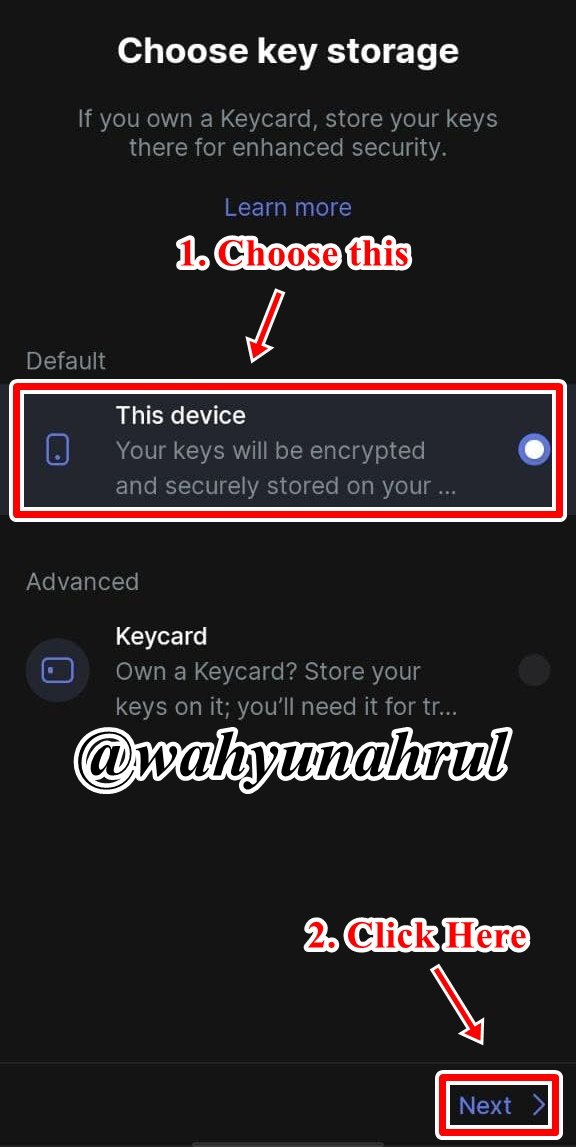 Langkah 4

Lalu kita akan ditanyakan kemana kita akan menyimpan Private Key dari akun Status kita. Karena kita belum membeli Keycard maka kita akan memilih opsi untuk menyimpan di perangkat smartphone kita, setelah itu klik lagi tombol "Next".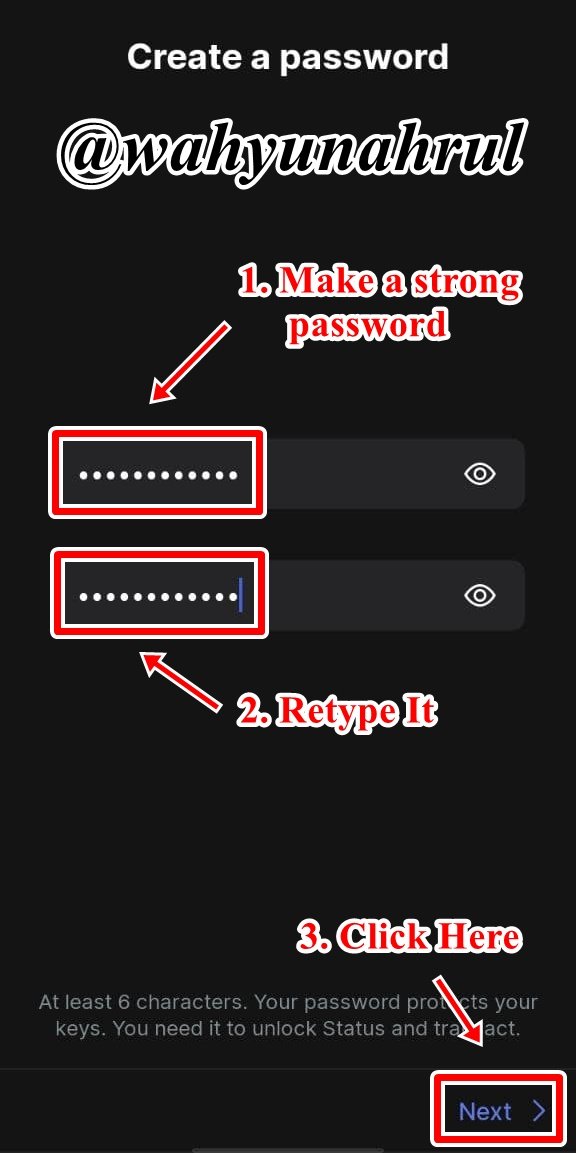 Langkah 5

Selanjutnya, kita akan membuat password untuk akun kita, password ini akan digunakan saat kita membuka aplikasi dan untuk konfirmasi setiap transaksi yang akan kita lakukan pada aplikasi Status.

Buatlah password yang kuat yang terdiri dari beberapa variasi kata dan angka, lalu ketik ulang password tersebut pada kolom kedua dan setelah mengkonfirmasi passwordnya kita klik tombol "Next" untuk melanjutkan proses pembuatan akun.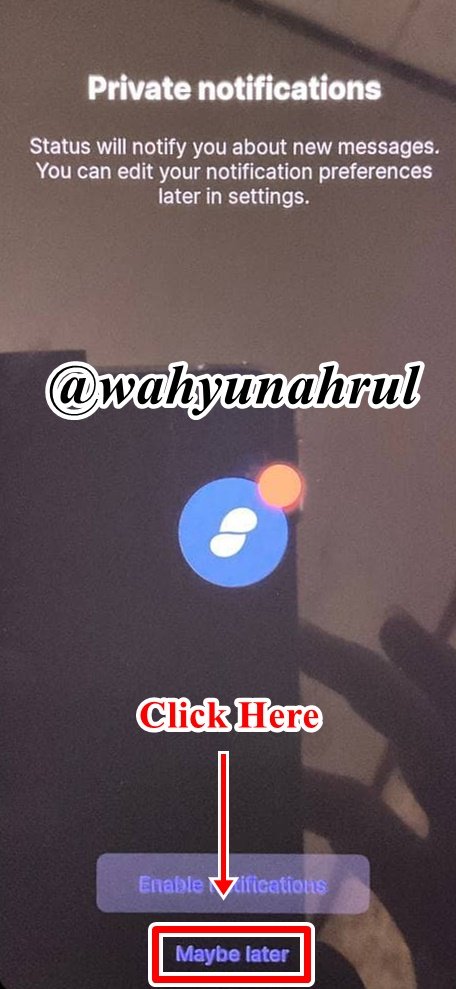 Langkah 6

Selanjutnya akan muncul notifikasi, kita pilih saja tombol "Maybe later" untuk masuk ke halaman berikutnya.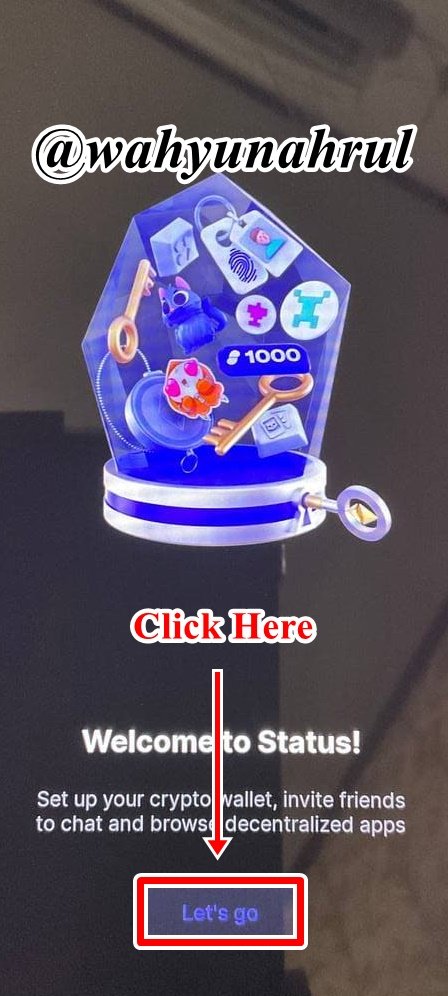 Langkah 7

Pada hakaman selanjutnya kita diberitahukan bahwa proses pembuatan akun kita sudah siap digunakan, kita klik saja tombol "Let's go" untuk langsung masuk ke halaman awal akun.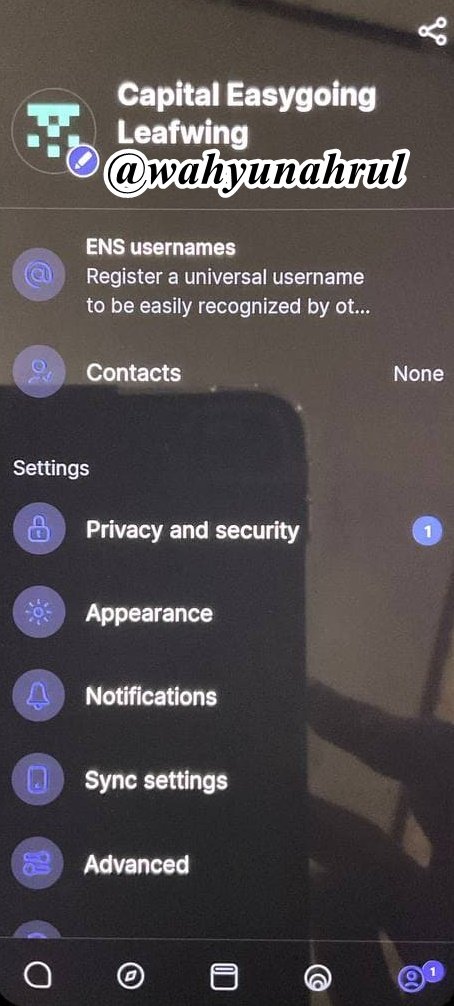 Langkah 8

Dan selesai!!
Bisa kita lihat akun yang Status saya sudah selesai dibuat dan bisa langsung dipakai untuk melaukan chating maupun mengirim cryptocurrency.

Kesimpulan
Penyampaian perpesanan mulai mengalami peningkatan seiring berjalannya waktu, kita bisa melihat bahwa tidak akan ada habisnya jika kita membicarakan tentang teknologi. Pada awalnya orang hanya bisa mengirim pesan melalui secarik kertas dan bisa dilihat oleh siapapun, sekarang kita bisa mengirim pesan dengan tingkat keamanan dan privasi yang tinggi dalam sekejap mata dan tanpa membutuhkan pihak manapun sebagai perantara dalam mengirim pesan tersebut.
Status yang merupakan level selnajutnya dari cara mengirim pesan merupakan sebuah jawaban dari keinginan banyak orang yang menginginkan privasi dalam mengirim pesan. Status juga merupakan salah satu palikasi yang menurut saya cukup unik karena ia bisa membuat sebuah aplikasi unik dan memang sangat dibutuhkan oleh orang banyak pada msa seperti ini.
Sekian dari saya, terimakasih telah membaca artikel saya sampai habis. Jika ada kesalahan dalam penulisan, tolong beritahu saya pada kolom komentar 😁.

Catatan:
Semua gambar yang tidak memiliki sumber merupakan milik penulis dan screenshot dari aplikasi Status.


Soal-Soal Homework
1). Berikan pendapatmu mengenai keberadaan Status pada pengaplikasian perpesanan saat ini?
2). Bagaimana mekanisme pengiriman pesan yang dipakai pada Status? Berikan penjelasan lengkap beserta ilustrasinya dengan gambar
3). Apa yang membedakan Key Card yang ditawarkan oleh Status degan Hardwallet pada umumnya? Apa saja keunikannya?
4). Perlihatkan langkah-langkah membuat akun pada Status secara lengkap. (Screenshot diperlukan).
5). Perlihatkan langkah-langkah membackup recovery phrase akun Status secara lengkap. (Screenshot diperlukan).
6). Jelajahi seluruh fitur-fitur yang ada pada aplikasi Status. (Screenshot diperlukan).
7). Perlihatkan cara menghubungkan Crypto Wallet yang ada pada akun Status mu dengan sebuah DApp menggunkaan Web3 Browser. (Screenshot diperlukan).
8). Buatlah sebuah akun Crypto Wallet baru pada aplikasi Status. (Screenshot diperlukan).
9). Pelihatkan bagaiamana menghubungkan sebuah Crypto Wallet yang sudah ada ke aplikasi Status. (Screenshot diperlukan).
10). Kesimpulan

Peraturan dan Panduan Homework
Mohon perhatikan seluruh peraturan dan panduan yang diberikan. Jika tidak mengikuti peraturan dan panduan akan mengakibatkan berkurangnya nilai atau bahkan tidak mendapatkan nilai sama sekali.
Tugas Homework harus diposting di komunitas Steemit Crypto Academy.

PLAGIARISME, SPINNING, DAN SPAMMING TIDAK AKAN DITOLERANSI DI STEEMIT CRYPTO ACADEMY.

Sesuai dengan peraturan terbaru, hanya orang yang aktif dalam berpartisipasi inisiatif #club5050 yang memenuhi syarat untuk mengambil bagian dalam tugas pekerjaan rumah Akademi Crypto.

Judul postingan harus ditulis dengan format Status - P2P Messaging | Crypto Academy / S5W5 | Homework Post for @wahyunahrul.

Reputasi minimum untuk mengikuti kelas ini adalah 60.

Minimal Steem Power yang yang harus dimiliki adalah 600 SP. (Tidak termasuk yang didelegasikan)

Akun yang sedang melakukan power down tidak diperbolehkan mengikuti kelas ini.

Jumlah kata dalam postingan minimal 500 kata.

Gunakan gambar yang bebas Copyright dan cantumkan sumber dari gambar tersebut.

Semua hasil screenshot yang diambil harus diberikan watermark yang mencantumkan username masing-masing.

Untuk steemian dari indonesia, postingan Homework dapat ditulis dalam bahasa Indonesia.

Masukkan tag #wahyunahrul-s5week5, dan #cryptoacademy pada 5 tag pertama postingan.

Kamu bisa menambahkan tag lain yang relevan dengan pembahasan ini, seperti #p2p, #messaging, #blockchain, #decentralized, dll.

Taruh link tugas pada kolom komentar jika belum diberi penilaian selama 2 hari atau lebih.

Tugas Homework dapat dikerjakan hingga 18 Decsember 2021 pukul 23:59 UTC.