Steemit Crypto Academy | Course By @stream4u - Technical: Reverse Strategy | Crypto Prices & Market Source: Review Of COINGECKO.
---
---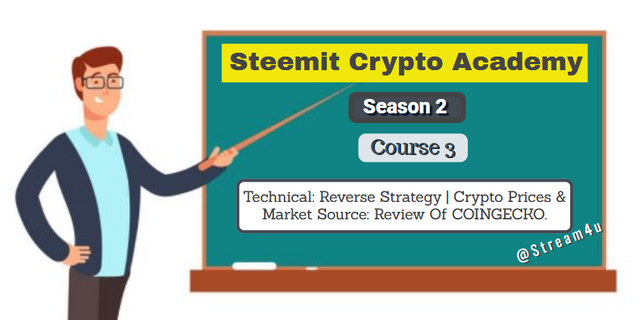 This Thumbnail Created From snappa.com

Hello All,
Welcome to Steemit Crypto Academy Season 2, My self @stream4u, I am from India, and one of your crypto professors welcomes you all to my class.
Hope you really enjoyed the last lecture that is Crypto Margin & Leveraged Tokens Trading. Now, In this week, we will learn one technical strategy that is Reverse Strategy and another thing we will be going to learn is about COINGECKO which is very much important to learn about a crypto source for Crypto Prices & Market.
NOTE: Comment your homework task link only if it is not reviewed within 24 hours after you published it.
Let's begin our class.

While we are working in any market and looking for a short or long term it is very much important for us to keep our eyes on a daily moving market, learn something and try to find some strategies.
In today's lecture and the first topic is one of the strategies which is Reverse Strategy that I have been observed and worked very well however it has some risk but if we use proper stop loss then the profit ratio will be higher than the loss.
TOPIC 1: Technical Study: Reverse Strategy.
The name Reverse Strategy will be new for everyone because I have given that name. After learning this topic, you can give any name which you think best.
From the word Reverse what other words come to mind, Opposite, Pull back, etc.
Reverse Strategy will be applicable whenever there is a long Bearish OR BULLISH is representing in a live market. Note my word, I said representing which means I am talking about the live current market and not about the past history.
What is Reverse Strategy and How it works?
Reverse Strategy is a strategy when the market or any specific crypto coin moving in a longer bearish or bullish in one day. When there is a longer movement in Bearish or Bullish so but obvious the volume will be high, in this condition whatever decision you take may go in fail, and then you will be going into the panic situation.
When the market or any specific crypto coin moving in a longer bearish or bullish so we looking at the chart and candle study, we see long bearish is currently representing if you buy so it will possible that it may go more down/bearish.
The best thing is to avoid trading in such a market when it is or any specific crypto coin moving in a longer bearish or bullish and wait to complete the 1-day cycle, here Reverse Strategy will possible to implement.
We have to completely avoid trading for a whole 24 hours which means let the day cycle complete, before 15 minutes or 5 minutes for the end of the day(complete 24 hours cycle) we have to start preparation on the Reverse Strategy.
How to Prepare for the Reverse Strategy?
We are talking about the long Bullish or Bearish movement so let's suppose the market or any specific crypto asset is in long bearish and the day is about to end, will consider Long Bearish which is day change is equal to -20% or more than it.
Before the day cycle complete, the asset's price gets to pull back at some point which means the seller exits their position and some buyers enter which tries to pull the price from the bottom. Here, we need to note down the opening price, High Point, Low Point and the most important is the Close Point.
Reverse Strategy is depending on the Close Price and next day Opening Price. The opening price should be close/near to the previous close price, if it is then we will take immediate buy position, the stop loss will be a previous low point and the target will be the previous high point, **if the price reaches to the previous high point and if you are able to hold then wait and see if the assets price crosses to the previous high point if it does then the open target, will be available for you, open target means anywhere you can take an exit or mostly new target will be a previous high point a day before yesterday.
Reverse Strategy on Technical Chart.
According to the above theory, now we will see some examples of Reverse Strategy on a Technical chart and Candle study.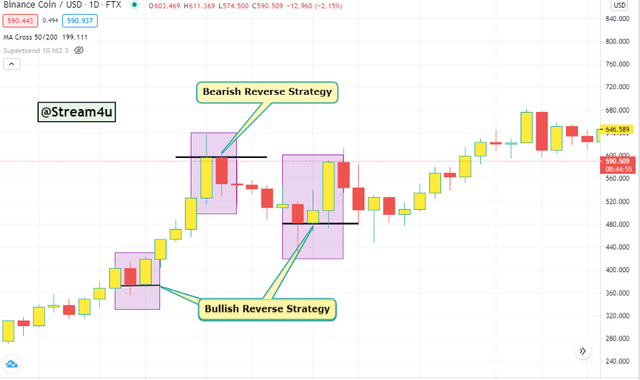 Example Of Reverse Strategy
In the above image, I have tried to show you the Bullish Reverse Strategy and the Bearish Reverse Strategy. Here, we can see how downward price shows bearish movement and then bullish trend start., similarly for bullish also.
As I said while applying Reverse Strategy it is very important to trade with the Stoploss and it will be the previous low point.
Reverse Strategy will be applied on the longer Bearish or Bullish trend for the day and day change is around -20% or more than it.
Just wanted to inform you that if you closely look at the chart of STEEM and SBD then you will find Reverse Strategy many times.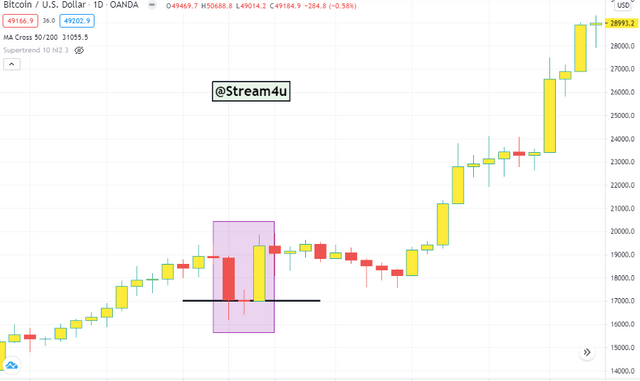 Another example of Reverse Strategy

TOPIC 2: Crypto Prices & Market Source: Review Of COINGECKO.
The second topic is on the sources that are important use to know about what's happening in the Crypto market and details about the new Crypto coins.
coingecko.com is one of the sites where we can get all the important details about the Crypto coins, their daily and weekly change, also details about new crypto coins that are recently added. Here, we will explore the details about the coingecko.com and how it helps us for Crypto Market.
What is CoinGecko?
The basic information about CoinGecko, its provides all details/analysis which includes Fundamental and Technical of the Crypto Market. CoinGecko also provides information about the Crypto coin volume, capitalization, and many more.
CoinGecko is collecting all possible data of the crypto market and provide to the users so that the users can view and easily track the performance of their assets.
COINGECKO FEATURES.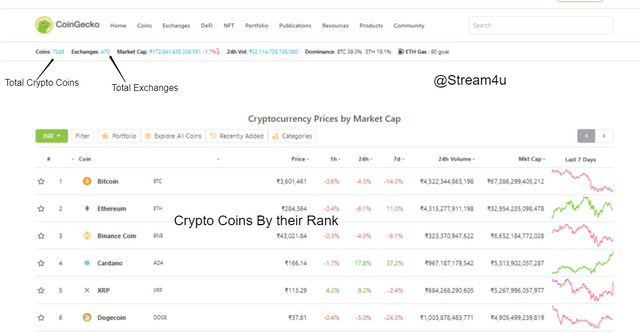 COINGECKO
On the first page of CoinGecko, you will easily find the total crypto coins which currently trading on different crypto exchanges and the total exchanges.
On this same page, you will get each crypto coin details like change in 1 hour, 24 hours, 7 days, volume in 24 hours, market capitalization, and the view of chart performance.
Here, you will get the option for Categories, clicking on it you will get crypto coins details by their Categories like below.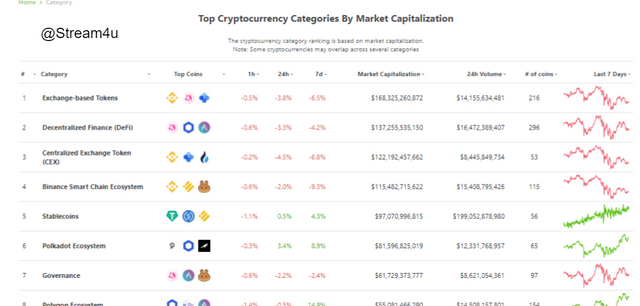 Cryptocurrency on CoinGecko by Categories.
With this option, we can find Crypto coins by their Categories like Exchange-based Tokens, Decentralized Finance (DeFi), Centralized Exchange Token (CEX), Stablecoins, Yield Farming, and many more are there.
Exchanges
In the crypto market, it is very much important to know about the Crypto Exchanges, as we know still there are many crypto exchanges that advertise on different channels like Telegram and attract users by showing crypto prices and many are those Scam where we lost whatever we transfer our assets on those exchanges. Hence, it is important to get the best Crypto Exchange on which we can trust, but how?
Here, CoinGecko can help you to find the best crypto exchanges on which you can think to open an account and trade on it. On the first page top manus, after Coins there you can see the option for Exchanges, clicking on it you will get the list of Crypto exchanges like below and a very good thing is that these exchanges are listed by their Trust Score.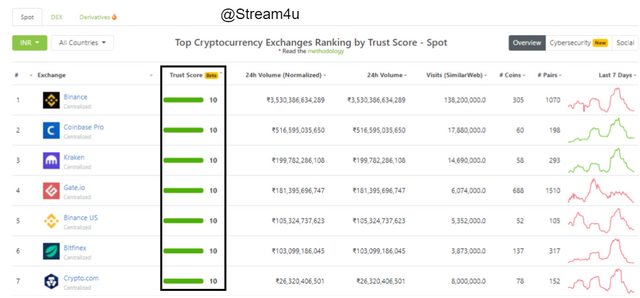 List of Crypto Exchanges on CoinGecko.
With the help of the Trust score, it will help us to get the best Crypto Exchange.
Developer.
Developer is one of the core features provided by CoinGecko wherein you can find the Crypto Coin by their Development activity which means how their projects are growing. Checking Crypto Coins by Trading Volume you will get details about the Developer and you filer it to get the top with their development activities, check below.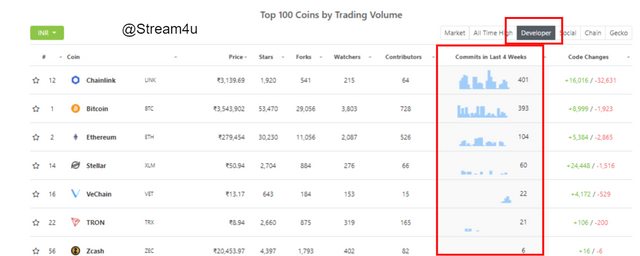 Developer option on CoinGecko.
Here, you can see currently Stellar and VeChain is on rank 4 and 5 for their Development Activity wherein they are on rank 14 and 16 in the overall Crypto Market. So with the help of Development activity and their growing projects, we can find Crypto coins for investment which give us a good return in the future and the possibility that their rank will increase in the future.
Currency.
CoinGecko provides various currency options to understand the current price so that you no need to spend time in price converter.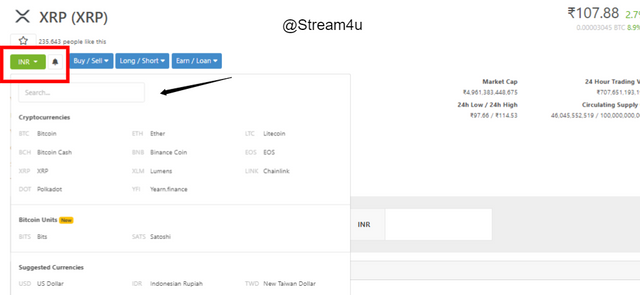 Currency option on CoinGecko.
There are many more features available on CoinGecko that help us to get all details for Crypto Market, I can able to list them all here and explore but then there will nothing left for you, hence I have just explored some Core Features and the rest of the things are leaving for you as a homework study. Try to learn more in CoinGecko, check all features, study well, and explore it properly.
---
Important.
In this course, we have learned one of the technical strategy that is Reverse Strategy which will be applicable when there is a long bearish or bullish trend present like around day change -20%/+20 or more than it, stop loss, and target details mentioned above.
We also learn about CoinGecko, how it can help up to provide data on the cryptocurrency market and its features.
---

HomeWork Task.
Make a Homework Task Post on the below Topics which you can also discuss according to your views on it, and try to explore it as much as possible but in simple terms.
NOTE: Information, Examples are should be related to the Crypto Market and Charts from your own study with tagged your name.
Discussed as per your understanding on Reverse Strategy with some graph examples. (Title For this topic will be Technical Details On Reverse Strategy)?

Discussed the COINGECKO and explore it well. (Title for this topic will be Review Of COINGECKO and below points need to explain).
1. What Is A COINGECKO?
2. How COINGECKO Can Be Helpful for you in a Crypto Market?
3. Explore COINGECKO features with information.
Weekly Price Forcast For Crypto Coin: XXXXX(Title will be the same just replace XXXXX with the Coin name and covered all below points in it as a part of Price Prediction for the next 1 week.)
1. The basic information or your thoughts on the Crypto Coin that you would like to Predict its price for the next 1 week? (Title for this will be the same as above and cover answer for this under the same.)
2. Reason why you would like to predict the selected Coin? (Title for this will be Why XXXX?, replace XXXXX with the Coin name.)
3. Complete detail on it's one of the analyses of Technical/Fundamental/Sentimental with price details.
4. Based on which Technical/Fundamental/Sentimental study the possible low level and the high level for the next 1 week?
For any concerns, doubts, questions on homework task, you can ask me in the comment section below before making Task.

RULES
IMPORTANT- All homework posts should be posted in the community Steemit Crypto Academy .

For this Homework Task, add tag #stream4u-s2week6, and #cryptoacademy in the first 2 tags. Also, tag me as @stream4u somewhere in a post. (Tagged Correctly)

Homework Task for this week will be reviewed by #stream4u-s2week6, so make sure to tag it correctly. Incorrect Tagging, the task will miss reviewing.

PLAGIARISM Will Not Accepted, hence make sure content in the post not copied and pasted from certain sources.

Images used should be from copyright-free sources and fully referenced. To avoid confusion make sure the Images do not have a watermark, company name, web site name on it.

Chart Graph should be from your own Graph Study and tagged with your name in it.

Post Require a minimum of 300 words. Tips On a minimum of 300 words!

Submit Homework task between 17 MAY 2021 To 22 MAY 2021.

Homework posts should be submitted no later than 11.59 PM UTC, on Saturday, May 22, 2021.

If your Homework task does not get reviewed within 24 hours after you published it, only then please send your Task link under the comments on this post.

Some notifications for tagged not received so after 48 hours from published Task if it is still not reviewed, try to reach professor frequently.
Given Grades and Reviews are based on the submitted Task which will not change after review.
Thank You.
@stream4u
Crypto Professors: Steemit Crypto Academy

---
---