Steemit Crypto Academy Contest / S3W3 - The Wallets by @simonnwigwe || #Burnsteem25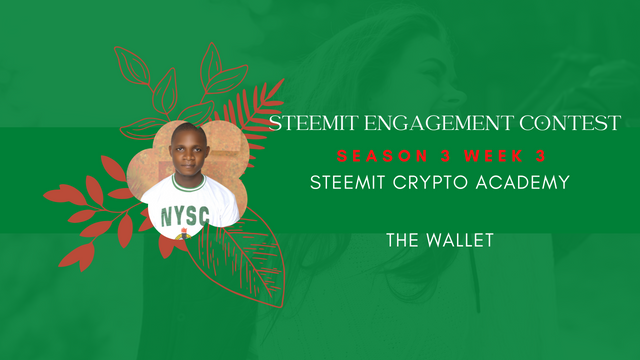 Image design on canvas
---
Hi guys,
Welcome to my blog on this special day, we have successfully come to week 3 of the steemit engagement challenge and I'm so delighted to be part of those participating in this week's contest. As you can see the topics of discussion here have been very interesting all through the season and this week another important topic is to be discussed. Today I will be attempting the topic titled the wallets.
---
What are wallets? Why do you think wallets are important? Let's talk about it.
---
Wallets in common sense are places where we keep money I.e fiat which you and I can see and touch. In the case of cryptocurrency, we are all aware that this asset is a digital asset that can not be touched but it needs to be kept safe too hence we have the crypto wallet to keep it safe too.
The crypto wallet in essence is software that is used to store crypto assets just the same way we use the physical wallet to store our fiat. Unlike the physical wallet, the crypto wallet is somehow protected by using the private key. This means that to have access to a crypto wallet, you must have the private key of the wallet.
The private key of any wallet shows that you have complete access to the funds present in the wallet hence you can perform transactions like sending and receiving assets. If anyone losses his or her private key, he or she has lost access to the entire asset present in the wallet.
There are two types of crypto wallets namely cold wallets and hot wallets. We will be looking at this type of wallet briefly in the paragraphs below. Let's get started.
Hot Wallet: The hot wallet is a type of wallet that can only be accessed via the internet. This means that in other to check your funds, and send or receive crypto assets, you must be connected to the internet. A clear example of this type of wallet is the exchange-based wallet. It is important to mention here that hot wallets are software wallets because you can access them anywhere in the world with just your private key.
Cold Wallet: Cold wallets are the direct opposites of hot wallets. This type of wallet does not require internet access for it to operate. This means that you can perform activities on these wallets offline. A clear example of this type of wallet is Trezor. It is important to mention here that cold wallets are hardware wallets because they used hardware devices to hold the asset.
Importance of Crypto Wallets
The importance of crypto wallets can never be overemphasised as they are numerous, for the sake of this study, I will be listing a few most important use of crypto wallets.
One of the importance of the crypto wallet is that it is used to store the crypto asset of users giving them complete authority over the asset.

Another importance of the crypto wallet is that it can be used for transactions and it also presents the details of all the transactions of a user.

The private key provided for the wallet is an important aspect of the wallet which give users complete control over all the asset in the wallet. You can do whatever you wish to do without any restriction but this is not the same in the case of our local banks because you have limits of transactions per day.
---
Which wallets do you own? Why did you choose those wallets? Talk about your experience, and show screenshots of your wallets.
---
There are four different wallets that I use as a crypto trader include binance wallet, tronlink wallet, Roqqu wallet and the steemit wallet. Let's look at them one after the other and the reason why I selected this wallet.
Binance Wallet
As we all know Binance is one of the largest exchange platforms in the world today. This is one of the exchange platforms that have an inbuilt wallet within it. Here on this platform, it serves as both a wallet and an exchange. The screenshot below shows my binance wallet.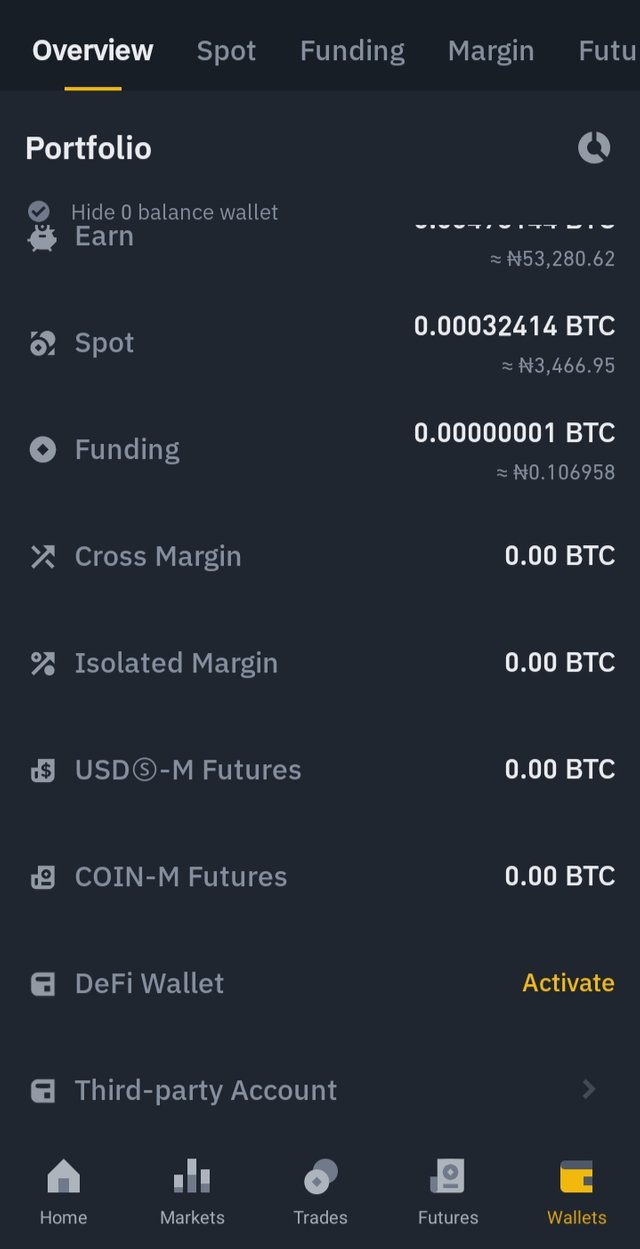 Image from my Binance wallet
The reason why I selected the Binance wallet is not far-fetched. Binance has a user-friendly interface and also the platform is quite trustworthy because it is difficult to hear that someone lost his or her asset on the platform. Hence your asset is quite very safe. You can also spot an opportunity for trade and enter it immediately without delay.
TronLink Wallet
I started using the Tronlink wallet when the steemit platform integrated TRX into the platform. It is one of the wallets that helps me in easy transactions of my TRX. Instead of keeping the asset dormant in my wallet, I normally stake it in this wallet. The screenshot below shows my TronLink wallet.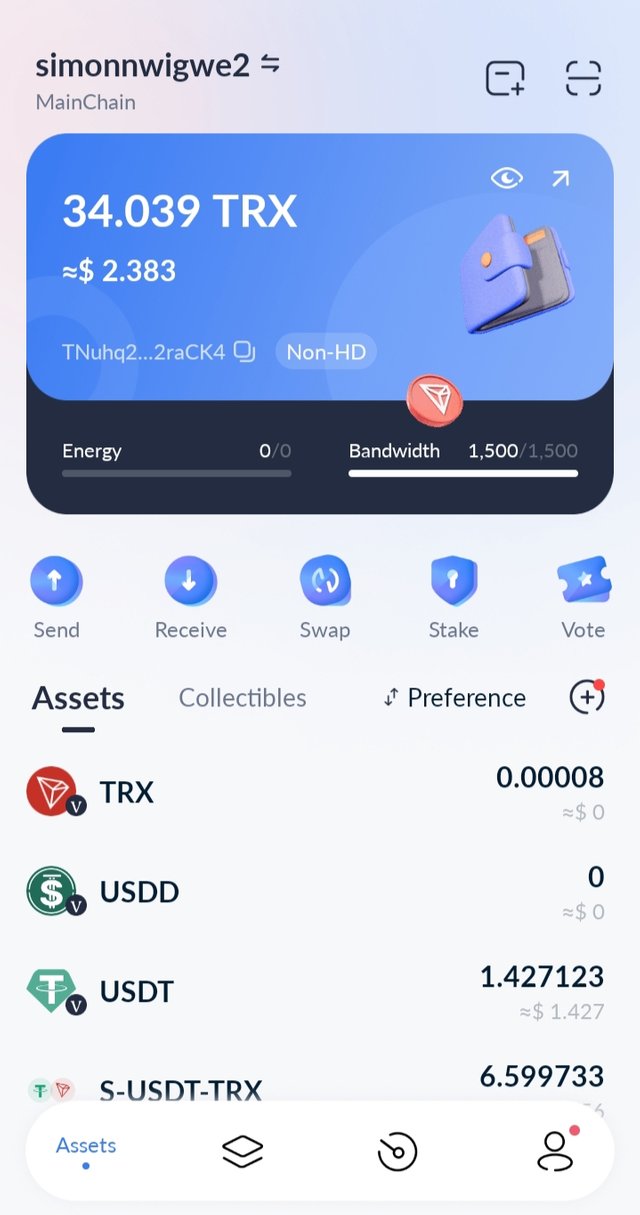 Image from my TronLink wallet
The reason why I selected the TronLink wallet is that it helps me in transacting my TRX easily. It also provides a room where I can stake the asset and earn more TRX instead of keeping it dormant in my wallet.
Roqqu Wallet
The Roqqu wallet is one of the wallets we use here locally in my country Nigeria. This is the first wallet I used when I joined the steemit platform. This wallet serves as both a wallet and exchange platform hence you can hold your asset here or you can trade or exchange it for fiat or another crypto asset. The screenshot below shows my Roqqu wallet.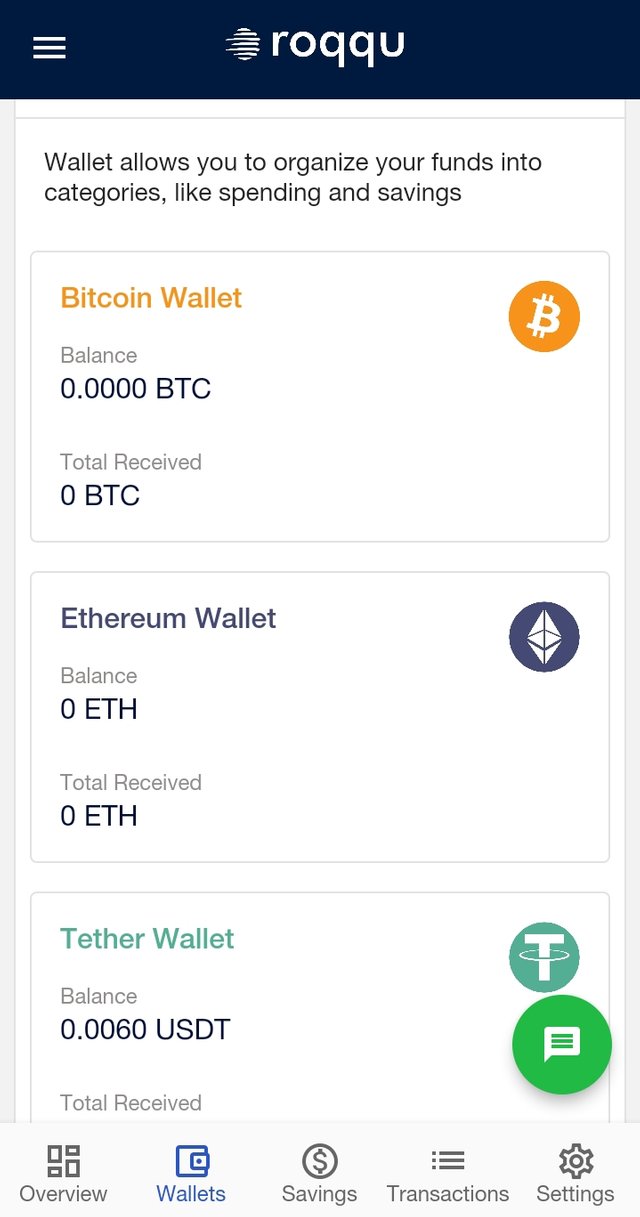 Image from my Roqqu wallet
The reason why I selected the Roqqu wallet is that the price of assets here is quite higher compared to the price in other exchanges that his wallet. More also, anytime I wish to trade a little amount of asset I use it because it is fast and trustworthy.
Steemit Wallet
The steemit wallet is the most important wallet to me as far as cryptocurrency is concerned. The first wallet I ever had before the Roqqu wallet is the steemit wallet. This wallet is the wallet of the steem blockchain which every steemit user has. It is used to hold your asset I.e steem, SBD, SP and TRX. The screenshot below shows my Steemit wallet.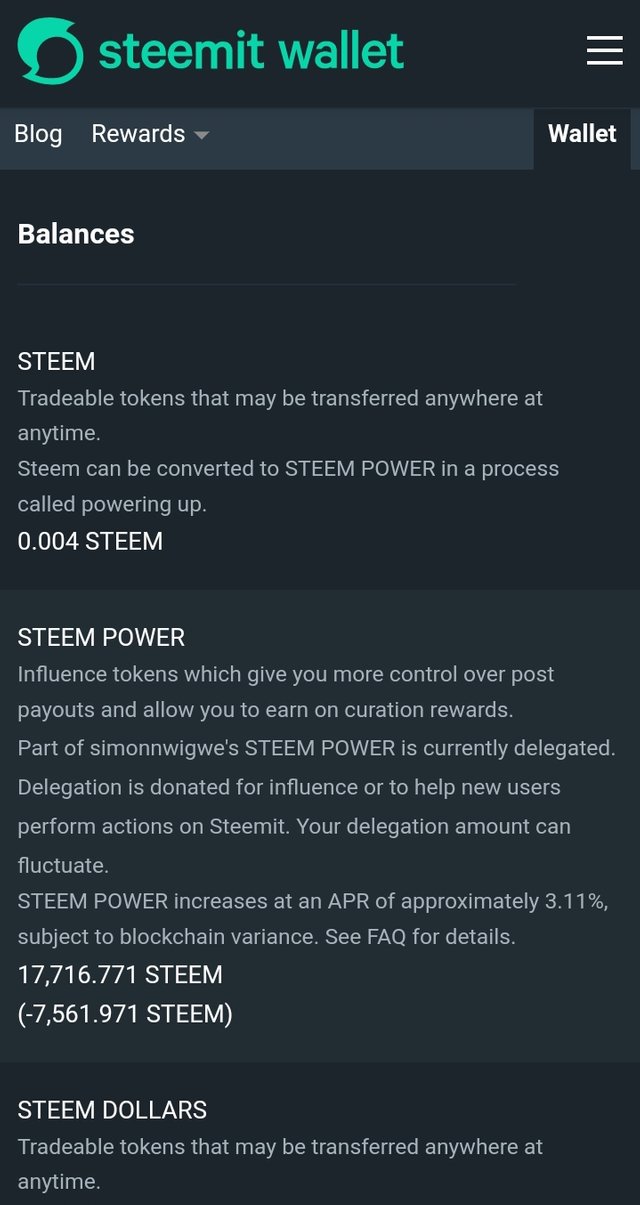 Image from my steemit wallet
The reason why I'm using the steemit wallet is that every content creator in the steem blockchain must have the wallet to store their earnings. It is also very safe and secured. There are many keys generated while signing up for the steemit platform some are used to authorise the happening in the wallet.
---
Have you suffered any theft in any of your wallets? Tell us about your experience, what do you do to protect your cryptocurrencies?
---
Well, I'm lucky enough that since I started my crypto journey I have never suffered any theft in any of my wallets. Though, I have also lost some amount of crypto because I misplaced my private key. When the TRX was integrated into the steem blockchain, I downloaded my TRX keys but I lost the phone and I didn't backup the keys I download so within that period, I lost about 2k TRX which I initially earned.
How to protect my crypto assets
Having passed through that loss, I have derived some measures to safeguard my crypto asset and these measures are seen below.
I have ensured that I have all my keys printed and kept in my document where I alone have access.

I have also saved my keys offline on my computer hard drive and also on the line in my google mail which requires much verification to access.

My Binance wallet is also protected in such a way that email, OTP and google authenticator must be used for the transaction to work.

My phone and PC use encryption before they can be accessed. I use my fingerprint in both my phone and system to unlock the system and phone and also all the wallets in them.
---
Do you prefer hot wallets or cold wallets, give your opinion.
---
Well, both the hot and the cold wallets are good wallets but currently, I'm only using the hot wallet hence I prefer the hot wallet to the cold wallet and the reasons for my selection are not far-fetched.
One of the major reasons why I prefer the hot wallet over the cold wallet is because the hot wallet can be accessed at any point in time provided there is internet whereas the cold wallet needs you to buy sophisticated devices to be able to hold your asset.

Hot wallets can be accessed even if you lose your device provided you have the keys stored somewhere but once the hardware gadget you use to hold your asset misses as in the case of a cold wallet it simply means your asset is gone.

Hot wallets are quite easy to operate when compared to cold wallets and they also it has a lot of features that a user can perform on it such as staking, trading etc. This is not the same in the case of the cold wallet as it is only used to hold assets.
---
Conclusion
---
Wallets are very important in the crypto world because it is used to hold the digital asset that we call cryptocurrency. We have also talked about the different crypto wallets above I.e the hot and the cold wallet. I prefer the hot wallet because it is the one that has more features and it is used by almost all traders. I want to invite my friend to please read my post and contribute to it as well. I call on
@drqamu
,
@badmus-official
and
@malikusman1
.