Steemit Crypto Academy Contest / S8W4 - Blockchain Oracles
Hi, This is Asad Fazal from Pakistan. I hope everyone here is fine and enjoying their life to full. Today I'm here to take part in the Season 8 Week 4 contest held in
SteemitCryptoAcademy
. The topic decided by the team is
Blockchain Oracles
. Blockchain is one of my favorite topic but I am reading Blockchain Oracles for the first time. This is the thing that I love about SteemitCryptoAcademy that they introduce new topics so that users learn about blockchain. So now without any further ado, let's get straight to the topic!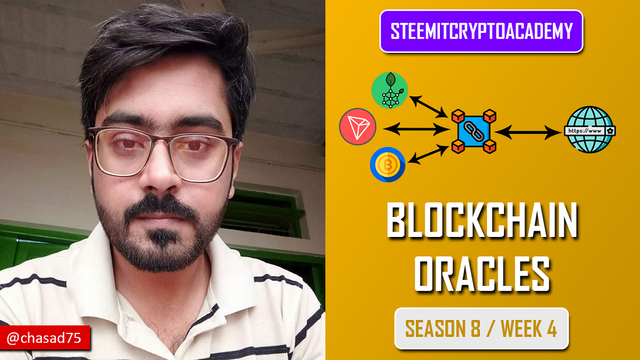 Made on Photoshop & Icons from Flaticon
Do you know what Blockchain Oracles are? We want to know your opinion.
A blockchain oracle is a third party service that helps in connecting blockchains to external outside world. It is like a bridge that let feed the information in from the world and also to the real world. To access the data outside the on-chain/smart contracts, there was no intermediate for this but now with the help of blockchain oracle, blockchains and smart contracts can access data of real world.
Let's make it even more simple. For some contracts/agreements in blockchain, it is important to have relevant information from outside world but there is no medium to link outside world with blockchain. For this, blockchain oracles play important role by connecting off-chain and on-chain data. If there is no blockchain oracles, then smart contracts will have limited usage that will be inside the network only.
Let's take example of Alice and Bob who bet in car race or any other race. The total of $100 is escrow by smart contract that includes $40 of Alice on Team A and $60 of Bob on Team B. But here the thing is how does a smart contract knows when the game will be over, to whom he needs to give money Alice or Bob. So here blockchain oracle is required that will match offchain outcomes and will deliver it to blockchain and then transfer the money to winner.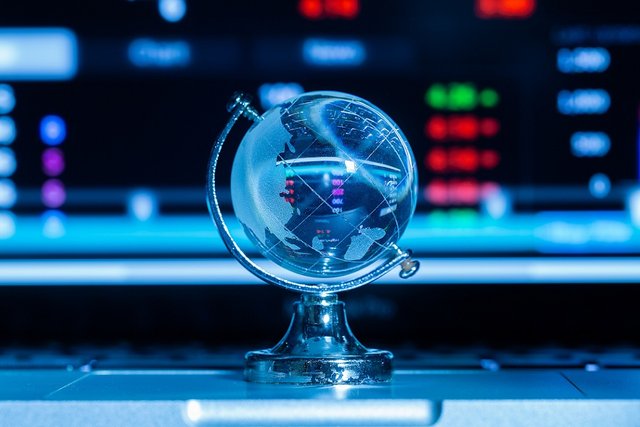 Image taken from Freepik
Currently the
Chainlink
is working as an industry standard for decentralized oracles. So what is Chainlink? It is a decentralized oracle network that create a bridge between on-chain and off-chain data mean it let smart contracts get the information of real world and vice versa.
Not only chainlink but there are many other decentralized blockchain oracles including Paralink, Dos.Network, Witnet, and Provable.
What are the types of Oracles?
Blockchain oracles help in connecting outside world with blockchain and smart contracts. They let access outside data in a closed blockchain network. The data accessed is first queried then verified and then authenticate. After that verified data is used to validate the smart contracts. There are many types of oracles, I will explain them one by one.
1. Software and Hardware Oracles
As we know oracles get data from real world, the software oracles delivers data from the online soft sources like websites, PDFs, databases and data on servers. In hardware oracles, the data gets from real physical world for example the data of sensors and RFID chips. The data that we get from different exchanges like stock, forex, and crypto are deliveried by software oracles.
2. Centralized and Decentralized Oracles
Just like difference between centralized and decentralized exchanges, oracles are also the same. In centralized oracles, data is managed by a single entity that makes it highly risky and open to attack. On the other hand, decentralized oracles are not managed by single entity but rely on multiple source of information or entities so that the information can be validated easily and there must not be any risk involved.
3. Inbound and Outbound Oracles
Most of the communications are two ways like data can go out and come in. In this type of oracle, the inbound oracles is to deliver data from outside world to the blockchain or smart contracts. On the other hand, outbound oracles let delivering of data from blockchain or smart contracts to outside world.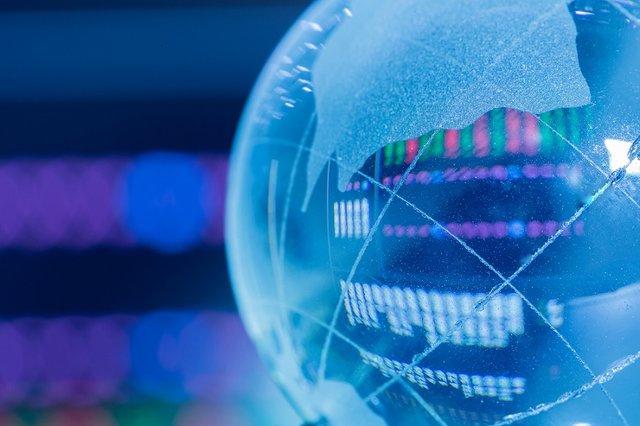 Image taken from Freepik
4. Human Oracles
Human can also act as oracle like if he has specialized knowledge in a sector, he can collect data of it, check it's legimacy, and then convert it smart contracts. In this type of oracle, there are very small risk of fraudalent activity because the human who is converting the data to smart contracts needs to verify his identity first.
5. Computation Oracles
This type of oracles is used to perform the impossible calculation on the blockchain or smart contracts. By taking inputs it generates outcomes after calculating it.
6. Contract-specific Oracles
From the name, it tells that this type of oracle is used for specific/single smart contract. If it is needed to deloy multiple smart contracts, one has to develop equal amount of contract-specific oracles. These type of oracles are not used widely because they waste a lot of time and efforts and are used only when no other option is available.
What do you think about decentralized Oracles?
In start, the oracle mechanism was managed by single entity that made it centralized in nature. The entity delivers the data to smart contracts but it was a failure due to high risk involved and open to hacking and scamming. It also destroyed the whole concept of decentralization of blockchain.
If the single entity or node goes offline for some reasons, all work stops because smart contracts will have no access to the required data and the contractual agreements cannot be executed. Moreover, if that single entity gets corrupted, it will send wrong corrupted data to smart contracts which in result will give unexpected wrong outcomes. This makes the centralized oracles not fit to blockchain and smart contracts.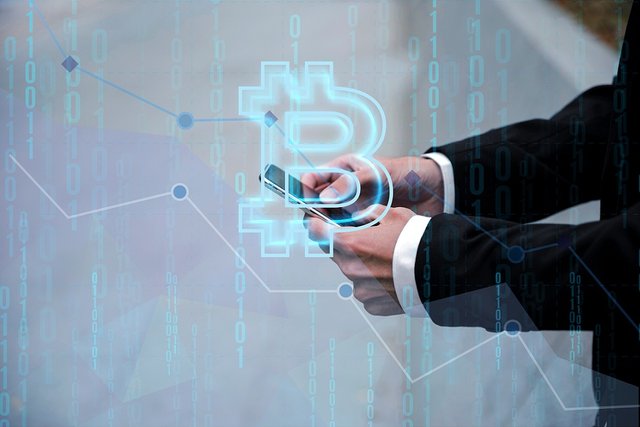 Image taken from Freepik
On the other hand, to cope with the centralization issues, decentralized oracles were introduced. In decentralized oracles, there is not a single node or entity but there are hundreds or even thousands of nodes that result in less manipulation, lowest risk, almost no downtime, and accuracy in outcomes.
Furthermore, the decentralized oracles also help in authenticating the information to high accuracy. How the information stays so accurate is because it uses ShellingCoin mechanism in which all nodes or entities will send data without connecting to each other. These oracles are much faster and reliable than centralized oracles.
Decentralized oracles are best in nature for large businesses but one thing is must to remember that is they require high budget for infrastructure because multiple nodes or entities are required to achieve consensus in order to create smart contracts. In conclusion, decentralized oracles are much better than centralized oracles in terms of functionality, usage, and benefits.
Give us a use case of a decentralized Oracle.
Decentralized Oracles plays a vital role in the form of bridge between the smart contracts and real world. It is becoming more popular and common in the cryptocurrency world. These oracles has changed and is changing the world of blockchain-related industries. There are many use cases of decentralized oracles, let me share few of them here.
1. Insurance
In insurance, there is a transparency problem. One party has more information than other party and anyone of them can advantage of other. The insurance taker (customer) has complete knowledge and information about his assets and products but on the other hand, insurance company has little knowledge on it. The customer wants that insurance company must approve all payments claims and this process is very slow and not transparent.
The solution is decentralized oracle will gather data through API and will send it to blockchain. Then the blockchain with smart contracts and oracles will verify that information is correct and that event occurred or not. It can only be done with blockchain consensus. So with blockchain oracle, transparency can be provided to both parties insurance company and customer.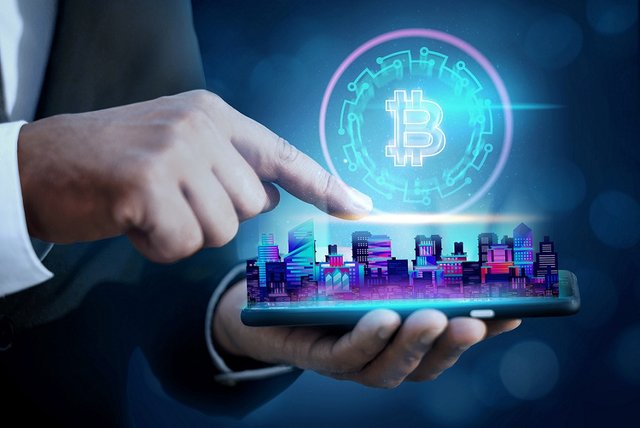 Image taken from Freepik
2. DeFi
Almost all DeFi ecosystems needs financial data of markets and assets. The oracle here do calculation of a customer's borrow capacity and collateralization level. Here the example of DeFi is AAVE project that uses oracles to access price of different assets that they can use in their smart contracts. Moreover, the Synthetic Asset platforms use the decentralized oracles to peg their token value to real-world asset.
3. NFT
Another use case of decentralized oracles is Non-Fungible Tokens (NFT) in which the NFT items can change their value, appearance, and distribution. In this use case, the compute oracle type is used to generate verifiable randomness of NFT and to distribute the traits of NFT randomly. It also let select the winner of NFT.
The example of such use case is Aavegotchi that is a DeFi collectibles game in which users are allowed to stake their NFT avatars and go into Aavegotchi metaverse. There they can increase the value of their NFT by farming rarity inside the game. The solution provided here is by Chainlink Verifiable Randomness Function (VRF) that allow secure on-chain randomness which then can be verified by the users independently.
There are tens of use cases of decentralized oracles that you can have a look at here
Chainlink
.
In last, I must say that blockchain oracles are very useful in connecting the smart contracts and blockchain with the real world. It creates a bridge between them to increase transparency and the work flow. It also allows the users to send the real world data to blockchain and then execute smart contracts on them as per the data. It is important to implement blockchain oracles in different businesses and industries in a secure and reliable way so that it helps the network and ecosystem grow.

Thank You For Reading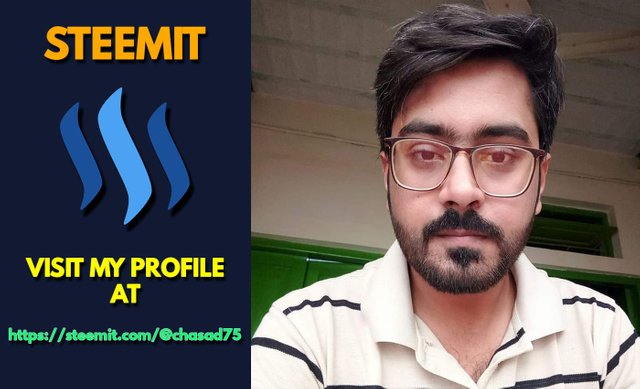 Facebook | Discord | Instagram | Twitter