스위스 골드에서 XRP로 금과 은 구매 가능
유튜버 '크립토 스나이퍼' 영상에서 소개되었습니다.
'스위스 골드' 란 곳에서 암호화폐 리플을 이용해서 금과 은을 구입할 수 있다고 합니다.
홈페이지에 리플을 이용하여 어떻게 금과 은 구입을 할 수 있는지 나름 상세하게 나와있습니다.
https://www.suissegold.eu/en/ripple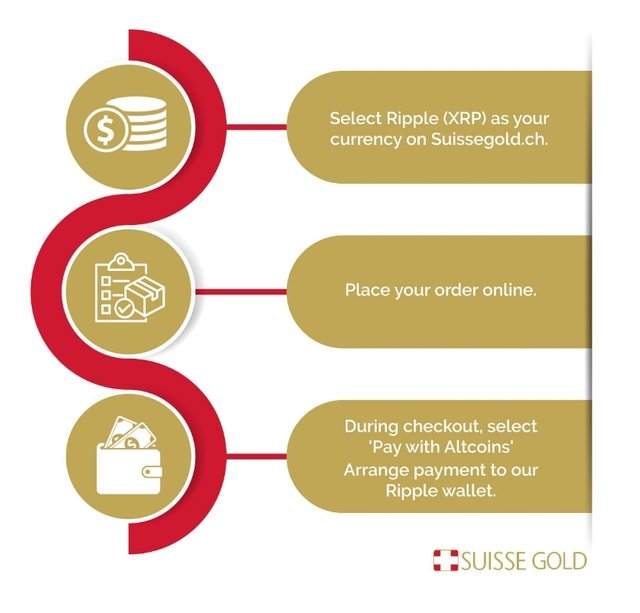 Ripple의 XRP Cryptocurrency를 사용하여 귀금속을 구매하는 이유에 대한 설명도 홈페이지에 친절히 설명되어 있습니다.
지불은 원활하고 즉각적입니다. 클라이언트가 XRP로 결제를 시작하면 완료하는 데 몇 분 밖에 걸리지 않습니다.
(Payments are seamless and immediate. Once a client has initiated payment in XRP, it only takes a few moments to complete.)
또한 결제에는 외환 수수료가 부과되지 않으며 처리 수수료도 없습니다. 이는 고객에게 막대한 비용 절감을 의미할 수 있습니다. 페이팔이나 신용 카드 또는 직불 카드를 통한 결제에는 종종 최대 5-6%의 높은 관련 수수료가 부과될 수 있습니다. 잠재적으로 큰 금괴 및 은괴 주문을 구매하는 고객의 경우 이는 주문 금액보다 큰 프리미엄을 지불해야 합니다.
(Payments also do not undergo any foreign exchange fees, nor do they have any processing fees. This can mean huge savings to clients. Payments via paypal or via credit or debit card can often have large associated fees – up to 5-6% even. For a client purchasing a potentially large order of gold and silver bullion, this is a huge premium to pay over your order value)

리플 외에도 비코, 비캐, 라코, 이더, 트론으로 구매 가능.
2021.09.18.