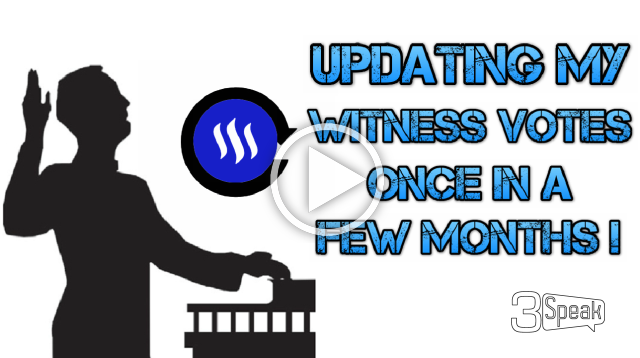 ---
In this post and video I want to share why I'm voting on some witnesses and why I unvoted some.
A Steem Witness is a person who operates a witness server (which produces blocks), and publishes a price feed of STEEM/USD to the network. source - steem wiki
So, I vote on a witness if I see him useful for the community. If he's witness is not disabled. If he/she creates something useful for the blockchain. If he/she holds some steem power. And if steem is promoted by him/her.
---

Let me write about each witness apart :
I voted and still voting for @roelandp because he is the organiser of @steemfest , the best event where steemians meet in real life. He's well known by a lot of steemians. He's the top witness as well.
You can check him interviewed by @evecab here :

@yabapmatt is a witness and developer of a lot of useful websites and applications related to steem. He's the creator of steem keychain, the cool extension that save your keys only on your pc without sharing them to a website. He's supporting @steemmonsters and steem-engine.com the home of the tribes created on steem.
You can check me interviewing him here :

@blocktrades one of the biggest account in term of holding steem power. They also support a lot of applications, witnesses, developers, proposals and they do a lot for steem blockchain. You can check all the proposals we have here : steemproposals.com. You can also check their exchange where you can exchange steem to other crypto, buy steem or steem power : blocktrades.us.

@gtg a very helpful steemian and witness. He's active in steem.chat helping steemians and supporting channels there. He's also a developer who support a lot of projects in steem.

@aggroed is the creator of @minnowsupport the biggest discord server with over 19k members. He's also the creator of steem-engine.com where you can trade all tokens created on steem. He's also a very active steemian.
You can watch him interviewed by @coruscate here :
























@ausbitbank I voted for him today because I saw him supporting a lot of steemians and I saw him before active in a lot of projects, so I decided to vote on him because i like active steemians.

Those are all witnesses I prefer and support by my voting and i want to let all my 5624 followers in steemit know about that. In case you want to vote for them all, all you need to do is to follow by setting my account as proxy here : https://steemitwallet.com/~witnesses. So, your account will vote automatically on witnesses I vote for !
---

I'm also trying my best in other social media and crypto forums to promote steem. I'm the founder of @dcooperation community and I interviewed more than 100 steemians. I was also a curator in dtube and I will start soon to work on @steemdelegator to delegate power to those who will promote steem. I already talked with @theycallmedan about that and he gonna help.
If you want to help me with @steemdelegator please contact me in discord.
You can follow me on other social media where I'm promoting steem :
---
Facebook group , Twitter, Quora, Reddit, Youtube, Instagram, TikTok
---
▶️ 3Speak