Inspiring biography of Swami Vivekananda
Swami Vivekananda, who had scattered abroad in the form of the essence of Indian culture as a young sannyasi, was the reflection of literature, philosophy and history. Swami Vivekananda - Swami Vivekananda has shown a new path to the younger world by composing texts such as 'Yoga', 'Raja Yoga' and 'Gyan Yog', whose effect will shine on the public for ages and ages. His memorial built in Kanyakumari today is still the story of Swami Vivekananda - Swami Vivekananda greatness.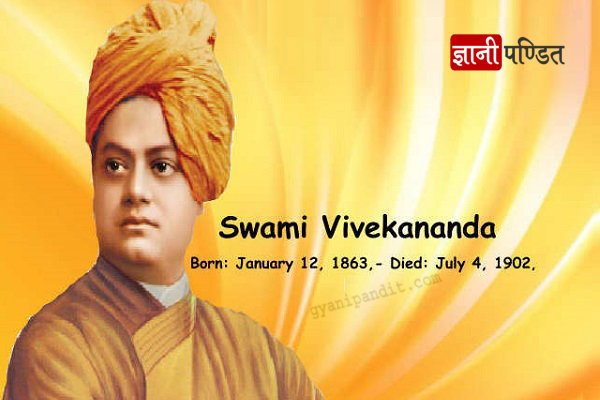 Swami Vivekananda biography
Full Name - Narendranath Viswanath Dutt
Birth - 12 January 1863
Birthplace - Calcutta (Pt. Bengal)
Father - Vishwanath Dutt
Mata - Bhubaneswarwari Devi
Education - 1884 B a. test pass
Marriage - did not marry.
Swami Vivekananda Janmabhoomi Narendranath Dutt was the main Hindu disciple of the Hindu monk and Saint Ramkrishna of the 19th Century. India's philosophy of spirituality was seen due to the speech of Swami Vivekananda in foreign countries. His main role in promoting Hinduism in India and his main support was to make India the colonizer.
Vivekananda established Ramakrishna Math and Ramakrishna Mission, which is still going on successfully in India. He is known primarily for his speech with the "my American brothers and sisters". In the Chicago World Religions Conference, he used to identify Hindu religion.
He was born in the Bengali Kayastha family of Calcutta. Swamiji's focus was on spirituality from his childhood. His guru Ramakrishna had the greatest effect on him, from which he learned the true purpose of living life, to go to his soul and to know the true definition of God and to serve him and keep continuing his mind in God's mind.
After Ramkrishna's death, Vivekananda traveled extensively in the Indian subcontinent and understood the circumstances of the people in the British colonial India, understood him. He later traveled to the United States where he represented the Hindu religion of the Indians in the World Religions Conference in 1893.
Vivekananda also took over 100 social and individual classes of Hindu scriptures and lectures in Europe, England and the United States. In India, Vivekananda is known as a patriotic saint and his birthday is celebrated as National Youth Day
Swami Vivekananda life history
Swami Vivekananda was born on January 12, 1863, in the name of Narendranath Dutta (Narendra, Narayan) at Makar Sankranti, his native home in Gurgamoon Mukherjee Street, Calcutta, which was the capital of British India.
His family was a traditional Kayastha family, Vivekananda had 9 siblings. His father, Vishwanath Dutta, was a lawyer in Calcutta High Court. Durgacharan Dutta who was the grandfather of Narendra, was a Sanskrit scholar of Sanskrit and Parsi, who had left his family and home at the age of 25 and accepted the life of a monk. His mother, Bhuvaneshwari Devi was a devout homemaker.
Because of the good values ​​and good upbringing of Swamiji's mother and father, Swamiji's life has got a good shape and a very high thinking.
Since young days he was interested in the field of spirituality, he always practiced meditation in front of God's photographs like Shiva, Ram and Sita. The stories of sages and sanyasis always inspire them.
Narendra was a very naughty and skilled child since childhood, many times his parents had problems in managing and understanding them. His mother always said, "I had prayed to a son to Shiva, and he gave me a devil"
Swami Vivekananda Education
In 1871, at the age of 8, Swami Vivekananda was put on the Ishwar Chandra Vidyasagar Metropolitan Institute, in 1877, when his family was established in Raipur, Narendra took education from that school. In 1879, after his family returned to Calcutta, he became the first student to get the first division in the entrance examination of the presidency college.
He was a curious reader of various topics like philosophy, religion, history, social science, art and literature. He also had a keen interest in Hindu scriptures like Vedas, Upanishads, Bhagvat Gita, Ramayana, Mahabharata and Puranas. Narendra was an expert in Indian traditional music, and always participated in physical yoga, sports and all activities.
Narendra had also done western studies, western life, and European History from the General Assembly Institute. In 1881, he passed the Fine Arts examination, and in 1884 he completed the Bachelor of Arts degree.
Narendra David Hume, Immanuel Kant, Johann Gottlieb Fichte, Baruch Spinoza, Georg W.F. Hegel, Arthur Schopenhauer, Auguste Comte, John Stuart Mill and Charles Darwin were also practicing. They had become enchanted with Herbert Spencer's development theory and they wanted to be like them, they defined Spencer's education book (1861) in Bengali too. When he was practicing Western philosophy scientists, he also read Sanskrit texts and Bengali literature.
William Hastiy (President of the General Assembly Institute) has written, "Narendra is very clever, I traveled far away from many trips, but students of Philosophy of the University of Germany and I never go ahead in the minds and skills of Narendra Modi." Some people used to call Narendra as Shrutiadhra (a person with a terrible memory).
Swami Vivekananda Teacher Ramakrushna
In 1881, Narendra met Ramkrishna for the first time, who, after the death of Narendra's father, mainly highlighted spiritual light on Narendra.
When William Hastie was delivering a speech on William Wordsworth's poem "Tourism" in the General Assembly, then Narendra had introduced himself to Ramakrishna. When he was explaining the meaning of the word "Trance" of the poem, he told his students that they would meet Ramkrishna located in Dakshineswar to know its meaning. His talk inspired many students to meet Ramakrishna, which included Narendra.
He personally met in November 1881, but Narendra did not consider him as his first meeting with Ramakrishna, nor did anyone ever see that meeting as the first meeting of Narendra and Ramkrishna. At that time, Narendra was preparing for his upcoming F.A. (Fine Arts) examination.
He personally met in November 1881, but Narendra did not consider him as his first meeting with Ramakrishna, nor did anyone ever see that meeting as the first meeting of Narendra and Ramkrishna. At that time, Narendra was preparing for his upcoming F.A. (Fine Arts) examination.
When Ramakrishna had to go to Surinder Nath Mitra's house to deliver his speech, then he kept Narendra with him. According to Paranjpe, "During that meeting, Ramkrishna had asked young Narendra to sing some. And fascinated by the art of his song, he asked Narendra to walk with him in Dakshineswar.
In the beginning of 1881 and in early 1882, Narendra went to Dakshineswar with his two friends and he met Ramakrishna. Their meeting made them the biggest turn-point in their life.
He soon did not accept Ramakrishna as his guru, nor did he ever go against his ideas. He was just influenced by his character, so he quickly moved to Dnyaneshwar. He soon saw Ramakrishna's supreme bliss and dream as "the concepts of imagination and the" hallucination ".
As a member of Brahmo Samaj, they were against worship of idol worship, polytheism and the Goddess of Ram Krishna's Kali Devi. He rejected Advaita Vedanta's understanding of "completely equal" as God's condemnation and madness and even ridiculed them. Narendra also took Ramkrishna's examination, who (Ramakrishna) patiently endured that dispute, "try to know the truth from all the points of view".
Narendra's father died suddenly in 1884 and the family had become bankrupt, the moneylenders were demanding to return the loan given, and their relatives also removed their rights from the house of their ancestors. Narendra wanted to do something good for his family, he had become the poorest student of his college.
They failed to find work, and the question of God's existence was created in front of them, where Ramakrishna got comfort from him and he increased the going to Dakshineswar.
One day, Narendra asked Ramakrishna to pray to black mother for the financial well-being of his family. And with the advice of Ramkrishna, he went to temple for three times, but he failed to ask for whatever he needed every time and he prayed to take the path of truth and to do good for the people. At that time; In the beginning, Narendra had experienced God, and from that time, Narendra had taken Ramakrishna as his guru.
In 1885, Ramkrishna had a throat cancer, and due to this he had to go to Calcutta and later to Kosciipore Garden. Narendra and his other companions served him in the last days of Ramkrishna, and Narendra's spiritual education was also started. In Kossipore, Narendra has experienced Nirvikalpa Samadhi.
Narendra and his other disciples took a saffron dress from Ramkrishna and kept following their commands like friar. In his last days, Ramakrishna taught him that serving the human being is the biggest worship of God. Ramakrishna asked Narendra to take care of his monastery, and said that he wants to see Narendra as a mentor. And Ramakrishna received God at the morning in Kosipipore on August 16, 1886.
Swami Vivekananda Death
Vivekananda rose early in the morning on July 4, 1902 (the day of his death), and worshiped the Belur Math, worshiped at the house, and later also practiced for 3 hours. He taught the students about Shukla-Yajur-Veda, Sanskrit and Yoga Sadhana, later discussed with their peers and discussions on making Vedic college in Ramkrishna Math.
7 P.M. Vivekananda went to his room, and refused to disrupt his disciple, and died while doing Yoga 9 P.M. According to his disciples, the cause of his death is due to his cleavage in the vein in his mind, but he has to receive Mahasamadhi.
According to his disciples, his reason for Mahasamadhi was Brahmarandhara (a type of Yoga). He proved his prediction that he would not live more than 40 years. His body was set on fire from Chandan's library in Belur's Ganga river.
Impressed by Sri Ramkrishna Paramahansa, he was oriented towards theism and he started burning the knowledge of knowledge by roaming around all over India.
"Get up and wake up and do not wait until the floor gets done!"
If I feel anything wrong, we will keep updating this as soon as we wrote a comment.
Thanks for reading.