NZ History - the notorious Amy Bock
Amy Maud BOCK

thief, confidence trickster, grifter, impersonator, kleptomaniac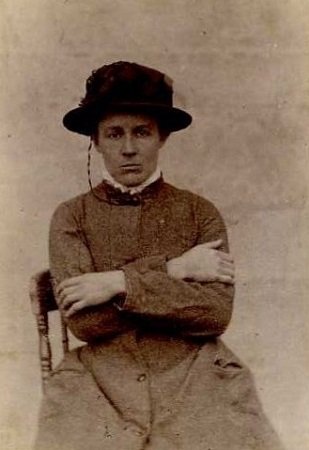 NZ police mugshot of Amy Bock [n.d. but probably 1890]
image source
She was born on the 18th of May, 1859 in Hobart (Tasmania, Australia).
Her parents were Alfred BOCK and Mary Ann PARKINSON. Alfred was an artist & photographer. Mary sadly died in 1875, in a lunatic asylum. It seems likely that Amy inherited her mother's mental illness to some degree.
Amy had been encouraged by her father to pursue her interest in amateur dramatics - which she would put to good use during her odd life of crime.
At some stage Alfred had moved to Auckland (NZ), with his second wife, and after Amy had gotten herself in trouble with the law while still living in Melbourne (Victoria, Australia) she was encouraged by her father to make a fresh start by immigrating also.
Hence, most of her criminal activity takes place throughout New Zealand.

Her 'normal' jobs included being a:

Teacher
Cook
Governess
Music instructor
Housekeeper
Retirement home worker
Most of her crimes centred around conning people she met out of money - usually just small amounts. Perhaps her compulsions centred more around the thrill of doing it, rather than for any real necessity, as she was also known for being a generous, kind-hearted person willing to help out others. An odd sort of Robin Hood, perhaps.
As she moved (or was moved by the Court) around the country, she invented and used quite a number of names.

Some of her known aliases and peripheral personas:

Amy Moreton
Amy Laing
Mrs Merry (whom Amy supposedly corresponded with)
Amy M Brunell
Ida M Bennett
Miss Bruce
J Crisp
Amy Cameron
Mary Shannon
Amy Chanel
Miss Balfour (or Chamberlain, Churchill, Lloyd-George - famous names)
Agnes Vallance
Miss Charlotte Skevington (a fictitious aunt or friend)
Percival Leonard Carol Redwood (an affluent sheep farmer)
As Percival, this was her most daring grift. She (posing as a he) wooed and then married Agnes OTTAWAY in 1909 (April 21st) in Port Molyneux (South Otago), though the deception only lasted a few days after the wedding, when Amy was (once again) arrested. Because of such odd circumstances, Agnes was granted an annulment just a few months later.
Agnes's parents - who ran the boarding house where 'Percival' had gone to supposedly recuperate from an illness - had become suspicious of him, even though he had produced (forged) documents from lawyers and such pertaining to his financial standing and good character. 'He' even produced letters from a fictitious mother (living in Hamilton, Waikato, NZ) assuring the Ottaways of his healthy financial state; and 'he' said his uncle was an Archbishop.
Apparently 'Percy' had been quite a hit in the district, and attention by 'him' to any of the single females in the area was seen to be very flattering indeed. Amy could apparently do a posh aristocratic voice very well.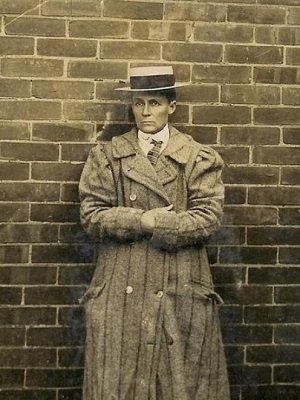 Amy Bock at the time of her trial, 1909
image source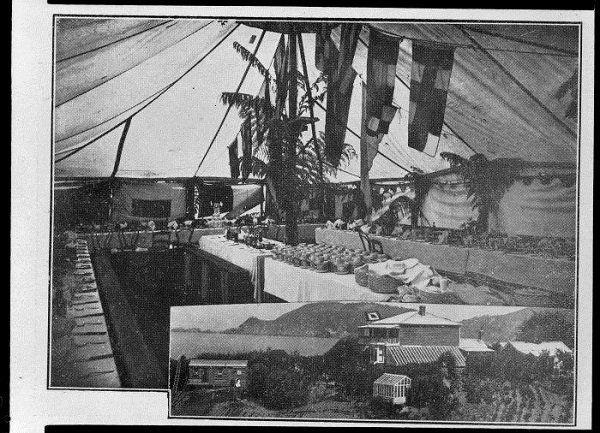 "Copy of two photographs from a book by Robert William Robson. (1909). Adventures of Amy Bock. Dunedin. Otago Daily Times, opposite page 36. The upper photograph, taken 21 April 1909, shows tables, decorated and set inside a marquee for the Redwood-Ottaway wedding feast. The lower photograph,inset, taken circa 1909, shows the Ottaway house and property at Port Molyneax, Otago. Photographer(s) unidentified."
image source
Amy's antics as Percival immediately became media fodder, and spawned such things as caricatures based around herself and the wedding.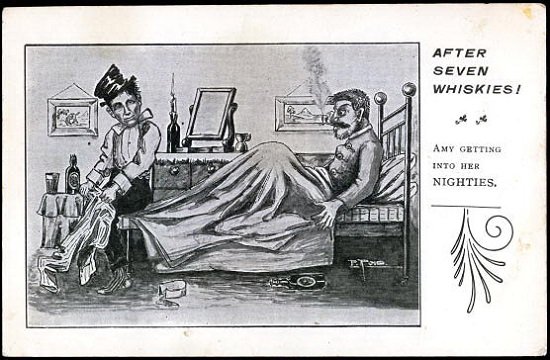 image source
This particular scene was inspired by the story that because the Ottaways had become suspicious (even though they allowed the marriage to go ahead) they would not let Percival sleep with Agnes on their wedding night and sent him to a room where another member of the bridal party was bunking down. This man reported that 'Percival' did the oddest thing - while getting ready for bed he pulled his pyjamas on over top of his clothes before climbing into bed to sleep.
Even after her long and 'illustrious' criminal career she managed to stay out of trouble for a time and in 1914 Amy - now about 55 years of age - was married to sheepfarmer Charles Edward CHRISTOFFERSON; but this lasted less than a year after she fell back into her old ways.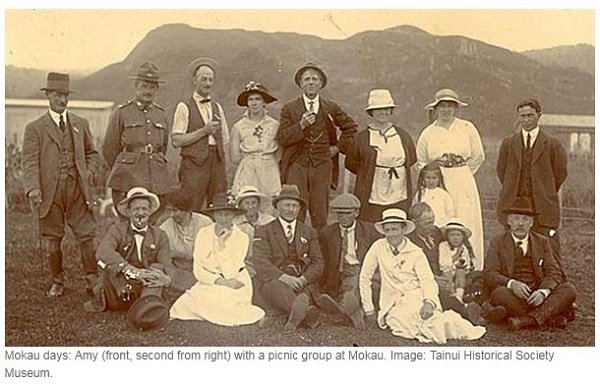 image source
Apparently - before she slipped again - she had become, after moving to the Mokau (Taranaki) district after serving time for her Port Molyneux deception, very well regarded.
"She took part in all the activities, was a good actress and an excellent pianist, organised many entertainments and plays and was the life of the district."
source
She once told a policeman, regarding her criminal impulses:

"It's in my blood" ... "The malady I suffer from has been with me since childhood, and no one but God and myself knows the fearful horror I have had to face the consequences of my crimes."
source
Although it has been noted in passing that she apparently spent some time (besides being in her Percy persona) dressing as a man, and which subsequently caused (and still causes) speculation that she was a lesbian or bisexual, she once claimed it was because she found women easier to defraud, and dressing as a man helped her cons.
Amy certainly didn't always dress as a male, though.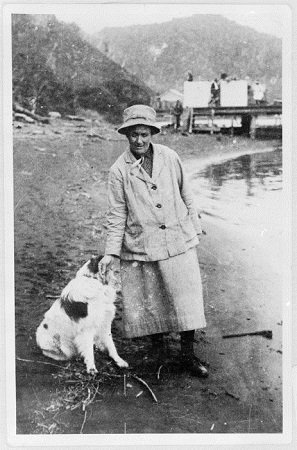 Amy Bock standing on a beach with a dog. Photograph taken ca 1920s by an unknown photographer.
image source
Her final appearance in Court was at the end of October, 1931, aged about 72 years. She was described by a reporter as

a faded old lady in a dove grey alpaca cloth costume, with a drooping hat of lace straw, grey gloves and supporting herself on a walking stick.
source
Because during her criminal life she did not appear to have any evil or malicious intent, she was regarded as having been eccentric instead of the villain that she might otherwise have been labelled as.
She died on the 29th of August 1943 in Bombay (South Auckland) and was buried in an unmarked grave in nearby Pukekohe. By then she was about 84 years old. She doesn't appear to have had an obituary published in the papers. A quiet end to a notorious life.

---
Notes:
(In chronological order)
Here is a newspaper account of Amy appearing in Court after being caught defrauding the Rev. Lloyd Keating of money.
from: NEW ZEALAND HERALD, VOLUME XXII, ISSUE 7328, 14 MAY 1885
A newspaper account of Amy having been caught defrauding GL Beath & Co (Christchurch).
from: PRESS, VOLUME XLIII, ISSUE 6426, 26 APRIL 1886
A newspaper account of Amy defrauding William Clark, a draper.
from: EVENING POST, VOLUME XXXIV, ISSUE 11, 13 JULY 1887
Here is a lengthy newspaper report on Amy talking about her compulsion and early years.
from the: NELSON EVENING MAIL, VOLUME XXII, ISSUE 95, 25 APRIL 1888
This newspaper article includes a published copy of her letter - as persona Miss Merry - to herself while she was in the Industrial School in Port Chalmers (Otago, NZ) in the hopes this would allow her to escape the place.
from: EVENING STAR, ISSUE 7487, 4 APRIL 1888
Amy never appeared to try and declare herself innocent, once she'd been caught for a crime.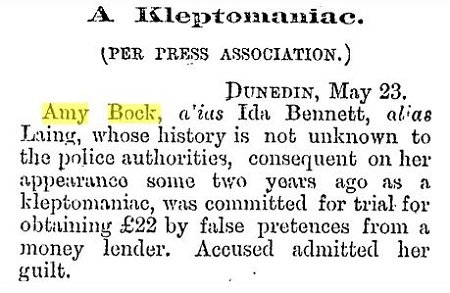 image source
from: ASHBURTON GUARDIAN, VOLUME VII, ISSUE 2437, 23 MAY 1890
It didn't always take long before she was back in trouble with the law.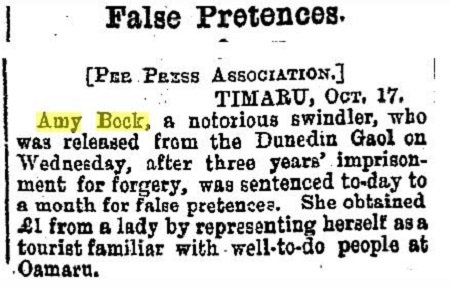 image source
from: STAR, ISSUE 7395, 17 OCTOBER 1892
Sometimes Amy's Court sentence would include doing 'hard labour'. Clearly, this never cured her of her compulsions though.
from: TIMARU HERALD, VOLUME LV, ISSUE 5659, 25 APRIL 1893
By 1894 her reputation was becoming quite widely known. To the point that a public warning was written in the newspapers. I especially enjoyed the description.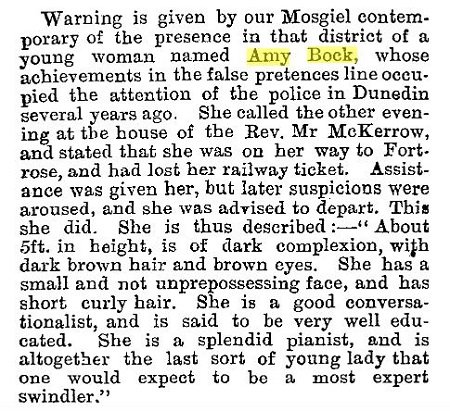 image source
from: SOUTHERN CROSS, VOLUME 2, ISSUE 26, 22 SEPTEMBER 1894
Some crimes were mentioned only briefly, like this one.



image source
from: EVENING STAR, ISSUE 9806, 20 SEPTEMBER 1895
Here Amy has defrauded a Mrs Ellen Pelham, while living in Wellington of substantial funds.
from: EVENING POST, VOLUME LXV, ISSUE 55, 6 MARCH 1903
Another intesting article, setting out Amy's methodology for swindling.
from: EVENING STAR, ISSUE 11838, 18 MARCH 1903
In Christchurch, Amy again appears in Court.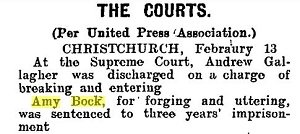 image source
from: WANGANUI HERALD, VOLUME XXXIX, ISSUE 11483, 14 FEBRUARY 1905
(If, like me, you had no idea what 'uttering' was, then read on!)
Uttering is a crime involving a person with the intent to defraud that knowingly sells, publishes or passes a forged or counterfeited document. More specifically, forgery creates a falsified document and uttering is the act of knowingly passing on or using the forged document.
source
---
Bibliography:
https://nzhistory.govt.nz/page/amy-bock-sentenced-dunedin-supreme-court
https://teara.govt.nz/en/biographies/2b30/bock-amy-maud
https://paperspast.natlib.govt.nz/newspapers
https://en.wikipedia.org/wiki/Amy_Bock
https://www.odt.co.nz/1909-notorious-female-fraudster-nabbed
http://pukeariki.com/Learning-Research/Taranaki-Research-Centre/Taranaki-Stories/Taranaki-Story/id/532/title/the-bridegroom-was-a-woman-amy-bock
https://www.headstuff.org/culture/history/amy-bock-the-feminine-bridegroom/
---


(extra tags: #life #education #minnowsupport #crime)