A true love story. you heared about it..?
Jalaluddin Muhammad Akbar .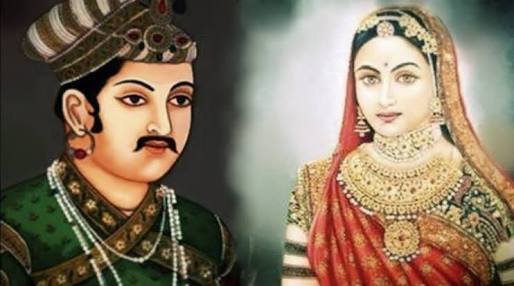 Jalal Uddin Akbar, who was commonly known as Akbar and later Akbar was a great man, was the ruler of the Mughal empire from 1556 until his death. He was the third monarch of India and the first Mughal emperor.
Jalaluddin Mohammed Akbar biography.
Full name: Abul-Fatah Jalaluddin Muhammad Akbar
Birth - 15 October, 1542
Birthplace - Amarkot
Father of Akbar - Humayun
Mata Nawab Hamida Bano Begum Sahib
Education - Despite being less educated, he was very well versed in military education.
Marriage Wives of Akbar - Rukaiya Begum Sahiba, Salima Sultan Begum Sahiba, Mariam Uz-Zamani Begum Sahiba, Jodha Bai Rajput.
Children Son of Akbar - Jahangir
History of King Akbar
Akbar was the son of Humayun, who had already expanded the Mughal empire in India. After defeating in the battle of Chausa and Kannauj in Chausa and Kannauj in 1539-40, Mughal emperor Humayun went to the west and went to Sindh, where he met 14-year-old Hamida Banu Begum, daughter of Shaikh Ali Akbar. He married them and the following year Jalaluddin Muhammad was born on October 15, 1542 in Rajput house in Umkot of Sindh (which is now in Pakistan) where his parents gave shelter to the local Hindu Rana Prasad of his place.
After the long exile of Mughal ruler Humayun, Akbar established Kabul with his entire family. Where his uncle Kamaran Mirza and Asrari Mirza lived. He used to hunt his old youth, learn to fight, fight, flee, who made him a powerful, fearless and brave warrior. But in his entire life, he never taught to write or read.
It is said that whenever they needed to read something, they kept someone with them, who had to read it. In November 1551, Akbar married Kabul's Rukaiya. Queen Rukaiya was the daughter of his uncle, Hindal Mirza. Who was his first and chief wife. His first marriage was by Akbar's father and the uncle of Rukaiya. After the death of Hindal Mirza, Humayun took his place.
After defeating Sher Shah Suri for the first time, in Humayun, Delhi was restored in 1555 and there he built a huge army. And only a few months later, Humayun died.
To make Akbar a successful powerful king, Akbar's guardian hid his father's death from him. And finally defeating Sikandar Shah on February 14, 1556, succeeded in the war of Akbar and from that he began to expand the Mughal empire.
In Kalanaur, Punjab, Bairam Khan was handed over the 13 year old Akbar to the throne, so that he could establish a new vast empire for himself. Where he was named "King of Kings" Bairam Khan always supported Akbar.
Jalaluddin Muhammad Akbar
Akbar was a brave and powerful ruler who had grabbed all the area around Godavari river and had also included him in the Mughal empire. On the basis of their infinite army, immense power and economic strength, they were gradually going to rule over many states of India.
Akbar wanted to make his empire the biggest and happy empire, so he adopted several types of policies that would allow his state's people to live happily.
As his empire was vast, some of them were also from Hindu Dharma, for their interests, they adopted the Hindu Emperor's policy and implemented them in the Mughal Empire. They wanted to overcome discrimination between different religions. Because of his humble nature, he considered them to be a great king. And gladly lived in his empire.
While introducing his religious tolerance towards the Hindus, he removed the tax named 'Jijiya' upon him. The greatest effort that Akbar tried to do in his life was the establishment of a religion called 'Din-i-Elahi'.
He tried to establish it in the form of sostharma. In 1575, he had established an Ebaddhkhana (prayer house) which was open to all the people, he also used to discuss religious discussions with the heads of other religions.
He gave a lot of encouragement to literature and art. Many texts, paintings and buildings were built during his reign. There were nine scholars specializing in various subjects in their court, which were called 'Navaratna'.
Akbar is counted among the liberal rulers of India. In the entire medieval history, he has become the only Muslim ruler who, after understanding the importance of Hindu-Muslim unity, sought to build an all India.
In the famous rulers of India, Mughal Emperor Akbar is leading, he was the only Mughal emperor who introduced some generosity towards the Hindu majority.
Gradually, the Mughal Empire expanded in India and the stable economic situation was coming into the state. Akbar was very busy with art and culture, so he paid more attention to the development of these two during his reign. He was also very fond of literature, so he wrote 2400 volumes and published him in the library.
In their empire there were soldiers of many languages ​​such as Hindu, Sanskrit, Greek, Persian etc. Akbar established a religion called Din-i-Elahi for reducing the interaction between Hindus and Muslims.
His court was always open for everyone. Akbar built many Persian culture pictures on his walls. During his early reign, Akbar had no tolerance towards Hindus, but with time he also showed his interest in revenge and other religions, including Hindus.
Akbar also married a Hindu Rajput princess. One of his queens was Jodha Bai Rajput. There were many Hindu courtiers, military officers and feudents in Akbar's court. He started a unique series of religious discussions and debate programs, in which Muslim Alem people used to have discussions with Jains, learners, Hindus, atheists, Portuguese and Catholic theologians.
In the Mughal Empire, only the Indian history was affected. Their strength and economic status was steadily increasing. Akbar had made the world's most powerful army with his economic force, which was impossible for anyone to defeat.
Akbar had also stopped recovering those who were not Muslim, and he was the first emperor to do so, and at the same time he was the first emperor to be the only Muslim who is not a Muslim. After Akbar, his success was his empire from his son Jahangir.
Death - Akbar Death:
On 3 October 1605, Akbar suffered from dysentery, which he could never recover. He died on 27 October 1605, after which his Samadhi was built in Agra.
King Akbar:
Akbar was one of the great and brave emperors of the Mughal Empire. They never discriminated between Muslims and Hindus. And in their empire, everyone treated the same as equal to everyone. In the history, we see Jodhaa-Akbar's love story world famous.
Jalaluddin Muhammad Akbar was not less than any god for his subjects. His subjects loved him very much. And they also always strive to overcome the difficulties happening to their people and try to overcome them as soon as possible. That is why Shahnshah Jalal Uddin Muhammad Akbar is considered a brave, intelligent and powerful ruler in history.
Hope you find this post about "King Akbar" useful.
Thanks for reading .
Please
follow me