F Clark Lewis
F. Clark Lewis
I have been privileged to be in the company of giants in my life. One of them was F. Clark Lewis.
Gather round children and I shall tell a story.
It's my story, and I share it gladly with you. It is my job to tell this tale to the very best of my ability. It is not my job to certify it as true (or even not true). That is your job, dear reader, to decide whether or not there is any truth to this story. Like all stories that I see fit to tell, I may run off track a bit on this one. I may or may not get back at the end.
I am, after all, the storyteller.
When he was mayor of Longview, Washington he used to say "They named the county north of here after my mother and the one south of here after me." That would be Lewis and Clark counties in Washington. It may not be exactly the truth…
He was one of those genuine "Larger than Life" sort of guys and I had no idea. You see, I met him as Dada. My first wife's grandfather. I listened carefully to his stories but my memory is starting to fade since it's been over 45 years since I've seen him.
To his family, he was just Dada. A potentially cantankerous old buggar that had done and seen everything and told the same stories over and over and over.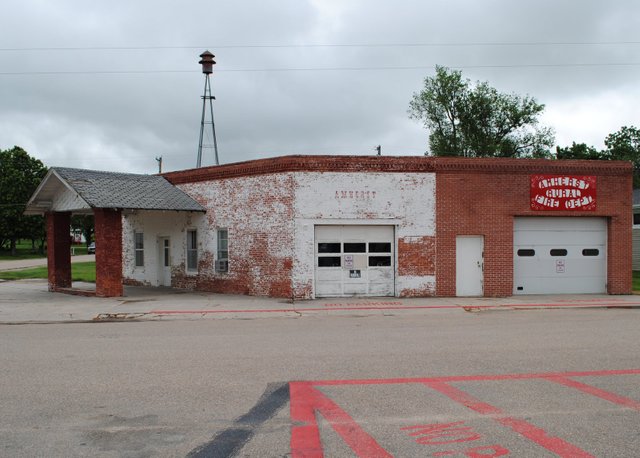 Amherst, Nebraska. Photo courtesy of the author.
But I noticed that they weren't the same. There were differences and details. In the early days of our marriage I was held in high esteem because I'd listen to Dada by the hour and he'd leave everybody else alone.
I never got tired of talking and listening to Dada. I'm going to give you the best I've got. In the day I made a couple of recordings and had a ton of pictures. None of those exist now.
Near as I remember he was born in Nebraska in 1900. He ran away from home and his father at the age of 14 and didn't go back for a long time. He kept from starving by doing what he knew which was work hard for farmers.
He was a bright kid, read continuously and in the fullness of life got his first real job as a clerk at The Pan-Pacific Exposition in San Francisco, 1915. It opened up the possibility to him that he might be able to earn a living by using his brains and not just relying on his brawn. The Exhibition (it's really a World's Fair) was set up to honor the opening of the Panama Canal and to show the world that San Francisco had recovered from the devastating earthquake of 1906.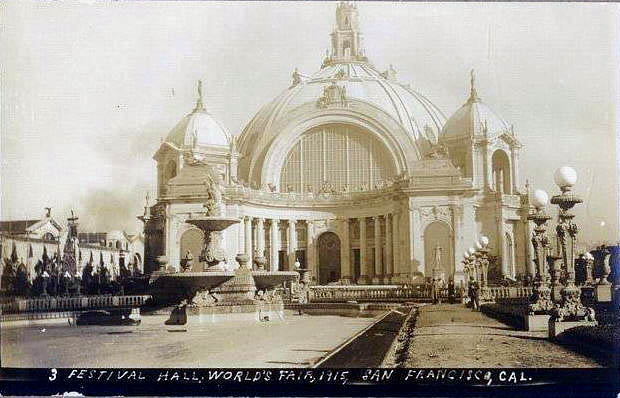 Pan Pacific Exposition Public Domain
The exposition also inspired him to see the world. And so he did. After the expo he took a job handling cargo on a freighter bound for New York City via the Panama Canal. That did exactly what you might expect from a Nebraska transplant. He really did want to see the world. He worked local US cargo handling until WWI intervened.
When the US entered the war he enlisted before the draft. It seemed a great adventure and he didn't have to lie near so much about his age as he did in 1915. It was a grand adventure right up until he got to the trenches among the first of the Americans in the war.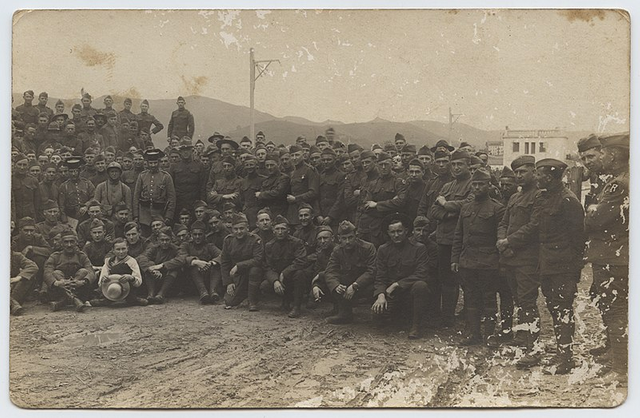 Americans in WWI Public Domain
I told you he was a bright kid, they made him a lieutenant and gave him command of a platoon. Before he was 18 years old.
There was no Christmas Truce in 1917 as there had been in 1914. His sector got hit on Christmas Day and his division got ordered over the top. They went, and they died. Over half his company died, and before Christmas day was over he was an acting Colonel, the highest ranking surviving officer in the very depleted division. He still wasn't 18.
There was some blowback from that military experience. From that day on, he went to church once per year, on Mother's Day. He did that to honor his mother, not with any care for the God that would allow that many able young men to be slaughtered on his Son's birthday. That feeling never left him.
It was until he was listed as 68 years old that he managed to convince Social Security that he was only 65. It actually took an intercession from Senator Scoop Jackson of Washington State to get his birth record cleared up.
I never asked Dada about his experiences in France. I always figured that if he wanted to tell me, he would. I had never heard of PTSD, and didn't know that I suffered from it at the time. There is no doubt in my mind that Dada lived with it most of his life.
This isn't the end of the Dada story, it's just a really good start. He lived life relatively quietly and at several times much larger than ordinary.
I thank you for reading this far, and will be back with more of the story before long.
You want some really cool stuff? Check these authors, they will not disappoint.
@broncofan99 Sports Teaching Fishing BBQ. Not necessarily in that order.
@morkrock Music Games Stinging Politics. Don't go here with thin skin.
@princessmewmew Food Antiques Food Life Food Cats. Anything of beauty could show up here.
@soyrosa Great Photographs and Insights for us All