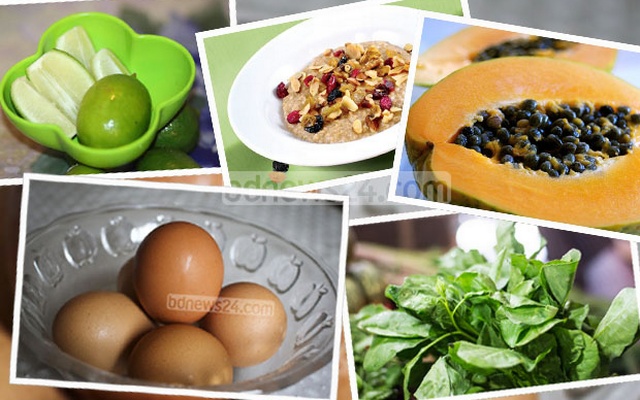 Using cosmetics, instead of enlarging to the parlor, it can be enhanced by eating the necessary food for skin and hair.
From a report published on the Food and Nutrition website, it helps to protect the beauty of hair and skin as well as some foods.
Greens: It contains essential vitamins, Vitamin B and Iron. Palaces and broccoli have calcium, magnesium, potassium and other minerals, essential for the recovery of skin and hair.
Oats: Start the morning with a bowl of oats. It has fiber and antioxidant rich foods, which have excellent ability to keep hair and skin beautiful.
Lemon: It contains skin and hair cleansing material, many of which know. Lemon is included in the daily diet list, it also benefits inside the body. To get rid of the problem of dandruff, rub the lemon on the skin of the head. Lemon peels keep the head skin healthy.
Papaya: This fruit is rich in Vitamin 'A' and enzyme. Vitamin A is not only for skin but it is also beneficial for hair. Because Vitamin A is needed to create Sibam. These oily substances work as the natural conditioning of the head skin. Which arises from the Sibişos Gland.
Egg: Egg Yolk is beneficial for skin and hair. It contains Vitamin 'A' and water soluble vitamin 'B' which is known as biotin. In the absence of hair, hair problems arise.