The ancient language of ivrit ( עברית ) Genesis #10
Welcome back to my DTube Hebrew reading & language series.
The full study is now on line covering the Alef-Beyt here in my blog. This is a beginners program to teach letters, vowels, and reading. The vowels are marked in this bible and are designed to help avoid confusion on what a word is and how it is pronounced. The confusion is obvious in the hundreds of interpretations globally. In modern Hebrew, only children need a niqqud or vowel marking for each letter. Old manuscripts also usually have vowels marked.
This week's reading is from Genesis 1:20-22
We are in the fourth day as God causes all sea creatures to "swarm" (school) in the waters, and causes the birds to fly across the expanse. And let them "swarm" according to every kind. Swarm is one English interpretation and it is interesting that the ESV would choose that word (school, pod, or flock come to mind as options).
I hope you are starting to recognize many words that we have already learned, God, earth, great, which/that , et, all/every, marked below with green dots.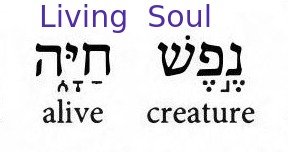 We are looking at some new vocabulary today. We have "water" or ma-yim which is always in plural, "creature" or nefesh discussed below, "bird" or oaf and a few more interpretations of al, some of them are above, over, across, on, etc., then we have hai-yah or "alive".
When I read nefesh I usually think of "soul", "person" or "being" and here, I see "creature" as the interpretation. I wondered why the word "creature" did not come to mind. It did not seem to fit so I looked up the number of translations there are for nefesh.
any (1), anyone (2), anyone* (1), appetite (7), being (1), beings (3), body (1), breath (1), corpse (2), creature (6), creatures (3), dead (1), dead person (2), deadly (1), death (1), defenseless (1), desire (12), discontented (1), endure* (1), feelings (1), fierce* (2), greedy* (1), heart (5), heart's (2), herself (12), Himself (4), himself (19), human (1), human being (1), hunger (1), life (146), life* (1), lifeblood* (2), lives (34), living creature (1), longing* (1), man (4), man's (1), men* (2), mind (2), Myself (3), myself (2), number (1), ones (1), others (1), ourselves (3), own (1), passion* (1), people (2), people* (1), perfume* (1), person (68), person* (1), persons (19), slave (1), some (1), soul (238), soul's (1), souls (12), strength (1), themselves (6), thirst (1), throat (2), will (1), wish (1), wishes (1), yourself (11), yourselves (13).
"living creature" is comes up one time in the Tanakh.
"creature" and "creatures" puts the count up to nine.
Life, Person, and Soul (about 500 times)
These seem to be the dominant interpretations, but the word only reads one way in Hebrew. I run across nefesh all the time while reading and the meaning is just nefesh.
It is understandable for what it means in Hebrew. Translation, based on context, needs to find different words to put in place of nefesh in order to fit the English culture.
If you have been with me from the beginning, you should be able to read on your own, maybe with some mistakes. But you can start practicing and building vocabulary. I am reading a little faster and pointing less each week. I hope you are too.
---
Here are the links
Please click over to DTube and read the above passage with me in Hebrew.
---
▶️ DTube
▶️ IPFS
If you are just starting, my lessons are all here starting at Alef, adding vowels (the dots and lines) as we go, the sofit formations and numerical values. Just go to my blog and scroll to the bottom or click here
Get your Hebrew Bible now!
Click here to obtain the book we are using. It is a free download - or browser usable.
Thanks for taking the time to watch and read.
Shabbat Shalom
I give no opinion, but yours are welcome below