The language of ivrit ( עברית ) Genesis 4, DTube Video #1
Welcome to my DTube Hebrew reading & language series.
The full study is now on line covering the Alef-Beyt here in my blog. This is a beginners program to teach letters, vowels, and reading. The vowels are marked in this bible and are designed to help avoid confusion on what a word is and how it is pronounced. The confusion is obvious in the hundreds of interpretations globally.
A milestone was hit, having read three full chapters. If you have been with me this far, you are already seeing words that are familiar and easily recognizable. Congratulations.
Today we start Genesis with 4:1-3
These little verses cover the birth, childhood and the professions of each of their two sons.
If the gestation periods are all the same as they are now, these three verses encompass almost two years for the first half and what they did with their lives in the second half. It seems that they were competing to put together an offering to Elohim.
The younger, Abel, kept sheep, but the older one, Cain, made an offering of the fruit of the ground to Yahova. The continuation in verse four is for next week.
This week I am reading slowly and leaving space for you to repeat the words as I go. Please click the links to read with me on DTube. Thanks.
Today's reading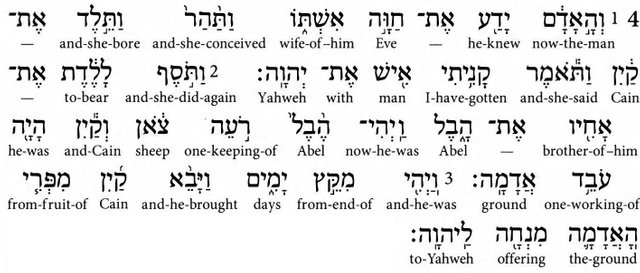 This is one of the best ways to learn a language, reading and learning to understand words and word order in Hebrew while reading. Click the links below to hear the reading.
---
Here are the links
Please click over to DTube and read the above passage with me in Hebrew.
---
▶️ DTube
▶️ IPFS
Note: my pronunciation of The Name as Yehovah is explained more fully in Genesis 2, DTube Video #2 and the coinciding audio is linked here.
---
If you are just starting, my lessons are all here starting at Alef, adding vowels (the dots and lines) as we go, the sofit formations and numerical values. Just go to my blog and scroll to the bottom or click here
Get your Hebrew Bible now!
Click here to obtain the book we are using. It is a free download - or browser usable.
Thanks for taking the time to watch and read.
Shabbat Shalom