Welcome back to my DTube Hebrew reading & language series.
The full study is now on line covering the Alef-Beyt here in my blog. This is a beginners program to teach letters, vowels, and reading. The vowels are marked in this bible and are designed to help avoid confusion on what a word is and how it is pronounced. The confusion is obvious in the hundreds of interpretations globally. In modern Hebrew, only children need a niqqud or vowel marking for each letter. Old manuscripts also usually have vowels marked.
This week - Genesis 2:4-6
There are so many interesting things that come up as we get into the details of creation. Today we see that plants have not begun to grow, no rain, but a mist was on the land to water them. We are also told that there was no man to work the ground yet. And the other big item is that this is the first time the holy name of God appears. It is not "the Lord" but rather the tetragrammaton, יהוה‬ in Hebrew.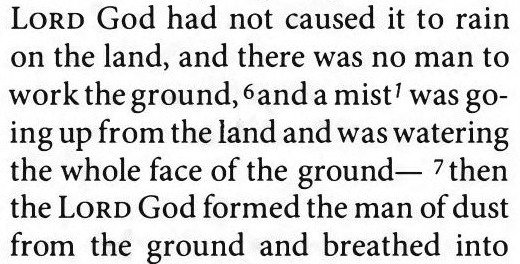 Lord is an English word. The Name is quite a different thing. It was banned from being spoken around the time of the inquisition. In Hebrew there are many ways of pronouncing these four letters. I have seen manuscripts that have the vowel included, and the word is clearly Yehovah when reading it as it is written. Others have their reasons for saying Yahweh when reading. Israeli religious people simply replace the tetragrammaton with Adonai when reading it. I have also seen some that choose to replace The Name with ha Shem, which means "The Name". I have been convinced that there is a missing vowel in the middle. If you read long enough, you will see that the scribes put all of the vowels in God's name well over a thousand times and when they do, it is clearly Yehovah.
I will not attempt to resolve the pronunciation debate here. It is quite interesting though, that when I was offered a chance to receive a fluent reading of Hebrew by a fellow Steemian five months ago, he sent me an audio file and permission to post it. He is clearly heard reading The Name as Yehovah even though there is a missing vowel. That audio file is over on dsound.audio, linked here.
I wanted to explain the reason why you hear me saying the Name differently than the ESV Tanakh we are reading. There are good arguments on both sides for its pronunciation. There are good arguments for not pronouncing it.
Here is today's reading


The Rain
I really like how clear this is! He had not caused it to rain yet. One look at creation science and you will find they are also talking about Noah and the flood. The fact that there was no rain on the earth until Noah's time, along with the giving of and meaning of the rainbow, makes more sense.
---
Here are the links
Please click over to DTube and read the above passage with me in Hebrew.
---
▶️ DTube
▶️ IPFS
#
---
If you are just starting, my lessons are all here starting at Alef, adding vowels (the dots and lines) as we go, the sofit formations and numerical values. Just go to my blog and scroll to the bottom or click here
Get your Hebrew Bible now!
Click here to obtain the book we are using. It is a free download - or browser usable.
Thanks for taking the time to watch and read.
Shabbat Shalom