Welcome back to my DTube Hebrew reading & language series.
The full study is now on line covering the Alef-Beyt here in my blog. This is a beginners program to teach letters, vowels, and reading. The vowels are marked in this bible and are designed to help avoid confusion on what a word is and how it is pronounced. The confusion is obvious in the hundreds of interpretations globally. In modern Hebrew, only children need a niqqud or vowel marking for each letter. Old manuscripts also usually have vowels marked.
We are reading Genesis 2:13-17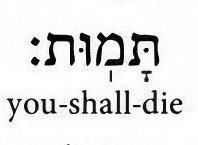 We are still in the garden describing the rivers that flow around the different lands. Today is the first day God talks to man. These were the days where everything was perfect, nothing was meant to die ever. There was only one rule in all of the law. Do not eat from the tree of knowledge of good and evil.
This is also the first mention of death as a possibility. What you see around you, mass shootings and the like, is not God's intention, but it was the choice of the first man.
Some interpretation notes.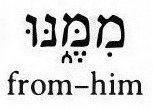 One thing that seems to be straying from the norm is Mi-mey-noo (left), interpreted as from him, but most every other use of the ending ey-noo is interpreted as our or us, whereas him is nearly always a "vav" connected to the end of the word. Curious.
I have shown and taught these suffix-like endings in many of the earlier lessons. This one is note worthy and I would like an explanation if there is a good one.
Another thing you may notice is that names of things are sometimes the same, Gihon and Cush. Other times, they are just completely changed when interpreted to English. Tigris is "khi-de-khel" and the Euphrates is "f'raht", and the reason is anyone's guess. I will attest to the fact that many languages take many liberties with names.
Here is today's reading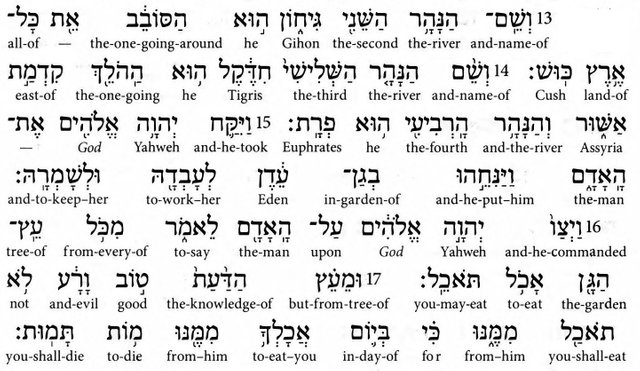 Last week a two-minute reading took almost no time to upload. Now I can read longer portions and not worry so much about five-hour-long upload times. I am still considering a writing post mid-week if I have time.
---
Here are the links
Please click over to DTube and read the above passage with me in Hebrew.
---
▶️ DTube
▶️ IPFS
Note: my pronunciation of The Name as Yehovah is explained more fully in Genesis 2, DTube Video #2 and the coinciding audio is linked here.
---
If you are just starting, my lessons are all here starting at Alef, adding vowels (the dots and lines) as we go, the sofit formations and numerical values. Just go to my blog and scroll to the bottom or click here
Get your Hebrew Bible now!
Click here to obtain the book we are using. It is a free download - or browser usable.
Thanks for taking the time to watch and read.
Shabbat Shalom