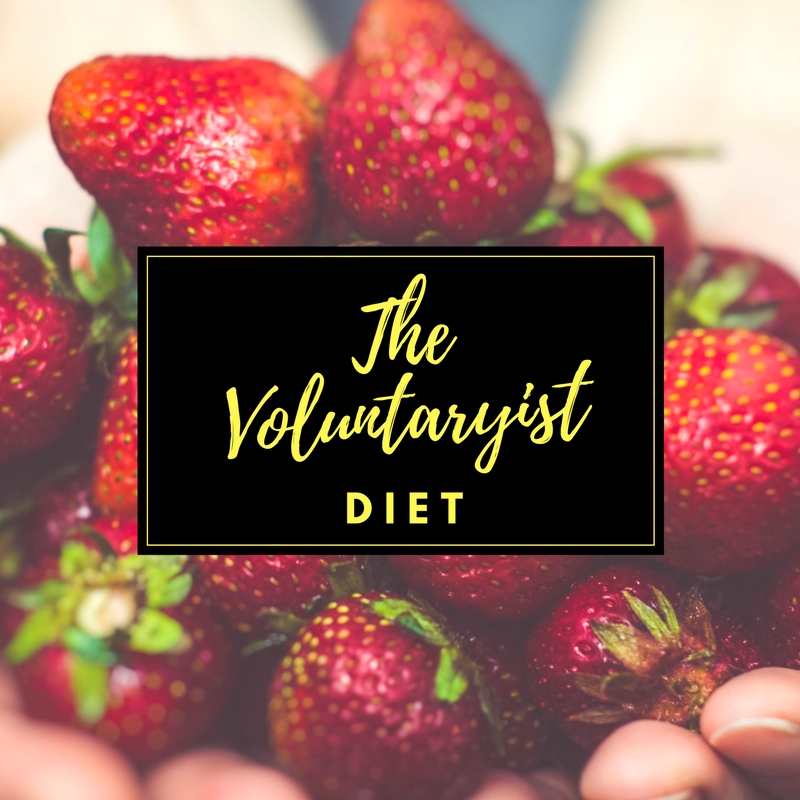 Ever have noticed that you have gained a few, or you seem to not feel healthy, or energetic?
I have also been down that road, for at least the last few years, and decided I needed to change something in my life, to help me feel better with my body as I do in my mind. Sometime Liberty minded people tend to forget to take care of themselves, mainly because we are fighting tyranny in our own way every day.
Last year around this time I decided to change what and the way I eat, also to add more scheduled exercise to my diet, yet along this path my partner decided to join me in this journey, although she only changed her diet, she doesn't exercise on a schedule as I do, but she has a lot to show for what she has done. Now I was up to 300 lbs a few years ago, and I merely just added some exercise to my schedule, but I wasn't disciplined about it, but I eventually loss a few pounds. Last year when I started this transformation, I weighed about 280lbs, my partner weighed about 180lbs, now I'm 220lbs and been at that weight for awhile now, I lost 60lbs in the first 5 months and now just maintain my weight, I intend to lose another 15lbs in this year, my partner that only changed her diet lost 45lbs in ten months time, she is currently at 135lbs, which is her original weight when we met. We feel much healthier and energetic than before, and I'm in my 40's, and she is in her late 30's, this diet has done wonders for both of us, and it isn't a stressful one, it just takes some changes in your lifestyle, mostly when and what you eat.
The first step of the diet is this, preparing yourself for the changes you are going to make, you do not have to follow the diet to the "T", but to get the best results I suggest being very disciplined in what you do, you cannot just do something for one day or week and expect results, this is a time consuming process, and you may gain a little weight, which is not necessarily bad weight, you lose fat in the process of gaining muscle mass, so inches will fall.
Next step is to restrict yourself from drinking sugary drinks, and limit your sugar intake overall, I tend to drink mostly water, and lots of it. Next is to schedule your eating habits, I myself have very strict schedule, so I use to not eat many meals, but when I did eat, it was at night after I got home from work, and it was ever going until I was full, which is not the best time to eat, and currently I have breakfast first thing in the morning, which is my veggie/fruit smoothie, then for lunch I eat a salad, and I don't limit on the dressings or meat, then dinner is whatever I want to eat, love the steak. If I need a snack at night, I eat mushrooms or something with no real calorie intake, and plenty of water.
Now for an extra step, but highly recommended step, the juice fasting purge, you don't have to go through a 7 day, but a 5 or 3 day is best, a 1 day juice fasting is not going to do it, unless it is done pretty regularly. I myself have only gone through a 3 day juice fasting, and in those 3 days I lost 10lbs right away, and it wasn't that bad, it was the first actual step in our diet, after that we changed the whole routine. It was quite simple to do the fasting, just drink 16 ounces of juice 3 times a day, do not eat any solids, and drink plenty of water; I actually wasn't hungry during this fasting, and plan on doing another shortly.
Now for the tools, I started with some cheap appliances, $15.00 Juicer from Ollie's, and a $14.99 blender from GNC. The next step is buying the right things that you need for your diet, such as vegetables and fruit; this is for your veggie/fruit smoothie. Now the veggies and fruit I juice in the juicer, which are the base of the smoothie, typically consist of: Ginger, Lemon, Tangerines, Celery, Cucumber, Kale, Spinach, Grapes. Once you have the juice base, typically is about 8-12 ounces of juice, I then start adding the fruit, which typically consist of: Strawberries, Pineapple, Banana, Blueberries, Raspberries, Blackberries, Cherries, Cranberries, and sometimes I add nuts & Protein mix, especially on workout days. Once you got everything ready to blend, add ice and blend it into a smoothie, sometimes after you need to set it in the freezer for a couple minutes, but it is ready to drink at any time, typically my smoothie is in a 28 ounces bullet, and that is my breakfast.
It is best to make sure you eat right for Lunch, I myself eat a salad every day for lunch, and then dinner can be whatever you like, and you don't need to count carbs or even calories, yet I do limit myself on breads and pastas. Now this is the end of the Voluntaryist Diet, you can modify this diet to whatever works best for yourself, but make sure you have a healthy and happy life.