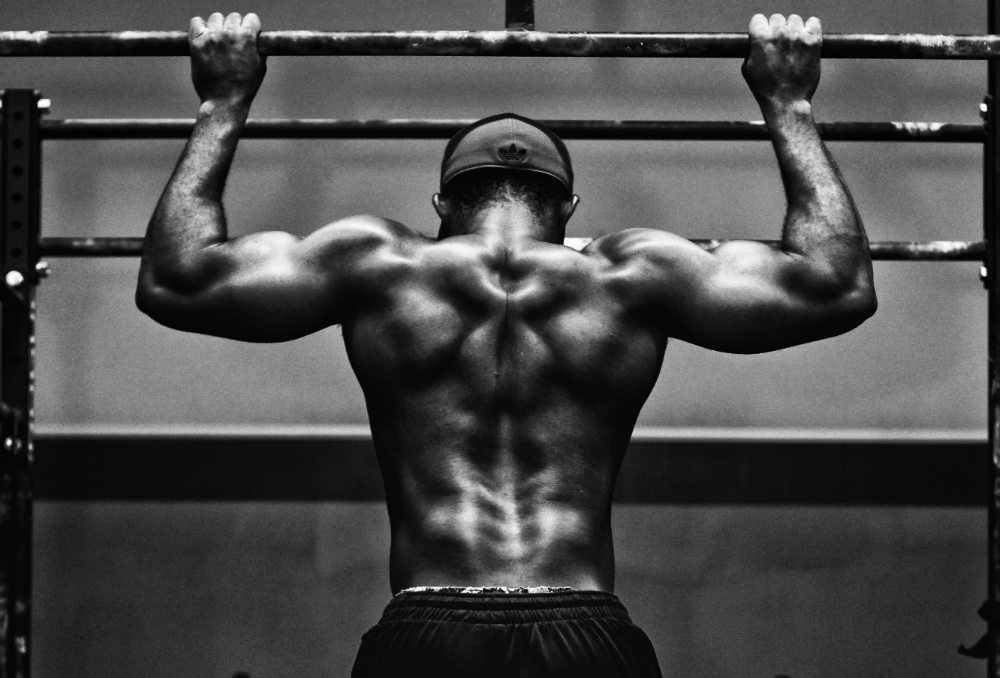 Continuing my Cryptogee workout series I wanted to talk about bodyweight exercises. If you've read my The Curious Case Of Cryptogee - The 20 Year Old Born 46 Years Ago! article then you'll know that following the advice of the excellent Youtuber Jeff Cavaliere of Athlean X has benefitted me greatly. My physiscal fitness stats are now of somebody less than half my age! So I want to spread the love to some of you Steemians out there.
----
Not all of us can get to a gym regularly, however that doesn't stop us from exercising. In fact bodyweight exercises can provide certain benefits that weight training cannot.
For instance it has been shown that bodyweight exercises are very efficient for achieving weight loss. Also for producing power at short notice. The main benefit that this type of exercise has over weight training is of course that you carry your body with you everywhere you go!
So I thought I would share with you a couple of my favourite bodyweight exercises that have contributed to my fitness and strength probably more than any other single exercises.
Train To Be Hard Core
Before we go on, let us briefly discuss your core muscles. A lot of people mistakenly think that the core consists entirely of your abdominal muscles. This is patently not true. You should think of your core as your abdominals and the muscles in your back and to some extent your gluteal (butt) muscles.
Also a big mistake that a lot of people make is that your stomach muscles only exist to flex your spine, and lift your legs above waist height.
Whilst the ab muscles do these things, they are also there to prevent rotation and help steady the body when it is under strain.
So with that being said, let's look at my favourite core exercises.
Thread The Needle
This exercise can be done in the 'side plank' position. That is to say you are resting on your elbow and forearm, at one end and one of your feet at the other, with one arm straight up in the air.
Beginner
Simply take the arm that is up in the air and 'thread' it through to the other side. The key here is you are trying to stop yourself wobbling. By doing this you'll activate your obliques.
Advanced
Do the same as above, but this time you are going to be on your hand as opposed to your elbow and you will do one and a half reps. So through halfway back then through again. Much harder not to wobble this time!
Beast Mode!
You will do one and a half reps, then immediately swap to the other side and do one and a half reps on that side. By the third set your abs will be on fire!!
***Skip to 1:30 for the thread the needle demo***
Angel Of Death
These are for the lower back, and we are going for stamina here. Quite simply lie on your front with your hands by your side. Lift your chest and lower legs off the ground, this is your start position.
Beginner
Simply bring your arms round in a wide arc till they are clapped together in front of you, keeping them fairly close to your head. Take about a second to go each way.
5 Reps
Advanced
This time make sure your hands are stretched out as far as they can be in front of you, and you're going to take around 3 seconds each way.
7 Reps
Beast Mode
Exactly as the advanced, however now you are going to count to 5 to before clapping your hands together, and 5 again to get them back to the start position.
10 Reps
Insane Mode!
Same same, but add 5 kilo dumbells or some bags of rice/sugar if you don't have them.
Rep till failure!
***Skip to 5:05 for Angel Of Death demo***
OK PEOPLE LET ME KNOW IF YOU WANT TO TARGET A PARTICULAR BODY AREA. I USE THE ATHLEAN X VIDEOS TO DEMO BECAUSE THEY ARE WHAT I FOLLOWED TO GET SO LEAN AND FIT. HOWEVER WOULD YOU PREFER TO SEE ME DO THE EXERCISES AS WELL, OR EVEN INSTEAD? AS EVER, LET ME KNOW BELOW!
Title image: Edgar Chaparro on Unsplash