I've been dealing with this for a while now. I've had complicated back problems for the past 3 years and though they are certainly improving, it's hard to sit at a laptop or with a guitar for extended periods of time. I sometimes imagine how much work I would have accomplished if it weren't for these issues. But then again, I wasn't accomplishing all that much before these issues and I try to remember that.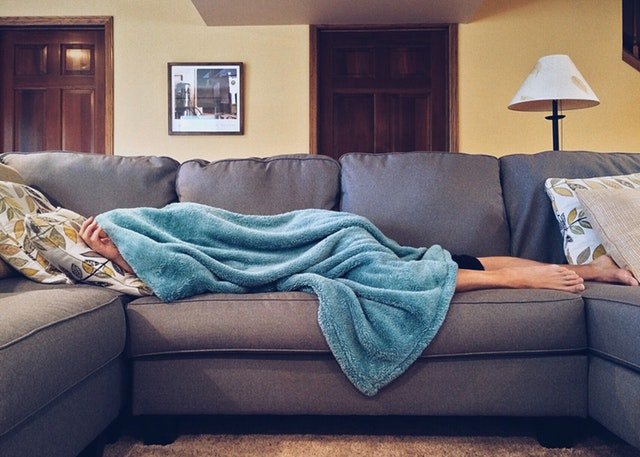 can't....get....up....
Sometimes I think that the back issues have served to help me appreciate the importance of true focus. I have always had friends who can concentrate on some project for hours at a time, sometimes days without sleep. I, on the other hand, would usually consider it a productive day if I could work for 30 minutes in the morning, another 30 in the afternoon and 30 in the evening. I've always had a hard time focusing on one thing.
Since these issues came up, I've been forced to slow down my entire mental process which helps me focus better. There are many things I can't do, like stay out all night whenever I want, sit down comfortably in a movie theater, some vigorous activities, plan things ahead of time because I haven't always been able to predict when I will need rest, spend hours at a cafe in front of my computer intermittently working on things. I've gotten used to the concept of just resting, not only my body but my mind.
So while it's easy to blame my lack of output on health issues, I am honest enough to admit that it's really not the case. These issues have help me concentrate a whole lot better. They've also helped me to explore different modes of creativity that I have been meaning to delve into but had put off for a while.
I started my fiction when I was living for a month in a place with no heat and my back would cramp up due to the cold. I would walk a few blocks to the nearest shopping mall, a place I do not frequent for recreational purposes, and enjoy the comfort a workable temperature and slowly make my way up the very long escalators, finding a quiet corner to stroll at a snails pace. All the while I was writing my first stories about a homeless man who is, unbeknownst to him, making his way toward enlightenment.
So the fact that it was hard to pick up a guitar allowed me to pick up a pen (well, Ipad) and start writing. Writing helped me become more antiquated with that vortex of creativity that we sometimes allow ourselves to get sucked into. I could stroll around and write for 2-3 hours at a time. I still write best when I'm walking around. This concentration has bled over into music. When I am not cramping up, I can sit with a guitar for much longer than before, almost 2 hours at times. I'm still not like those maniac friends who can jam for hours on end, but at least I'm not as ADHD as I used to be.
I've also had time to brainstorm and reflect. I spent so much time on steemit precisely because of my back issues which made it harder to go out and be social and at steemit I started writing essays about life, spirituality, the gift economy, culture, society and art. I've come up with the concept and first few chapters of a sci-fi novel, and a language learning textbook series. I've conceptualized a kind of internet collective based around pay-what-you-want and a plan for spreading this culture throughout different circles and utilizing it to help redistribute wealth. I've reimagined my future, including the way I fit into society and I've faced my demons. I've re-imagined my music project as a kind of all-around effort to spread certain feelings, ideas and concepts and come up with new modes of sharing my work. I am much more confident in what I do and able to elaborate the meaning behind it.
So in some ways the health issues have hindered my horizontal growth as a musician, but I was hindering myself before that, and in the meantime, I have grown horizontally in ways I thought would take decades to achieve. Whenever my back starts to tense up and I feel unable to focus on a project, I take it as time to work on myself and create a person more capable of creating the things I hope to create. The issues will clear up and have already begun to and I am more ready to focus than I've ever been.
—-
If you like what I do, check out my work at Patreon and consider becoming a Patron (or helping me find more Patrons by sharing this link on social media) so I can put more time and energy into fiction, music and community building. Some extra fiction and music will be over at Patreon and it's all pay-what-you-want. Thanks for any and all support!
If you want to chat, come join us to talk about deep shit in the Be awesome discord (no post promo!)