Daily Update: 14 Steemians for 4,070 reps today (226,306 overall by 32 people from 9 countries in 95 days).
The Challenge:
At least 100 honest reps of exercise every day. No excuses. No bullsh*t. Just actions, positivity, and results. Only post AFTER your reps are done. Always support each other.
You choose what types of exercise reps to do.
30 minutes of fitness walking, running, spinning, biking, cross-country skiing, etc., can count as 100 reps if you need to rest or can't use weights.
I'll award 1 SBD for every 10,000 rep milestone you hit. (10 SBD paid)
I run the numbers daily which is sometimes harder than my reps.
Conditions:
Weights not required.
Do real reps with good form, aiming for 100+.
Start your reply with "Challenge Completed".
Reply with a list of the exercises and reps you did.
Cumulative tallies are appreciated as a separate line.
Only submit reps you've done, not ones you're planning to do.
Use the tag "fitnesschallenge" on associated posts.
Upvoting or resteeming is appreciated to reach more.
Advice:
Stretch before and after exercise.
Breathe properly on each rep.
Quality over quantity.
Eat a healthy snack after and stay hydrated.
Start with exercises you enjoy to build up for harder ones.
Take before pictures to appreciate results over time.
Feel good about your accomplishments.
---
My Daily Challenge Completed - 100 reps:
-25 Bar Shrugs (75 pounds)
-25 Bicep Bar Curls (75 pounds)
-25 Back Bar Rows (75 pounds)
-25 Bar Squats (75 pounds)
-Also a 45 minute walk - not counted
-Also 50 arm circles holding a 10 lb plate (25 per arm for baseball shoulder prep) - not counted
My Daily Assessment:
I made a sacrifice of 3 eggs to the Steemit Gods to try to get some more exposure and rewards for everyone.
---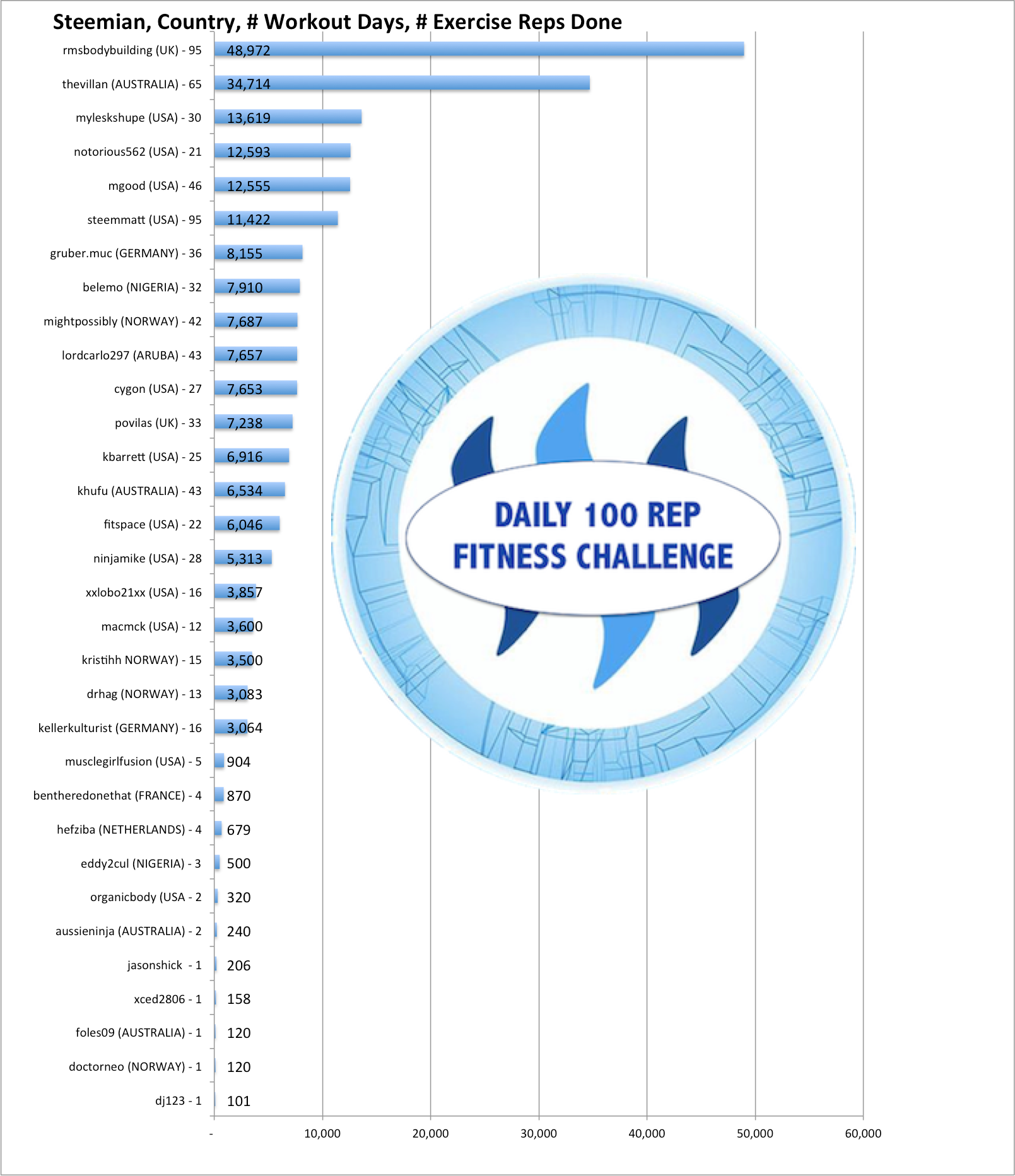 @rmsbodybuilding and @steemmatt with attendance of 95/95 days.
Daily Rep Count:
720 - @thevillan
664 - @rmsbodybuilding
405 - @notorious562
390 - @mightpossibly
388 - @kbarrett
310 - @mgood (mind & body)
292 - @fitspace
176 - @cygon
145 - @khufu
144 - @gruber.muc
136 - @belemo
100 - @lordcarlo297
100 - @steemmatt
100 - @aussieninja
---
Feedback from @mightpossibly:
"I find it deeply satisfying to do these reps, which is a big deal. I've always hated the gym and prefer to exercise at home. But I've lacked the discipline to do it. It sort of feels like I have gym buddies now, without the hassle of going to the gym."
Feedback from @notorious562:
"I seriously cannot explain how much this group pushes and motivate me to keep working harder. I love this fitness community and the support and encouragement will help us achieve our goals."
Feedback from @khufu:
"Your challenge has helped immensely to keep me motivated lately. I've had a lot of... problems going on so your challenge has been a quantum of sanity in an insane world for me."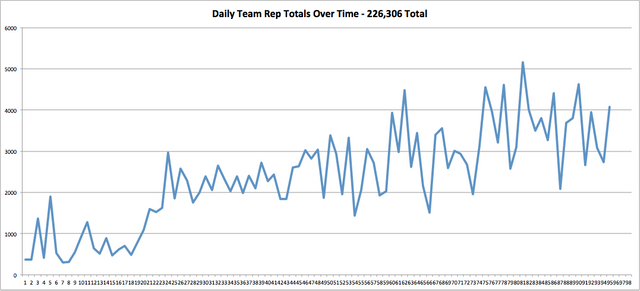 Please support our hard work and dedication and ask any questions in the comments below.
Please also resteem this new format/replace in your post links if you don't mind to try to get a fresh start on spreading the word on our challenge.