In this tox-blog – which is a little shorter than usual - I want to introduce you to one of my favorite poisons: coprine. I like it because the story around its toxicity is kind of funny (yes, I am that kind of guy that is amused by a poison - strictly from a professional point of view, of course...).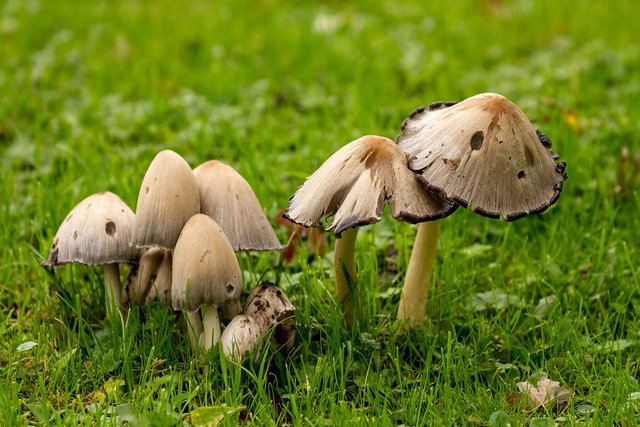 Young, edible Inky caps (Coprinus atramentarius). Pic source
But let's start from the beginning: 
Coprine is found in Inky Caps (Coprinus atramentarius), edible mushrooms that grow in the temperate climate zones of Europa and North America. If you eat those mushrooms, coprin does…literally NOTHING. It is completely non-poisonous.
Until you start drinking alcohol. Then you will feel like 50% of Asian people (to understand that joke, you will have to read yesterday's post about the Influence of a certain genetic variation on the metabolism of ethanol).
Toxic mechanism
So what happens? Upon cooking the mushrooms, Coprin dissociates into glutamic acid and 1-aminocyclopropanol, a bioactive compound that is a potent inhibitor of the ALDH enzyme. ALDH catalyzes the metabolic reaction of acetaldehyde to acetic acid, which is the second step of our detoxification reaction after drinking alcohol.

Ethanol is metabolized via a two-step reaction including two enzymes, first to acetaldehyde and second to acetic acid. Source 
If you drink alcohol and your ALDH doesn't work properly, acetaldehyde accumulates in your body and poisons you. 
Symptoms
Acetaldehyde poisoning leads to ret hot flushes, nausea, vomiting, and severe headache. But as coprine is slowly metabolized and the ALDH regains its function, this symptoms fade after a several hours. Unless you drink enormous amounts of alcohol, you'll feel well again the next day. I am not aware of any lethal case of coprine poisoning.
Conclusions and Prevention
If you want to eat Inky Caps (I've been told they are quite tasty), don't drink anything alcoholic in a time window of approximately 4 hours before and after the meal. To guard you against an unintentional uptake, you could avoid alcohol consumption around every meal containing mushrooms. Yeah I know, this won't happen. ;-)
Sources: 
Review 1
Book "Toxikologie für Naturwissenschaftler und Mediziner." Eisenbrandt, Metzler, Menneke. Wiley-VCH
Lecture "Food Toxicology II" by Prof. Marko, University of Vienna
Wiki for cross-checking less sophisticated facts
 
Disclaimer: In my blog, I'm stating my honest opinion as a researcher, not less and not more. Sometimes I make errors. Discuss  and disagree with me - if you are bringing the better arguments, I might  rethink.