I've been self-tracking for years now, and I think many of us on steemit self-track. This post is just a few reflections on why I (we?) do it, and the pros and cons of doing so….
By self-tracking I mean the conscious recording of data on various aspects of my life, typically on a daily basis, and then the process of comparing that data against goals I've set myself in order to measure progress against those goals.
My priority self-tracks
Expenditure
Wealth
Walking
Running
Meditation
Sleeping
Blogging
What do I use to self-track and why do I do it?

Expenditure and wealth
I use 'good ole' Excel for tracking these, categorizing expenditure into a few broad categories (as below): I think that more than 10 categories would make any analysis difficult.
In terms of wealth, I also use excel, but I all I really do is collate data from my various savings accounts/ investments, most of which 'track' my wealth accumulation (hopefully this direction) for me!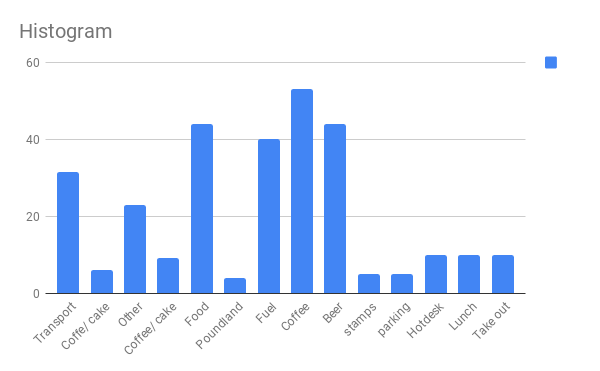 Why track expenditure and wealth?
As I see it tracking the two are inter-related: keeping an eye on my expenditure alone helps me keep spending down. It's encouraged me to spend less, and to even try and have 'spending free' days occasionally.
And of course, all other things being equal, the less I spend, the more I save!
It's relatively easy tracking expenditure - twice a week is enough to quickly update and excel sheet with expenditure (maybe even once a week, although that can be a bit of a memory test!), and as to wealth, that's done for you automatically.... all I do is collate the data once a month and click the calculate button to work out the total.
Walking/ running...
For walking I use this free step counter from LEAP fitness group, downloaded to my phone, and for running I use Map My Run...
The former is great for just keeping running in the background and displaying cumulative steps and averages per day/ week/ month, as well as giving you a rough calorie and distance count.
The later should be more accurate given that it works of GPS and maps out your route as you go. It also shows you pace and split times per KM, and bleats out your progress as you go (if you ask it to).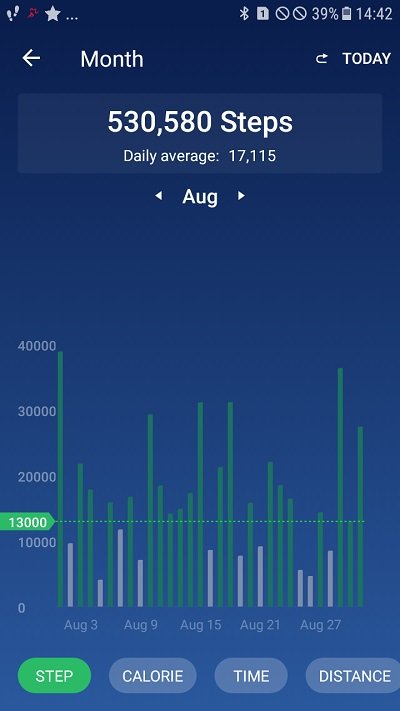 Why track walking/ running...?

TBH I'm not totally convinced that tracking my runs is a good idea.... I think I might actually run more efficiently without the tracking... running for myself rather than the data? Maybe>?
As to walking, this is really about keep calories burning ATM (I am currently eating A LOT!) - so I've set myself a goal of 18K steps/ day for September to keep my weight gain in check.
Meditation/ sleep tracking

I use Insight Timer to record my daily 20-40 mins of meditation, and I recently had a play around with sleep cycle which monitors 'quality of sleep' (deep/light/ REM)
Why track meditation/ sleep..?
For me, this all about 'getting the basics right'.... meditation is crucial to starting the day calmly and in a focused manner. Although the meditation app is basically just a timer, and doesn't record quality of meditation, recording the sessions makes it much more likely that I will at least 'sit'.
As far as sleep is concerned, I'm not convinced that the app is giving me a valid indication of the quality of my sleep, but what it has done is made me more aware of the importance of giving myself a 'good nine hour' sleep window......
Closing thoughts... to track or not to track?

Or rather, what to track and what not to track? (Given that I'm not likely to stop!)
I'm just gonnna go all-out and say that tracking expenditure and wealth is the most life-transformative type of self-tracking I've done in the last five years... together they have helped me quit my job....
The running and walking are the second most useful... they keep me thin, and I don't wanna be fat.
The meditation and sleep apps, I think they've done the least to improve my quality of life.
So I guess I'm ending on a ironic not (good, I like irony).... the MOST TRANSFORMATIVE tracking practices have been those associated with the MOST MUNDANE aspects of life (MONEY); the LEAST TRANSFORMATIVE tracking practices have been those associated with those things regarded as 'more spiritual'.....