There are three key bits of bad science behind the Paleo Diet- misconceptions about what foods we ate in the Paleolithic, misconceptions about the foods we eat now, and misconceptions about the human body actually works.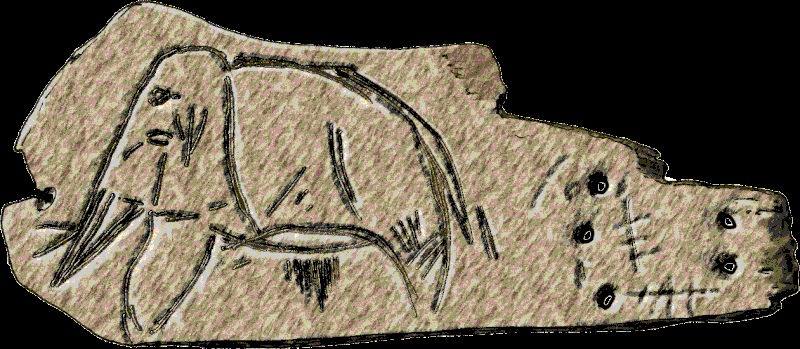 A paleolithic carving of a mammoth done on mammoth ivory. [Image source]
First off, the misconceptions about what we ate during pre-agricultural times. Paleo diets avoid dairy products, grains, legumes, and alcohol, among other things, under the premise that paleolithic humans didn't eat them. The big problem with that is, well, that we absolutely consumed almost all of those things. (Coffee is often forbidden by Paleo diets as well, and that one, at least, actually wasn't consumed by ancient humans. Dairy was also not consumed by adults in the paleolithic.) We ate grains constantly. We ate legumes all the time. We even invented and consumed alcohol millennia before we had agriculture. There were plenty of individual tribes that left some items on the list out of their diet, as there are today- but those items are, more often than not, left off the list for their absence in the local ecosystem. (Not a lot of legumes past the Arctic Circle, but people still live there.)
Next we've got a misunderstanding of what the foods we eat now actually are. Lets take a look at almonds, for example. They're a big part of many Paleo diets, but, surprisingly, wild almonds really weren't a part of paleolithic diets- they contained potentially lethal levels of cyanide. We bred that out of them. In paleolithic times, the edible plant Brassica oleracea made up a big part of diets. Today, we've bred it into broccoli, cauliflower, cabbage, brussel sprouts, kale, collard greens, kohlrabi, and more. Through domestication and selective breeding, we've transformed a great number of the plants and animals we eat into completely different varieties with completely different nutrient profiles than what our paleolithic ancestors ate. It's close to impossible to actually reproduce the paleolithic variety because of this.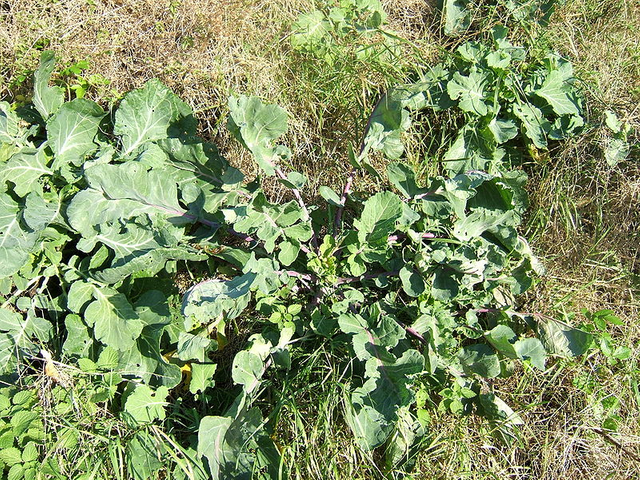 Brassica oleracea. [Image source]
The most important misconception, however, is the one about our own bodies. Namely, that they still function today the way they did in paleolithic times. The problem with that is that they don't. We've evolved, most notably our digestive systems. Our paleolithic ancestors didn't drink milk, for example, because they lacked the ability to process it upon reaching adulthood. Several different mutations have arisen since then allowing humans to digest milk, and they've spread throughout many global populations, rendering a great number of adults able to digest milk as adults. (Though by no means all- many people do have lactose intolerance, or even just slightly lowered tolerance. This is especially common among East Asians.) Other changes have made us better able to process sugars and larger amounts of carbs in our diet. Ten thousand years is more than enough time to have evolved significantly. (This quite shocked the founder of the Paleo movement when he learned it, notably.)
There's a secondary misconception about the human body and its evolution here as well: Even before we evolved to better tolerate many of the foods we eat today, we'd already been extremely versatile omnivores. We have incredibly flexible, powerful digestive systems. We can be healthy and happy on a huge range of different diets, which is how we managed to spread into so many different ecosystems.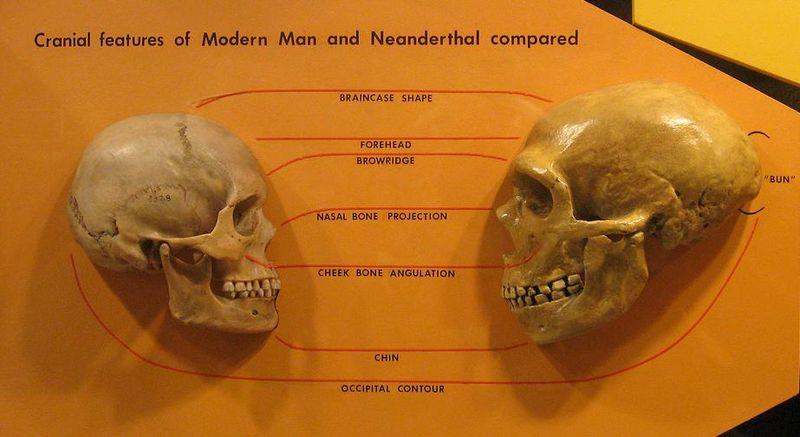 One interesting question is how our digestive systems and diets were affected by interbreeding with Neanderthals, which scientists have confirmed likely occurred. I have no idea what the answers to that might be, however. [Image source]
So... yeah, the Paleo diet is founded on scientifically nonsensical claims. But- and this is a very important but- it's not actually a bad diet. It's pretty similar to a ketogenic diet, and is actually really good for certain athletes and such. The Paleo insistence on lots of vegetables and fresh fruit? That's obviously a good thing. The only really noted problem with the diet is that some people develop calcium deficiencies, which is pretty easily correctable. It's not necessarily for everyone- there is no one size fits all diet. I can't be vegetarian, for instance- I tried for a decade, and kept developing B12 deficiencies and other weird dietary issues- I can't digest B12 from supplements, which is a thing, apparently. I do try to keep my meat consumption minimal and ethical, however. (Though I know some of you would argue with me about if meat consumption can ever be ethical.) The Paleo diet can be pretty good for some people. Just don't try to justify it using bad science.
---
Bibliography: