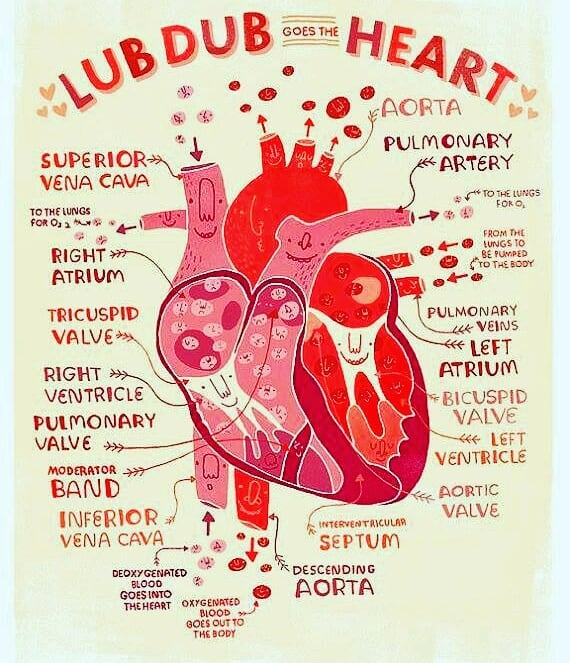 credit-medicaltalk
There is a growing list of heart related health problems in the world which has since caused reasons to understand the heart sound as much as the blood pressure which is sometimes referred to as arterial blood pressure, is the pressure exerted by circulating blood upon the walls of blood vessels, and is one of the principal vital signs (Guyton and hall medical physiology 12th edition)
listening to heart sound takes practice to perfect. Auscultation of the heart using stethoscope is part of heart examination. The stethoscope has served as a critical diagnostic tool in cardiovascular evaluation
The heart sounds are produced by the opening and closing of the valves and the vibration of blood against the walls of the heart and vessels. Normally two sounds – S1 and S2 - are heard, which correspond respectively to the familiar "lub dub" often used to describe the sounds. S1 is caused by the closure of the tricuspid and mitral valves (sometimes called the atrioventricular valves). Right ventricular contraction follows tricuspid valve closure, and left ventricular contraction follows mitral valve closure. The contractions (systole) occur almost simultaneously, although the mitral valve (left side) closes slightly before the tricuspid valve (right side). Normally this split of the sounds is so close that it is not audible, except occasionally at the apex of the heart.
There is also a third and a fourth heart sound, S3 and S4. They can occur in normal persons or be associated with pathological processes. Because of their cadence or rhythmic timing S3 and S4 are called gallops Gallops are low frequency sounds that are associated with diastolic filling. The gallop associated with early diastolic filling is the S3 and may be heard pathologically in such states as volume overload and left ventricular systolic dysfunction. The S4 is a late diastolic sound and may be heard in such pathologic states as uncontrolled hypertension.
WHERE TO PLACE YOUR STETHOSCOPE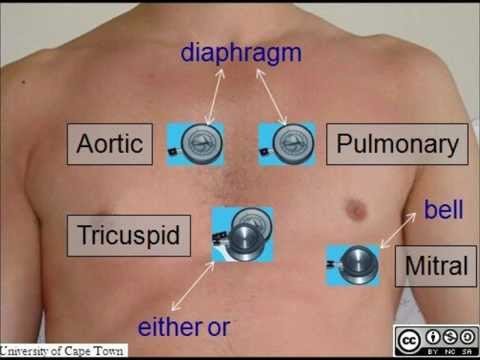 credit-university of cape town
aorta-between the 2nd and 3rd intercostal spaces at the right sternal border
mitral-near the apex of the heart between the 5th and 6th intercostal spaces in the mid-clavicular line
pulmonic-between the 2nd and 3rd intercostal spaces at the left sternal border
tricuspid-between the 3rd, 4th, 5th, and 6th intercostal spaces at the left sternal border
References-http://www.stethographics.com/main/physiology_hs_introduction.html
#DWG #nigeria #health