Some cool leaders, Michael and Debra Bernoff, have organized an awesome 5K tomorrow. (Saturday) I wasn't able to fly down to Arizona and so I did it here in Colorado.
I ended up doing mine today... and wanted to share some cool thoughts around my experience because it'll add value to you.
I had planned to do it Saturday morning with everyone else... but I have other priorities... so I stayed flexible and decided to do it shortly after leaving my house today for my run.
(which was going to be an easy 5-6 miles upon leaving the house)
;)
So now I did achieve the outcome of doing the 5K by being flexible.
The penalties of being flexible was lack of planning. I was slightly dehydrated, and not only had extra hard workouts the previous few days, I was gone all day yesterday out in the sun with my family while nutrition & hydration suffered. I wasn't able to prepare as I normally would for a 5K.
(easy runs the 48 hours leading up to a race, massive nutrition & hydration on board.)

I got out around 10:30a, super late, and it was in the mid 80's. (every 10 degrees above ~60F slows your pace by ~20s/mile.)

To overcome the above, I ran today's 5K at a "cautious pace"... 85-90% PE of a normal race. (Perceived Effort) When prepared, I run races at 100%+.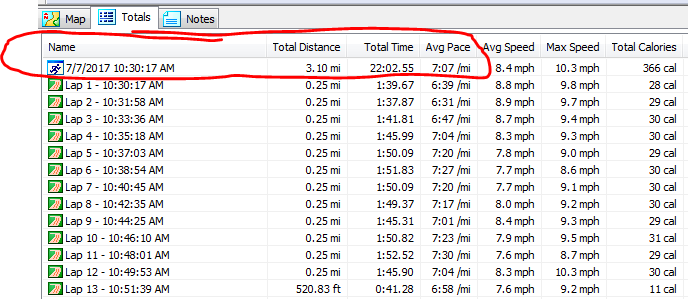 It takes extra willpower to run a "race" when it's only you, no competition... loved it.

I am empowered from the thought of, "Whether I run "with" everyone else on Saturday morning... or at 10:30am the day before... I'm going to play my own game and live the life I want and get it ALL my outcomes!"

This is far from my PR time... and I'm really grateful for getting this done because in many ways... it IS a PR!
(and it stretched me to realize that I'm dangerously close, with the right prep and right conditions, to beat my PR!)
PS - I'm pretty fast for a 42 year old... and while I no longer have outcomes to race for PR's... it's absolutely still within me to continue improving pace across all distances & setting PR's. This is cool to continue to realize that we can get BETTER with age and not "dwindle away into nothingness".