Brain Rules part #(2) 👈👉 मस्तिष्क नियम भाग # (2)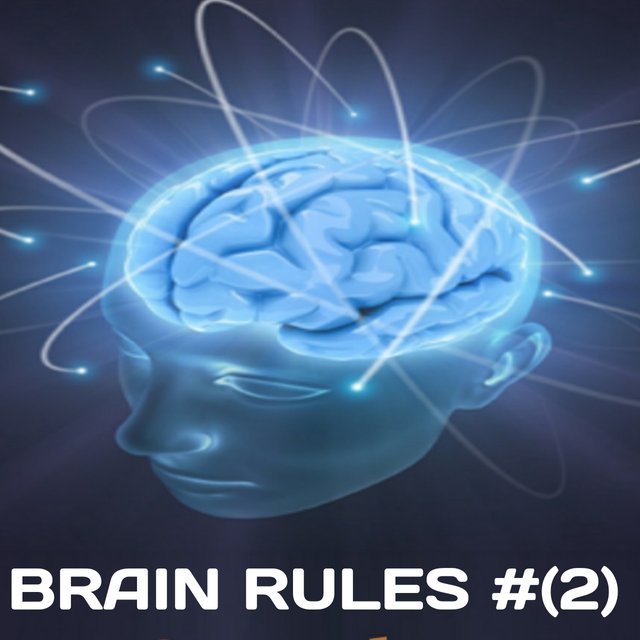 What we pay attention to is profoundly influenced by memory. Our previous experience predicts where we should pay attention. Culture matters too. Whether in school or in business, these differences can greatly affect how an audience perceives a given presentation.
We pay attention to things like emotions, threats and sex. Regardless of who you are, the brain pays a great deal of attention to these questions: Can I eat it? Will it eat me? Can I mate with it? Will it mate with me? Have I seen it before?
The brain is not capable of multi-tasking. We can talk and breathe, but when it comes to higher level tasks, we just can't do it.
Driving while talking on a cell phone is like driving drunk. The brain is a sequential processor and large fractions of a second are consumed every time the brain switches tasks. This is why cell-phone talkers are a half-second slower to hit the brakes and get in more wrecks.
Workplaces and schools actually encourage this type of multi-tasking. Walk into any office and you'll see people sending e-mail, answering their phones, Instant Messaging, and on MySpace—all at the same time. Research shows your error rate goes up 50% and it takes you twice as long to do things.
When you're always online you're always distracted. So the always online organization is the always unproductive organization.


The human brain can only hold about seven pieces of information for less than 30 seconds! Which means, your brain can only handle a 7-digit phone number. If you want to extend the 30 seconds to a few minutes or even an hour or two, you will need to consistently re-expose yourself to the information. Memories are so volatile that you have to repeat to remember.
Improve your memory by elaborately encoding it during its initial moments. Many of us have trouble remembering names. If at a party you need help remembering Mary, it helps to repeat internally more information about her. "Mary is wearing a blue dress and my favorite color is blue." It may seem counterintuitive at first but study after study shows it improves your memory.
Brain Rules in the classroom. In partnership with the University of Washington and Seattle Pacific University, Medina tested this Brain Rule in real classrooms of 3rd graders. They were asked to repeat their multiplication tables in the afternoons. The classrooms in the study did significantly better than the classrooms that did not have the repetition. If brain scientists get together with teachers and do research, we may be able to eliminate need for homework since learning would take place at school, instead of the home.


It takes years to consolidate a memory. Not minutes, hours, or days but years. What you learn in first grade is not completely formed until your sophomore year in high school.
Medina's dream school is one that repeats what was learned, not at home, but during the school day, 90-120 minutes after the initial learning occurred. Our schools are currently designed so that most real learning has to occur at home.
How do you remember better? Repeated exposure to information / in specifically timed intervals / provides the most powerful way to fix memory into the brain.
Forgetting allows us to prioritize events. But if you want to remember, remember to repeat.


Our senses work together so it is important to stimulate them! Your head crackles with the perceptions of the whole world, sight, sound, taste, smell, touch, energetic as a frat party.
Smell is unusually effective at evoking memory. If you're tested on the details of a movie while the smell of popcorn is wafted into the air, you'll remember 10-50% more.
Smell is really important to business. When you walk into Starbucks, the first thing you smell is coffee. They have done a number of things over the years to make sure that's the case.
The learning link. Those in multisensory environments always do better than those in unisensory environments. They have more recall with better resolution that lasts longer, evident even 20 years later.


We are incredible at remembering pictures. Hear a piece of information, and three days later you'll remember 10% of it. Add a picture and you'll remember 65%.Pictures beat text as well, in part because reading is so inefficient for us. Our brain sees words as lots of tiny pictures, and we have to identify certain features in the letters to be able to read them. That takes time.
Why is vision such a big deal to us? Perhaps because it's how we've always apprehended major threats, food supplies and reproductive opportunity.
Toss your PowerPoint presentations. It's text-based (nearly 40 words per slide), with six hierarchical levels of chapters and subheads—all words. Professionals everywhere need to know about the incredible inefficiency of text-based information and the incredible effects of images. Burn your current PowerPoint presentations and make new ones.
My Last Post Link Here. 👈 👇👇👇👇
https://steemit.com/helth/@huma.mirza/brain-rule-1-1
https://steemit.com/photography/@huma.mirza/tazia-moharram
https://steemit.com/photography/@asifmirza02/huzur-haji-shaji-miyan-ki-darga
https://steemit.com/blog/@huma.mirza/india-s-unique-prison-where-the-prisoners-get-the-pleasure-of-married-life-and-such-freedom-too