I am a huge fan of probiotics. I take my gut health seriously. I am also a huge fan of sleep, and often have trouble getting a goodnight's rest. When I came across Peptiva Probiotic Supplement, a product that combined both my gut health and sleep support, I was eager to try it out. Here is my detailed Peptiva Review.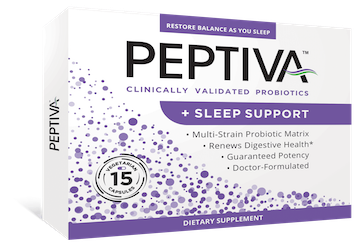 Why Probiotics Are Important?
Probiotics are helpful bacteria found in our digestive tracts. The most common probiotic is Lactobacillus that helps in the prevention of diarrhea and increases sugar and lactose tolerance. Bifidobacterium is another probiotic that is used to control Irritable bowel syndrome and Inflammatory bowel disease (IBD). Unfortunately, antibiotics destroy some of the helpful probiotics in your body. Therefore, you need other dietary sources to replenish the probiotic levels through the regular intake of dairy products such as yogurt and cheese and use of probiotic supplements. Probiotics offer several health benefits, particularly in regards to gut health. Specifically, probiotics improve digestion, help maintain healthy body weight, regulate bowel movements, prevent constipation, and boost energy levels. Probiotics also boost the immune system, allowing the body to fight disease and infections more effectively.
How Peptiva Helps
Formulated by Dr. David Katz, co-founder of the Yale Prevention Research Center, Peptiva restores healthy gut bacteria and give you a good night's sleep. The Peptiva formulation contains the following clinical cultures from Lab4®:
• Lactobacillus acidophilus -- strain 1
• Bifidobacterium bifidum
• Lactobacillus acidophilus -- strain 2
• Bifidobacterium animalis (var lactis)
Each of these cultures is a clinically proven probiotic that increases the amount of microflora in the gut. Microflora is essential in the digestion of certain fibers and therefore improves the absorption of antioxidants from fruits and vegetables, while boosting energy by as much as 5% at the same time.
Additionally, the continuous intake of antibiotics is harmful to helpful bacteria, meaning it compromises the immune system. Peptiva provides microflora that acts as a barrier to bacteria that cause diseases such as diarrhea and thrush. With increased digestion and a better immune system in place, Peptiva increases your energy levels, reduces bowel movements, and also gives you better breath.
Peptiva also contains GABA (Gamma-Aminobutyric Acid), an inhibitory neurotransmitter that naturally reduces anxiety levels in the body. To induce sleep, Peptiva contains Melatonin and Valerian Root that causes sleep. With better sleep, Peptiva will reduce your stress levels, prevent irritability, and loss of motor control. Taking one capsule 30 minutes before you go to bed will guarantee you a night of sound sleep.
In addition to better sleep and digestion, Peptiva supplement consumers are assured of the long shelf life of up to 18 months after manufacture. While other supplements lose their potency over a shorter period, Peptiva maintains its CFU levels long after purchase, allowing you to continue enjoying the benefits of viable bacteria.
My Experience with Peptiva
I started using Peptiva about two weeks ago. In the past I have taken melatonin and probiotic supplements (like Kombucha), separately. I was excited to learn that I could combine the two by taking Peptiva at night. I read up on the supplement and saw that it has received several positive reviews. After only two weeks, I feel night and day different (no pun intended). I wake up feeling refreshed and eager to tackle the day. My gut feels healthy. I don't have that yucky, bloated feeling that comes with overall unhealthiness.
Get Peptiva for Yourself
If you are interested in trying out Peptiva for yourself, you can purchase directly from the manufacturer at PeptivaProbiotics.com. It is important to note that, if you buy Peptiva today, you will enjoy a 40% discount. Additionally, you can purchase Peptiva from GNC. What's more, to receive regular health and wellness updates, follow Peptiva on Facebook.
With clinically approved Lactobacillus and Bifidobacterium strains, GABA, melatonin, and Valerian root as the key ingredients, a daily dose of Peptiva is the key to improved digestion, higher energy levels, stronger immunity, better overall health, and sound sleep. Order Peptiva today and enjoy its numerous health benefits.