Many of us lose hope and motivation very fast thinking that they are not smart enough like most successful people. Some even blame it on the inability to use their right or left side of brain effectively or maybe, that they are naturally weak.
According to an article in Havard medical school by Robert H. Shmerling, MD
According to conventional wisdom, people tend to have a personality, thinking style, or way of doing things that is either right-brained or left-brained.
Those who are right-brained are supposed to be intuitive and creative free thinkers. They are "qualitative," big-picture thinkers who experience the world in terms that are descriptive or subjective. For example, "The skies are gray and menacing; I wonder if it's going to rain?"
Meanwhile, left-brained people tend to be more quantitative and analytical. They pay attention to details and are ruled by logic. Their view of the weather is more likely, "The forecast said there was only a 30% chance of rain but those cumulonimbus clouds will probably bring thunder as well as rain."
A popular book first published in 1979, Drawing on the Right Side of the Brain, extends this concept. It suggests that regardless of how your brain is wired, getting in touch with your "right brain" will help you see — and draw — things differently.
These notions of "left and right brain-ness" are widespread and widely accepted. But they may also be wrong.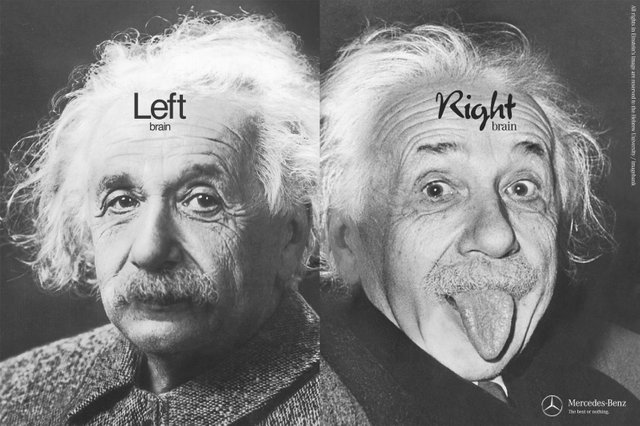 In light of the afore-mentioned points it is thus argued that success is related to how one uses his left or right brain, however reality proves otherwise-here are some few points:
Work smart / patience: to succeed, you must work smart and be patience. Working smart in steemit means to benchmark what successful people are doing , follow them, learn from them and brand yourself to be better. This will surely lead to your success , however you have to have patience ie do not hurry to make money ASAP rather concentrate on learning and fun aspect of what you are doing and money will gradually come.
Learn from mistakes: In my former post : How Failure can Help you be more successful on Steemit and in your daily life see here I indicated how learning from your failure or mistakes will help you succeed in life. Therefore, without thinking of left or right brain, most of us will agree that learning from failure will help you be more successful.
Investing money: In steemit, for example, investing in steem and powering up (Steem power) is the top secret to succeeding on the platform. Reason is that , the more steem power you have, the more successful you are here on steemit ( Curation rewards, author rewards , delegation payments, interest payments ,more respect in the community) . Therefore even if you do not think of your left of right brain and their functions, try to buy (any amount you can afford) steem and power up in order to be relevant here and thus succeed faster.
Do you agree? Send in your comments and or experiences about this issue. Resteem in order to reach more people and upvote to send in your support.
Click here and read my former post: Warning!!! Scammers on Steemit are getting smarter: Phishing links, Steem clones et al

An Advert for a top new crypto https://elyte.tech
A top Crypto firm is in need of a backend developer, contact me via steemit chat if you are interested or know someone
Join elyte.tech telegram group https://t.me/joinchat/E6tXj0dThqzzjVlWJRuxLw for info on their bounty and thus join the next best thing