Did you know that your water could have an amoeba eat brains?
Hello steemit today I will talk about a fulminating and deadly parasite, it is the Naegleria fowleri which is an amoeba of free life, as it is able to survive and replicate in the environment without needing a host. They are found mainly in temperate freshwater, such as lakes and rivers, although we can also find it in soils because it feeds on the bacteria found in these places and has even been found in pipes, water heaters, since it can survive up to 46 ° C and water treatment systems, which favors that this can infect the human causing clinical pictures of great importance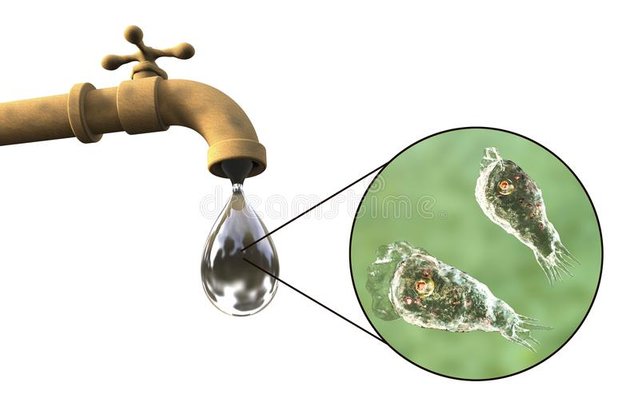 Naegleria fowleri
Infection
It is very easy to become infected with this microorganism since its habitat is the fresh waters, which are a resource that we use daily. When we bathe in rivers or lakes, wash our faces, or even bathe in our showers we could acquire this microorganism without realizing it. In addition, in recent years there has been an increase in the number of cases presented mainly in the US, New Zealand, New Guinea, Australia, Czechoslovakia, Belgium, India, Brazil, Colombia, Venezuela, Peru, Chile and Mexico, resulting in worrying.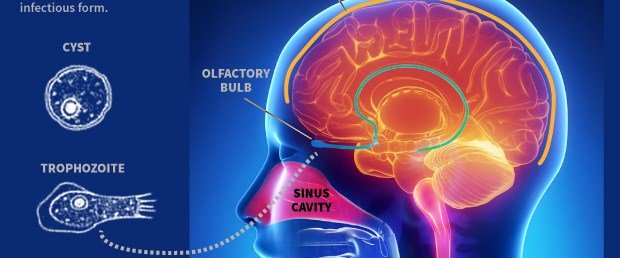 Entry and infection of the parasite
The Naegleria fowleri has three stages in its life cycle: trophozoite, cyst and temporarily flagellate. The infection begins with inhalation through the nostrils of trophozoites or cysts of water or dust that contain the microorganism, once it manages to enter the individual, moves through the olfactory nerve and reaches the olfactory bulbs in the central nervous system, causing inflammation and the release of cytotoxic agents that cause extensive tissue damage and necrosis in the cerebral tissues causing the death of the individual.
Signs and symptoms
This amoeba attacks mainly healthy and immunocompetent individuals, usually young, causing primary amebic meningoencephalitis (PAM), a brain infection that causes the destruction of brain tissue. In its early stages, the symptoms of MAP appear between 1 to 7 days after contracting the infection and can be similar to those of any bacterial meningitis.
Initially, the most common symptoms may include headache, fever, and nausea, and later symptoms may include stiff neck, confusion, poor concentration, loss of balance, seizures, and hallucinations. After the onset of symptoms, the disease evolves rapidly and usually causes death in a few days, in addition the mortality rate for this type of infection is estimated at more than 95%, therefore, contact with this microorganism in Most cases are fatal and devastating. After this, would you go back to bathe in the river?
References:
Oddó B, David. (2006). Infecciones por amebas de vida libre.: Comentarios históricos, taxonomía y nomenclatura, protozoología y cuadros anátomo-clínicos. Revista chilena de infectología, 23(3), 200-214. https://dx.doi.org/10.4067/S0716-10182006000300002
Grace, E., Asbill, S., y Virga, K. (2015). Naegleria fowleri: Patogénesis, diagnóstico y opciones de tratamiento. Antimicrobial Agents and Chemotherapy , 59 (11), 6677-6681. http://doi.org/10.1128/AAC.01293-15