I think this is my 4th Blockchained post about my filthy habit of smoking and in all of them I speak about how I´m going to stop smoking for a short period or how I stopped smoking for a short period.
Oh right, when I say Blockchained post I mean that it was published on the Steem Blockchain and there is hard evidence of it´s existence, meaning I can´t deny it and you can actually shove it in my face and tell me Yeah but why should we believe you now? You tried to stop smoking a year ago
You see, I have a weird tradition. I only stop smoking to prove myself that my addictions are still under my control and not the other way around. A few months ago I realized that stopping smoking was out of my reach and that I needed a change in my life to actually beat the habit of smoking. It was incredibly hard for me but I stopped for a while, but I came back to it, once I realized I was out of the woods, I went back inside the forest. I know, silly right?
Well fellas, I think this time it´s for real, or at least long term. I´m not going to say never again or some crap like that because I know human nature and especially, I know myself. I know that during the next few months and based on my next adventure (Which I will tell you later) I will most likely smoke every once in a while.
But hey, so far, it´s been 37 days without smoking, I think it´s one of the longest streaks I´ve had in my life.
This sudden change of habit has to do with two main things: I started using @actifit and began a healthier lifestyle and on the other hand, I bet 50 usd (not thatmuch) with a friend and whoever smoked first, would lose the 50 bucks. So for me, achieving something like this is a matter of getting a healthy life kickstarted and then, adding some pride and honor to the deed. Of course it doesn´t hurt that I´m doing excercise every day and if I smoke, I know that that day at the gym will be extra hard and painful; also, every cigarette consumed means a point lost at voleyball, and I am not losing any game, ever, or at least I hate when I lose :P
Who knows what will happen and God knows I shouldn´t be posting again about this topic on the Blockchain because most likely in 4 months I´ll be posting something similar about how I haven´t smoked in 25 days but hey, I am proud of myself (yet again) for not smoking in such a long time, so I had to share it with you guys!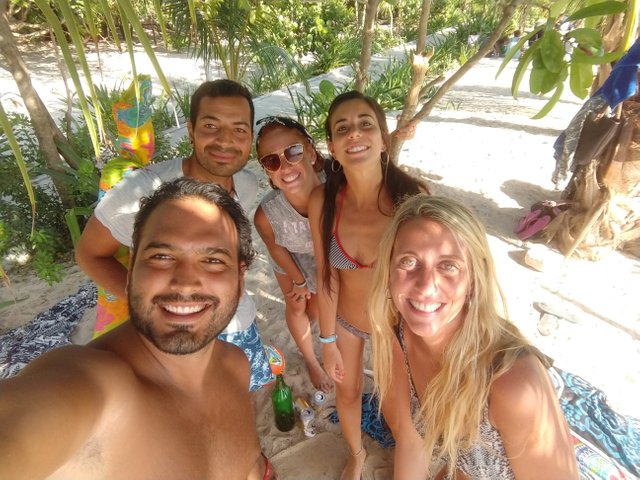 Picture of me at the beach with some hotties to draw your attention