Healing with herbs and plants is a passion that we always love to learn more about, and share with others.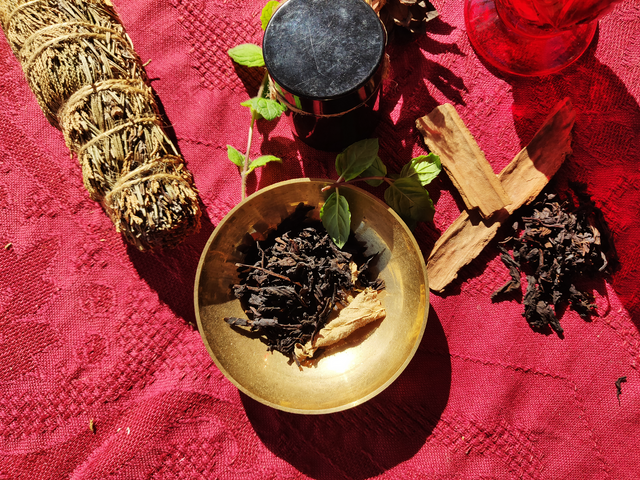 ---
I have not always been so happy and healthy as I am now, and from time to time I have to add new positivity in my life in order to ease out negativity I get stuck with.
Sometimes we struggle to remove stress factors in our lives because we allow distractions.
The subconsciousness and body stores pain and tension that we are not always in our right state of mind to acknowledge.
When you suppress your emotions that way, you most likely disconnect from yourself and keep some stress stuck inside you.
You should definitely let yourself balance, feel and speak about your emotions to stay in flow.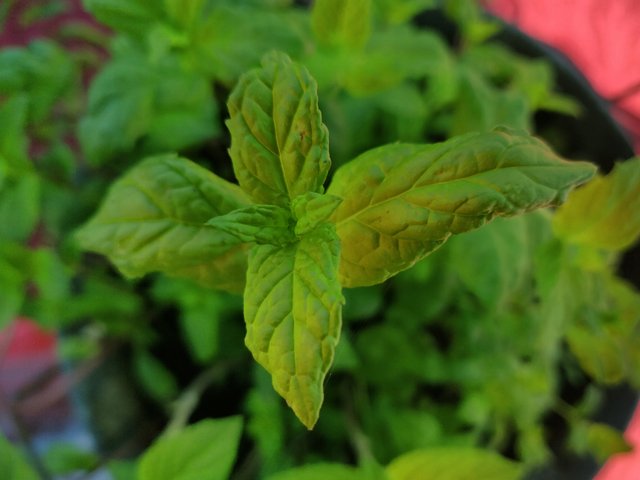 Remember that you are like a flower and that you need water, sun and love. 🌱
---
Healing with herbs.
For me, drinking herbal tea can be a spiritual practice as yoga and other forms of meditation, or just a tiny ritual to start a healing process.
Adding a small peaceful action to your life on regular basis can come out as a big change, and you do not always have to do major life changes in order to be more happy.
When I make a cup of tea, I'm able to connect with nature. I balance and activate my senses which provides me with some sort of healing and well-being. It removes tension and alongside with health benefits from herbs and roots, the time I take to do something good for myself makes me reconnect and feel good.
A few herbs to start with:
Lavender is known for stress relieving abilities, and can treat headaches, better your sleep and help you relax. An antioxidant boosting herb with a calming and clean smell.
Chamomile is in the Asteraceae family, but has the same calming effects as lavender, and is also good for relaxation. Chamomile has anti-inflammatory effects, and is great for pain relieve. Try using it when you feel like a flu is coming, it helps your immune system function better.
Mint is in the same family as lavender, the Lamiaceae family. It clears up your lungs and nose, and is good for people with asthma. Its being researched and believed to have a good effect on your cognitive system, and is super refreshing & energizing.
Or holy basil, is a worshiped plant in Hindu belief. It contains magnesium (which is important for your muscles ability to relax), and other vitamins such as K. It also acts antibiotic, and can be used for small infections.
I brought back dried Tulsi from my trip to India. This soon became my favorite tea and healing herb. I use it especially for stomach ache, and menstrual cramps. It is the only thing that has ever worked for me, and I have given it to several other people and healed their hurting tummy.
Try to mix, experiment, and feel what herbs are good for you. For sleeping, lavender and chamomile is a super calming mixture. Try adding some almond milk for a latte, It's magically good.
---
Recipe: Healing herbal "lattè!"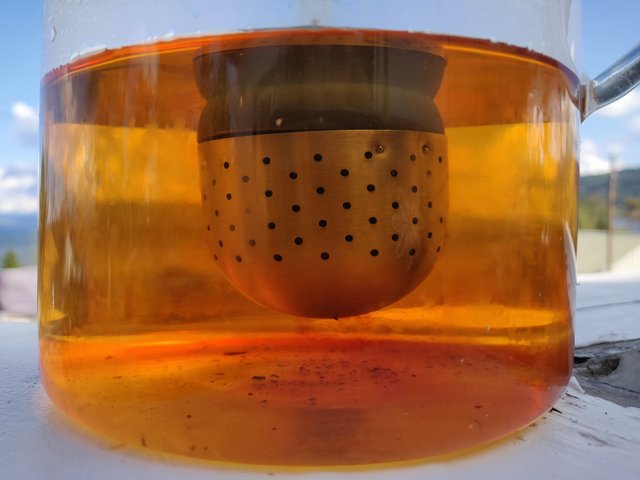 you need:
Herbal tea of your choice.
Plant milk of your choice, we love the barista version from Oatly!
Start out with making a cup of herbal tea of your choice, here we used:
Dried tulsi, strawberry and mango from India.
While the tea is brewing, warm some plant milk in a small casserole. When it's warm, whisk it until it is foaming.
Add your milk/foam to the herbal tea and enjoy a healing cup of "lattè!"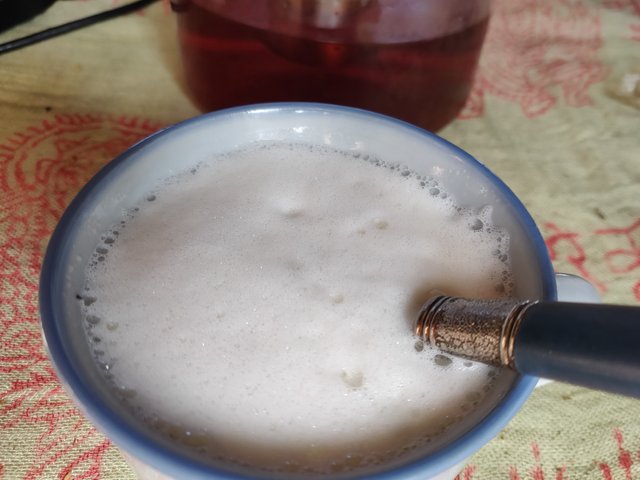 ---
Dried herbs can also be burned as incense for purification. Put the dried herbs in a bowl a incense burner , light, and blow out the fire. A blend of lavender and sage is definitely my favorite incense.
Some more nice things to remember
Light a candle to make a sacred space.
Breathe deep and exhale slowly to regain your focus.
Always use fresh, fluoride-free water.
Natural syrup is a better sweetener than sugar.
You can get prepackaged tea bags, but I prefer fresh or dried herbs so it is easier to choose the amount yourself and avoid excessive packaging.
Sage, Ginger, Nettle, Rosemary, Amla and Ashwagandha are also interesting herbs/roots to check out.
---
Be conscious about what herbs you use, and take in consideration that some medicines may not have a good synergy with each other, especially if you're pregnant. Always make up your own mind about what you put in your body and get your information from different reliable sources.
Love and light, Emilie / @umulius - Ambrosia crew.
---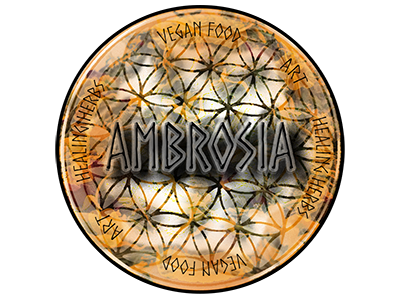 We are 'Ambrosia ~ vegan food and herbal healing.'
A small group of passionate beings with a burning desire to both share and gain more wisdom about nature, our bodies, and how they connect.
With our traveling vegan cafe, we are looking to accomplish many things, you can read more about our vision in our introduction post.
~Here is a link to our Facebook-page. ~
🌱Leave a comment or follow us if you wish to support our vision. 🌱