Tell Us The Best Prank That You Know -- Writing Contest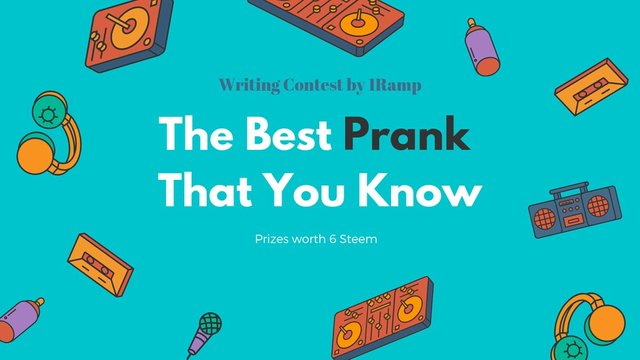 Contest Category:
Literature
---
Prizes:
1st: 3 Steem
2nd: 2 Steem
3rd: 1 Steem
---
Judges:
---
Description:
Painting soaps with nail polish or covering an entire car with aluminum foil :rolling_on_the_floor_laughing:-- Tell us the story of your best pranks or share with us your devious-witty ideas. So that all of us can find new ways to have fun with our friends.
We'd like to invite the previous participants and winners of our contests to share the best pranks that they know. We know you've some mischievous ideas in your head :grin:. @manoldonchev, @ujwal2910, @shreya26, @hungryhustle, @rupeshkumar390, @charisma13, @mtimetraveller, @vinayakgupta, @stever82, @hedidylan, @stevenwood, @simonjay, @lighteye, @vasigo, @uday.u1111, @esthersanchez, @investprosper, @sacred-agent, @drago18121996, @noemilunastorta, and @sarkash7011.
Rules:
Reblog this contest. (optional)

Entries will be judged based on the creativity, originality, and in accordance with the contest theme.

Plagiarized entries will be disqualified. (Even if the plagiarism is reported/detected after the results declaration)

The prizes will be sent to accounts from which the user participated in the contest.

Contest winners will be declared within 1 week from the end of the contest.

The final call on the winners will be made by 1Ramp.

The prizes will be distributed within 3 days from the winner's announcement

If you are not satisfied with the winning entries, please write your concern at [email protected] (applicable only when the contest is judged by the official 1Ramp account)
---
How to Participate?
1Ramp users can directly participate by tapping on the 'Participate' from the 1Ramp web-app or Android app.
Use this #c-hn3rminlp1efsdnnfljz to participate from any other Steem platform.
Contest begins:
09 Jan 2019 - 01:53 PM GMT
Contest ends on:
17 Jan 2019 - 01:51 PM GMT
---
Get on 1Ramp to create and discover exciting contests.