HappyChallenge was born from our desire to help more people improve their lives and take advantage from brain plasticity when pointing each day happy moments.
To see more about why we've started this project and your advantages if joining please read HappyChallenge - What we propose and why you should join.
Long story short:
Write your own post with your happy moments of the day, 80 words minimum and use #happychallenge as first hashtag.
Comment to this post with a link to your post.
Resteem this post.
There will be 2 winners daily, sharing the payment this post will receive.
the user with the biggest number of upvotes on his post
a user chosen by me and @djvidov based on content and representative image attached.
Yesterday's Winners

Today we had 2 participants, both are winners.
They will both get 50% from HappyChallenge: An usual Thursday evening when the payment will be received.
What made me happy today?
My day didn't had the best start.I woke up so tired that for another hour I wasn't able to move.
Fortunately, I've managed to compose myself and had a very productive day after. Solved an issue at the bank, had the final evaluation at work and made plans for the next year with my managers, old and new, read a lot about Dolomiti mountains.
Now, I am in the train with @djvidov; Constanta is waiting for us, again, and we can't wait to spend another 2 days on the beach in good company.
Hope the water is warmer, also.
And if the only reason you've open this is the title I'm happy, mission accomplished, I just wanted you to read through the challenge and see the below photo. Momentum is my favorite tool (chrome add-on), a very useful one when I plan something. Every time I open a new window, I see my objectives. And it has beautiful pictures, giving me ideas for new journeys.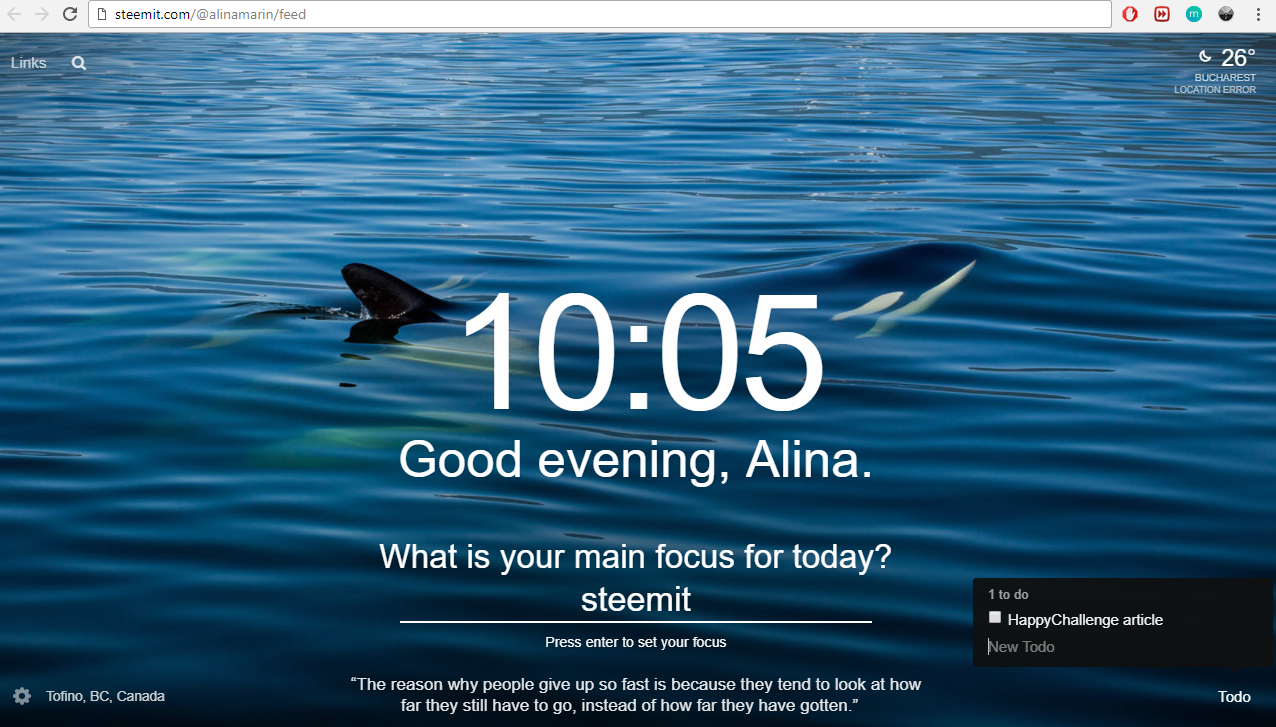 I can't wait to read about all your happy moments. It is proved that when we surround ourselves with happy people our life improves so thank you in advance for making mine better.
Please share the link in a comment, starting now for 24 hours:)