🍒 Hallosteem Photography Contest Entry: The Catrinas ENG/SPA 🐈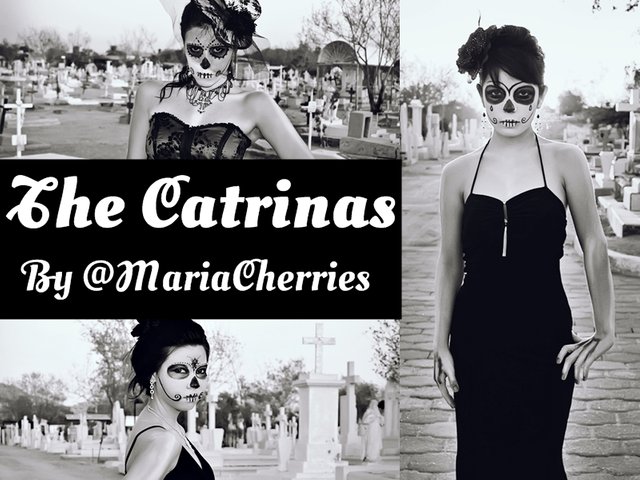 Hello my beloved Steemians! 😊
Today I share with you a photoshoot I did with my models in the Yañez Cementary located in my hometown of Hermosillo, Sonora, Mexico, initially I had published the pictures in color on Facebook, but I decided to re-edit them to black and white and post them on Steemit, I believe they look better in BW, it's more dramatic.
MAKE UP AND WARDROBE
I did the make up on the face of the girls and Itzel added some color around the eyes, although you cannot see it because the pics are now in BW, the black dresses and almost all the accesories where provided by me.
THE INSPIRATION
This photoshoot was inspired by The Catrina she is a popular mexican symbol of death, in her origins she was called the La Calavera Garbancera, José Guadalupe Posada was the creator and the muralist Diego Rivera was the one that gave her the name, I wanted to honor this symbol and also I was fascinated by the idea behind this character.
LOCATION AND EQUIPMENT USED
All the pictures where taken with my beautiful SONY DSLR-A390 camera and I decided to do this photoshoot in a cementary because I thought that it would be the perfect scenario for The Catrina, I did a little research and I found out that a cementary is not commonly used in photography, since I wanted to do somenthing different it was the ideal place for me, besides what better place for Catrina the skeleton than a cementary?.
PHOTOS FOR THE CONTEST
All of the pictures are my entries for the Hallosteem Photo Contest and if you like them, please vote, share and comment, thank you very much! 😁
¡Hola mis queridos Steemians! :D
Hoy comparto con ustedes un photoshoot que hice con mis modelos en el Panteón Yañez ubicado en mi ciudad Hermosillo, Sonora, México, inicialmente yo había publicado estas fotos a color en Facebook, pero decidí reeditarlas a blanco y negro para publicarlas en Steemit, creo que me gustan más así que a color, les da un toqué más dramático.
MAQUILLAJE Y VESTUARIO
Yo hice el maquillaje del rostro de todas las chicas e Itzel agregó color alrededor de los ojos, aunque eso no se aprecia con las fotos a blanco y negro, los vestidos negros y casi todos los accesorios fueron proporcionados por mí.
LA INSPIRACIÓN
Este photoshoot está inspirado en La Catrina un símbolo mexicano popular de la muerte, en sus origenes fue llamada La Calavera Garbancera, José Guadalupe Posada es su creador y el muralista Diego Rivera fue quien le dió nombre, yo quería hacerle honor a este símbolo, además me fascinó la idea atras de este personaje.
LOCACIÓN Y EQUIPO FOTOGRÁFICO USADO
Tomé las fotos con mi hermosa cámara SONY DSLR-A390 y decidí hacer el photoshoot en un panteón porque pensé que era el escenario perfecto para La Catrina, investigando un poco vi que un cementerio es un lugar poco usado para fotografía y como yo quería hacer algo diferente, era el lugar ideal para mí, además ¿qué mejor lugar para la calavera Catrina qué un cementerio?.
FOTOS PARA EL CONCURSO
Todas las fotos son mis entradas para el concurso de Hallosteem-Photo y si a ustedes les gustan las fotos, por favor voten, compartan y comenten, ¡muchas gracias! 😁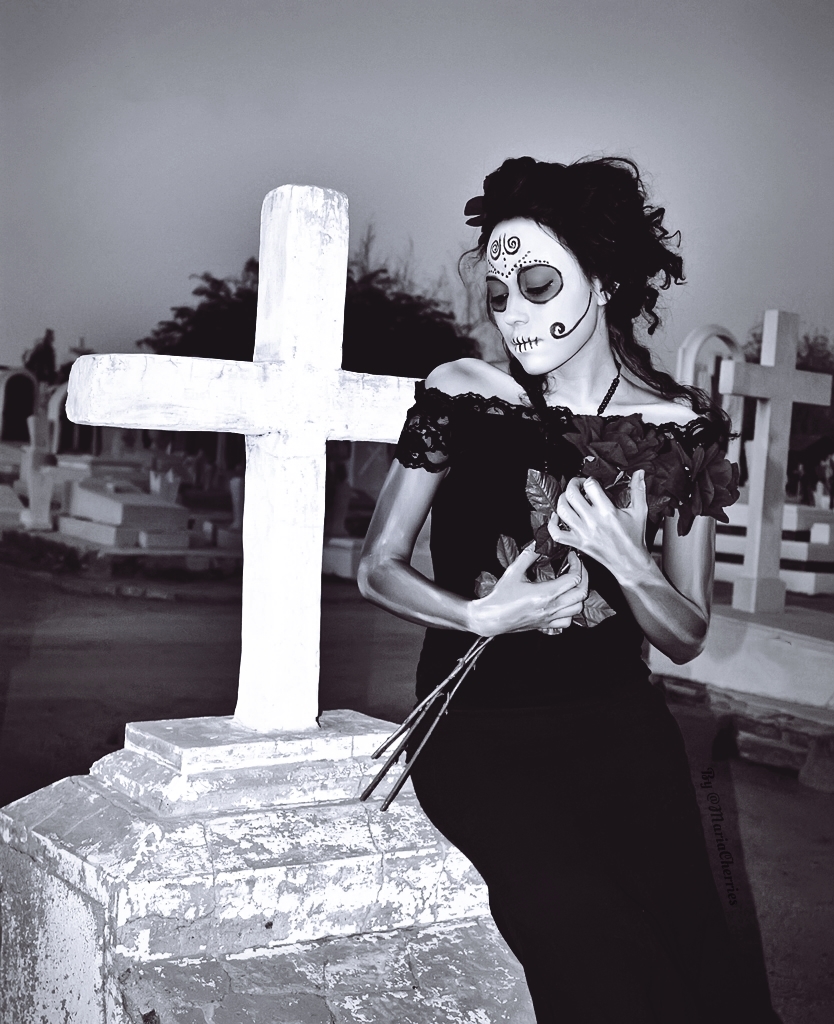 This was the only picture taken at sundown / Está foto fue la única tomada en la puesta del sol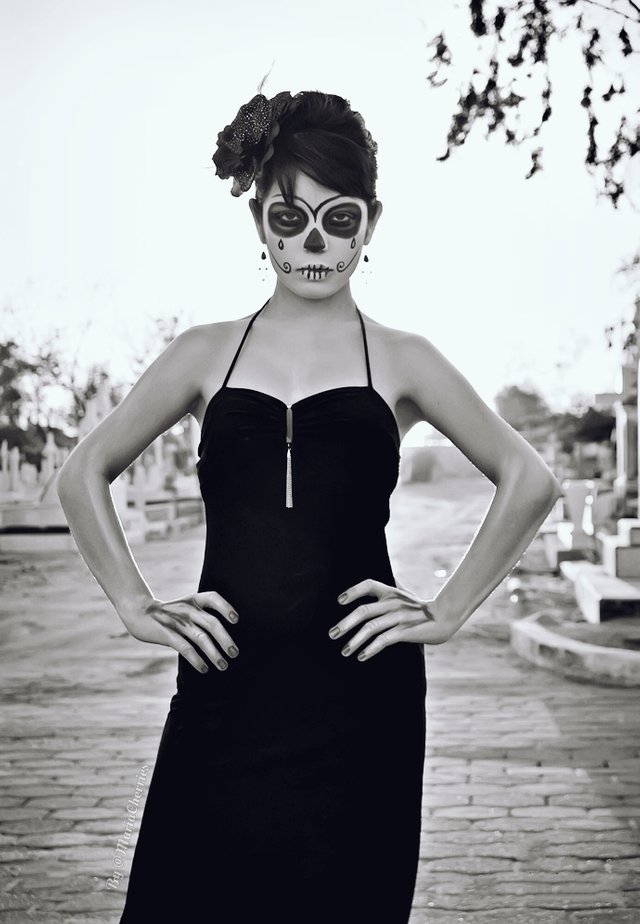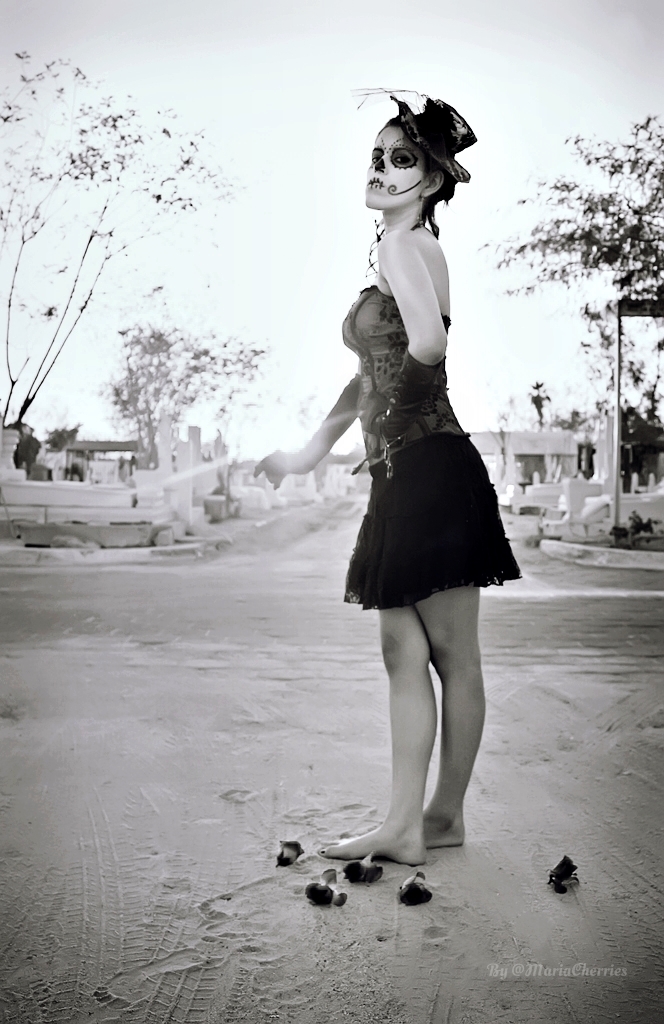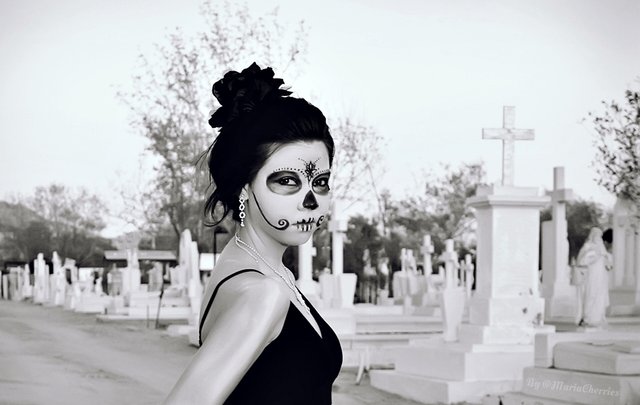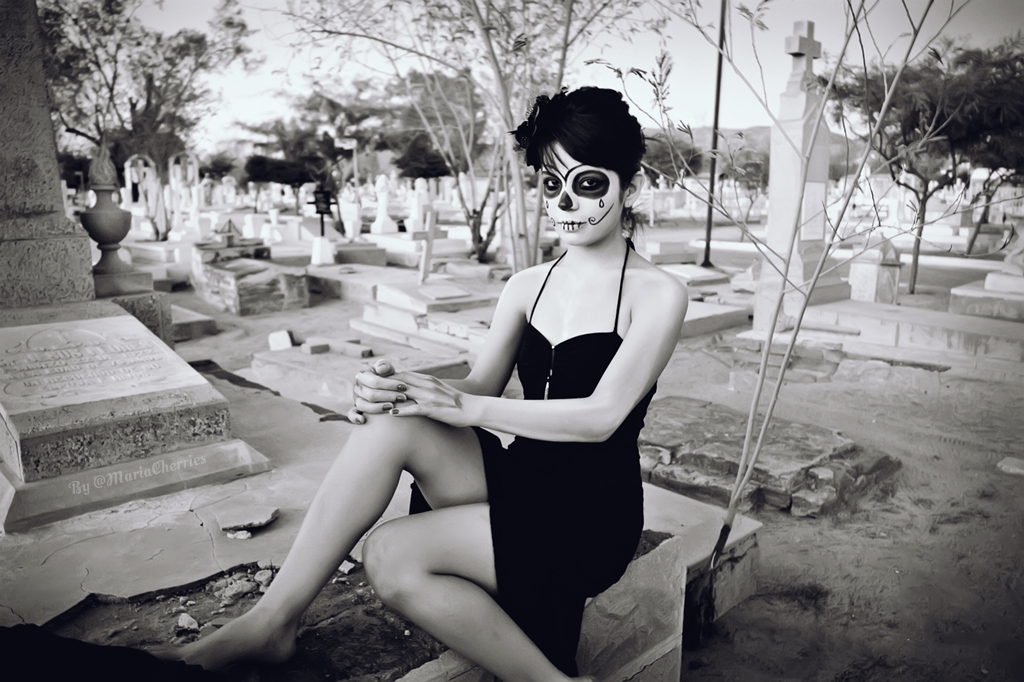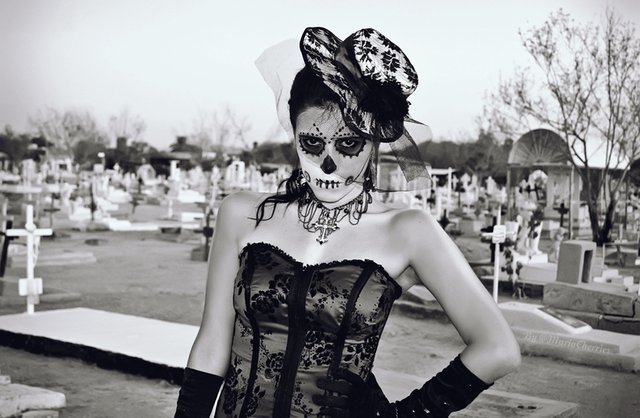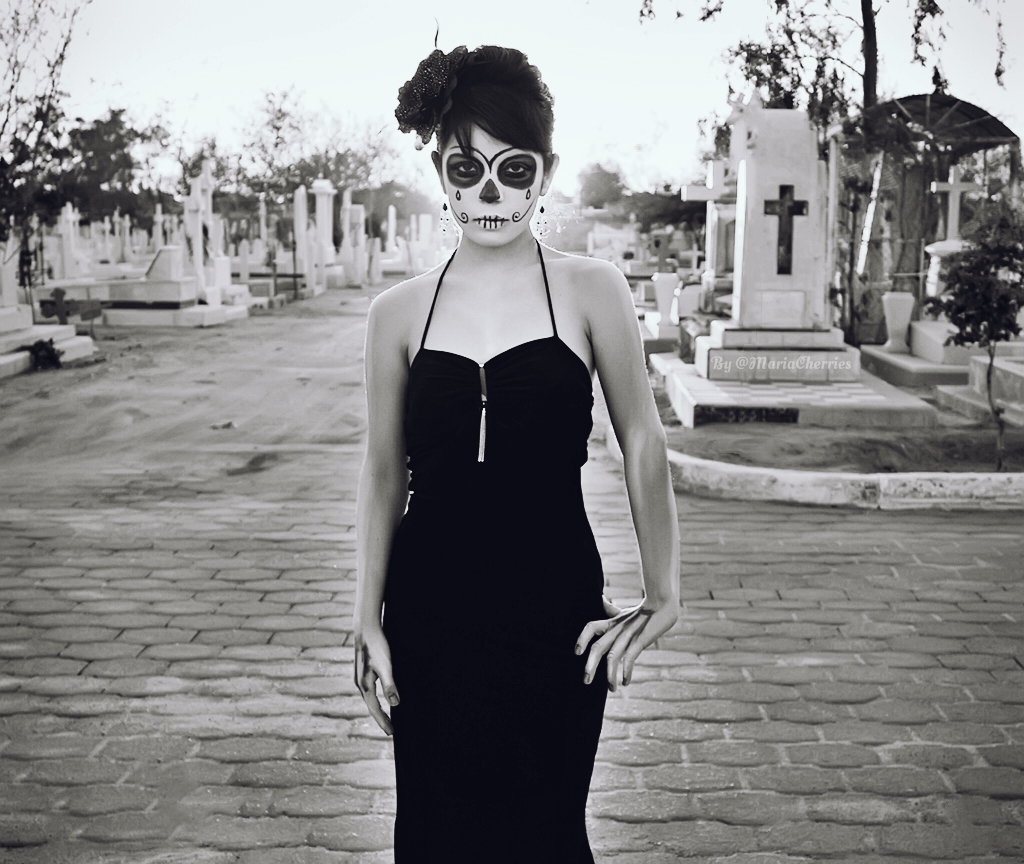 ---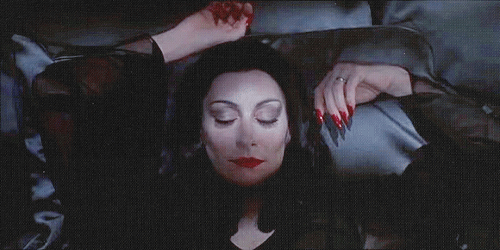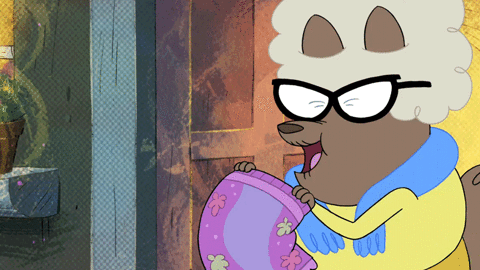 ❤ ❤ ❤ ❤
A QUOTE / UNA FRASE:
"Death is equality, because at the end, white, dark, rich or poor, everybody ends up being a skeleton" /
"La muerte es democrática, ya que a fin de cuentas, güera, morena, rica o pobre, toda la gente acaba siendo calavera"
-José Guadalupe Posada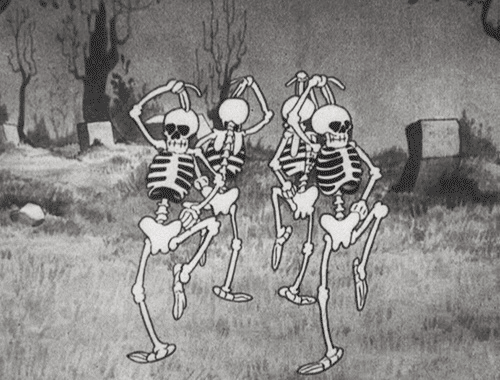 ... Follow MARIA CHERRIES for more 😘 ...
---
All pictures taken and edited by @MariaCherries all rights reserved
Gifs via https://giphy.com
Reference:
https://culturacolectiva.com/historia/origen-e-historia-de-la-catrina