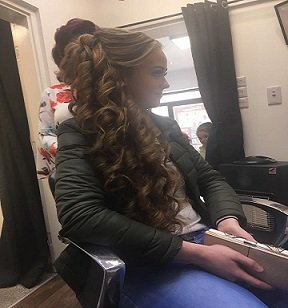 Meet Abigail she is 18 year's of age and is currently studying travel and tourism, hoping to be an air stewardess one day.
Abigail has always been the true-life Rapunzel. Her hair once reached down to her knee's as she refused to get any cutoff.
That was until she was a teenager when she decided enough was enough and started having regular trims at the salon.
Her hair soon grew back though and it was at this point my partner (Abigail's aunt) told her about a wonderful cause in which she could donate a substantial amount to help children who are receiving treatment, have wig's.
This was an issue close to our family's heart as my niece, Candice had recently had a bone marrow transplant which as part of the process, had to undertake chemotherapy. that later resulted in mass hair loss.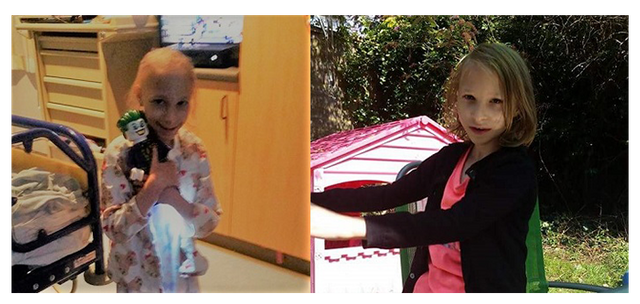 Candice has primordial Dwarfism and had to under go a stem cell transplant at Great Ormond Street Hospital
Thanks to organizations like Little Princess Trust Candice was able to get a wig which helped her cope a lot easier with the whole process.
Getting The Chop
The day came for Abigail to have her hair chopped and she decided to donate 14 inches to the Little Princess Trust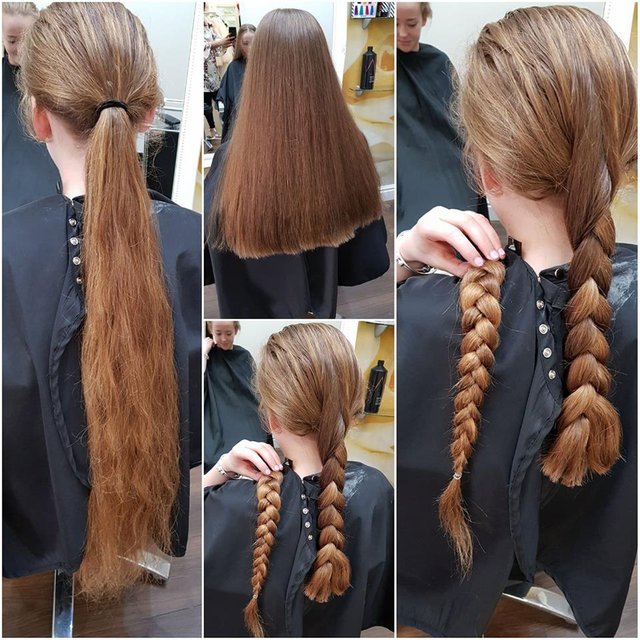 Once done she acquired the relevant donation form from the website and filled out her donation.
She is now sending her donation away and the whole process was simple.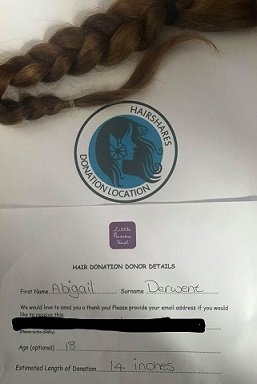 Little Princess Trust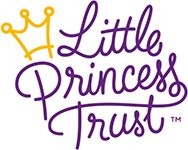 The Little Princess Trust was launched in 2006 by the parents of Hannah Tarplee, along with help from friends and her School, Hannah was Sadly diagnosed as having a Wilms tumour and after a brave battle, died in 2005.
At that time, finding high-quality wigs for children was very difficult and only after a long search was a suitable company eventually found. She very much enjoyed wearing her wig, particularly on special occasions.
After Hannah passed away, so many kind people offered help, financial and practical. Hannah's parents, Wendy and Simon decided that the most fitting way to use this help was to launch a charity dedicated to providing specialist real hair children's wigs. Like so many Little Princesses, Hannah loved her hair and losing it was very traumatic.
Little Princess Trust gives away free real hair wigs to children that have lost their own hair through cancer treatment or other illnesses. In addition to this, in partnership with CCLG (Children's Cancer and Leukaemia Group), they fund research into childhood cancers.
Celebrities like Jessie j, Harry styles and even ( just recently) The Dutchess of Cambridge herself has donated to to LPT (Little Princess Trust) which you can read about here: http://www.littleprincesses.org.uk/duchess-cambridge-donates-hair-little-princess-trust/
Hairshares
The @hairshares project is looking to reward people willing to donate their hair to a worthy cause or those able to convince a loved one to do the same.
If you haven't heard of hairshares you can read there post here
Check them out through the Whaleshares Discord by clicking the following invite link: https://discord.gg/tBjcp6X