@johnnyfinger The real danger of @haejin and the damage that irresponsible calls can bring about

This is a comment that I received on another blog in regards to @haejin.
What follows is what I believe the real danger of someone like him actually is.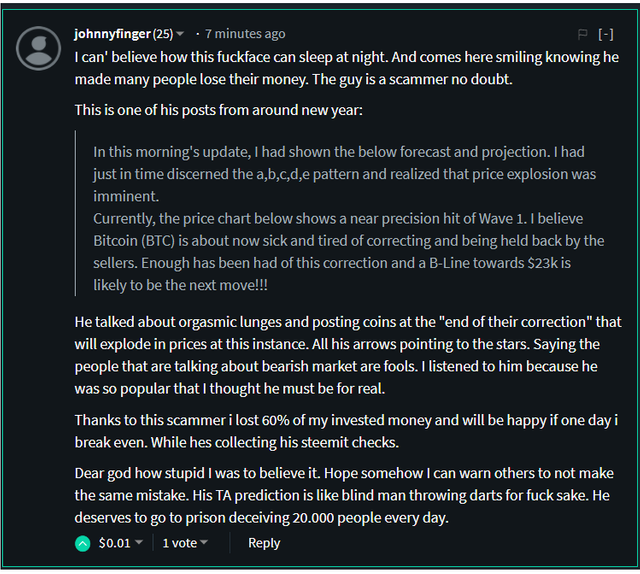 This also goes to what I have been saying about acting irresponsibly in regards to his following base. It is relatively well known by bloggers, or TA's that have a following that those that follow are going to make decisions based upon the advice given. Granted that is not the fault of the TA as each individual is responsible for their own actions. But it is the responsibility of the TA to make reasonable calls based upon the greater market trend and to not do so is extraordinarily irresponsible behavior that can lead many to ruin. I find it to be quite sad actually, and an event that I spoke of before as the inevitable result of just throwing predictions out their regardless of their potential impact on readers. Very sad indeed..
As TA myself, I have no problem saying "I don't know" at times, does that make me look like I don't have the answers from time to time? Sure.. but I would rather lean towards the cautious and simply say I have no idea, than potentially lead others down a path of ruin. Again, that is a responsibility that a TA should have towards his audience, he should be more concerned about their well being than collecting his steem upvotes, raping the pool or otherwise peddling his hype.
Again I just find it to be somewhat sad in the grand scheme of things..
While we have limited power here to interfere with him, I invite you all to head on over to Youtube and report his videos.. Don't just flag them but report them as providing unlicensed financial advice, damaging, spam etc. Enough reports and he will get strikes, enough strikes and his channel gets closed.
I think we all have a duty to do our best to stop irresponsible and potentially damaging behavior when we have the chance.
---
Who Am I? STEEMIT INTRODUCTION
---